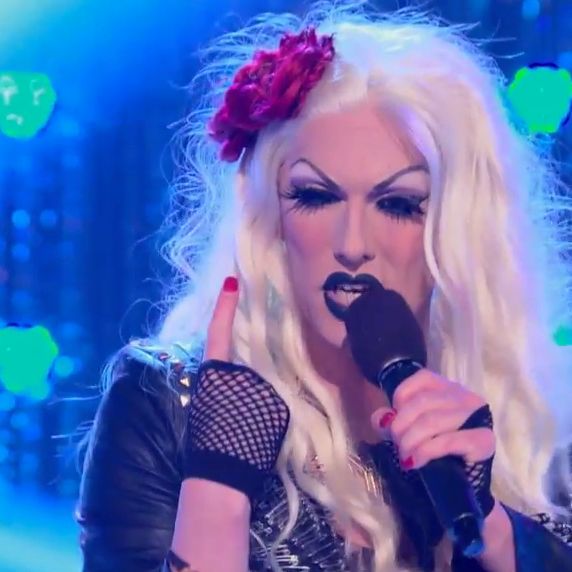 Robbie Turner.
Photo: Logo
It's official: RuPaul has purchased that oversized Pharrell knock-off fedora in all the colorways. This week's version is brown with some kind of band on it. Do you think she found those on Etsy and just bought out the entire shop of some lonely milliner in Minnesota, or do you think those are custom? I bet they're custom.
RuPaul's hat is so big that there isn't time for a mini-challenge this week, but there is a maxi-challenge. Wait. Without a mini-challenge, isn't the challenge for the week just the challenge? If there was no Queen Elizabeth II, then Queen Elizabeth I would just be Queen Elizabeth, know what I'm saying? Anyway, I'll stop picking on the producers because the challenge is amazing: The nine remaining girls have to get together in three teams of three, then each has to form an '80s girl group. The only thing I like more than a naked Shemar Moore feeding me Cadbury Crème Eggs on a little dinghy (make that a big dinghy) on the lovely waters of Lake Nicaragua is an '80s girl group.
Being the devil that she is, Ru lets the girls make their own groups. New York queens Acid Betty, Bob, and Thorgy cling to each other like a 90-year-old woman in Nolita clings to her rent-controlled apartment. Kim Chi, Robbie Turner, and You're Killing Me (Naomi) Smalls are apparently besties, so they band together. That leaves Chi Chi, Derrick Barry, and Zombie Naysha to be like, "Well, I guess we kind of have to work together." It's like when you're starving and all you have in the fridge is some sliced turkey breast, a raspberry yogurt, and half a jar of gherkins. You just have to put them altogether and choke it down.
That brings us to the Read of the Week courtesy of Mx. Derrick Barry, who says of Chi Chi, "This is a girl who shops at Michael's for every outfit she owns." Snap!
There is all sorts of shade going on while everyone writes their hit songs. First off, Team New York wants the party category, so Bob uses a very divisive strategy against Team Leftovers, who also want to sing a party song. She knows they were not happy about their team, and she uses that fracture to drive a wedge right through them. Chi Chi says she would rather sing a synth song, so Derrick and Zombie Naysha resign themselves to strapping on keytars and getting all Flock of Seagulls with it.
Team BFF is the only one that wanted to be punks, and I was really worried about what they were going to come up with. The only thing less punk than Kim Chi, Robbie Turner, and Naomi Smalls is … well, nothing. Especially when they're singing a song about chicken wings. But bless that Robbie Turner, who gives Bob a taste of her own medicine and starts talking to Thorgy about her Afghan wrap dress to try to mess up Team New York.
This week's big fat sob story is courtesy of Chi Chi Devayne, who is going through a bankruptcy and can't pay back all the loans she's taken out with her two jobs at a car wash and a supermarket. A big crying face emoji for Chi Chi. Drag queens are already disenfranchised enough, to say nothing of poor black queens living in the backwaters of Louisiana. That is not an easy life, but she still turns out some fierce lewks week after week. I could see Chi Chi making it to the finals if she's smart and keeps it cute and cunty with Michelle. Adore Delano went pretty far with less.
When Street Meat (a.k.a. Team New York) took the stage, I was totally into it. I don't care what Michelle says about Acid Betty looking more '50s than '80s. She looked like a New Wave kinda girl who went to the thrift store, then took some grandma clothes and made them fun and flashy and current. I mean, what sort of '50s woman was wearing a giant Technicolor Muppet jacket? Thorgy steals the show with that pyramid on her head and that puffy coat with the high collar that's so New Wave you might have seen Bernadette Peters wear it in Slaves of New York.
Dragometry (a.k.a. Team Leftovers) is just as sad as you thought they were going to be. My girl Chi Chi is the only one who turned it out. Not only does she look amazing, but she really gets into her part of the song. Derrick is trying to sing because she's Britney Spears and it is dumb. Naysha is wearing that raggedy-ass circle on her head that looks like she cut it out of the bottom of a greasy pizza box. Send Naysha back to the grave from whence she came.
The real stunner, though, is Les Chicken Wings (a.k.a. Team LYLAS), who walk out there looking punk as hell and chic to death. Naomi Small is usually strutting around in some sort of outfit MacGyver would make out of a Band-Aid, two pieces of Silly Putty, and a binder clip with one of the little levers missing. She is wearing that again this time, but like she's a member of the Slits or Wendy O. Williams mixed with Wendy Williams (no O). Their song is silly and fresh and makes punk into a comic pose, rather than actually trying to be punk. I loved every second of it and Robbie deserved her win.
The theme for the runway this week is neon. Here is how everyone looked.
Derrick Barry: Britney Spears in neon.
Naysha Lopez: Did she steal the lizard outfit from the closing drag montage of Priscilla, Queen of the Desert?
Chi Chi Devayne: Introducing the prison warden from Not Gem and the Homograms XXX: A Gay Porn Parody.
Kim Chi: A Picasso print hanging in the dorm room of a girl you were forced to do a group project with junior year.
Robbie Turner: If Marie Antoinette went to a rave and said, "Let them eat K."
Naomi Smalls: Technicolor Barbie at a country club on Uranus.
Acid Betty: Either the meanest Atlantean since Prince Namor (but with way more body coverage) or the winner of a underwater challenge on Face Off.
Thorgy: One green square on a Rubik's Cube.
Bob the Drag Queen: Kevin Aviance and Leigh Bowery called. They want their lewks back.
Usually I don't care much for the guest judges, but Debbie Harry and Chris Stein from Blondie were such a hoot. There are straight ladies on all the time who love the competition, but never a straight dude like Chris Stein, who is obviously such a scholar of the show and so happy to be there. It warmed my heart and made want to listen to the rap in "Rapture" about four times in a row.
At the judging, Bob finally apologizes to RuPaul's songwriter Lucian Piane for talking trash earlier when he was trying to give her criticism. I do have to say, I was on Bob's side in the fight. Lucien was just saying, "Be cooler," but wasn't really telling her how to do it. It's like if you're kissing someone and they just say, "Fine, now do it better." Um, excuse me?!
One of the queens from Team Leftovers is going home. It could be Naysha for being generally awful, Derrick for giving us way too much Britney, or Chi Chi for, as Michelle put it, showing up in a bathing suit, no corset, and a belt.
The final lip sync comes down to Naysha and Chi Chi doing "Call Me," one of my all-time favorite songs. Naysha thinks she's going to be all cute and do a few cartwheels. Meanwhile, Chi Chi just snaps her fingers, does a death drop, and then front flips and backflips all the way down the runway without losing her wig, like Naysha did. Naysha is so damn trifling. There was a reason she already went home once.
In the end, my girl Chi Chi stays and Zombie Naysha gets a steak through the heart or a silver bullet to the brain or whatever it is that kills a zombie these days. What a waste of a surprise return. Thank God she's not around for the Snatch Game next week. I can only imagine what a disaster that would be — sort of like Ru's giant hats.