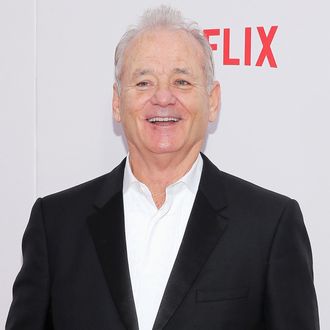 Happier Murray.
Photo: Jemal Countess/Getty Images
In the latest March Madness upset, No. 7 Wisconsin eked out a last-second, come-from-behind win over No. 2 Xavier. It was an electrifying Sunday night matchup that saw the Badgers' Bronson Koenig drill a deep, corner-fading three-pointer to make the final score 66-63 and push his team to the Sweet Sixteen. If you were watching (or attending) as a Wisconsin fan, the buzzer beater was like a beautiful dream come true. If you weren't — like Bill Murray — it was something closer to heartbreak, mixed with a hint of stunned denial:
The actor and national treasure was on hand at the Scottrade Center because his son, Luke, is an assistant coach for the Musketeers. The elder Murray went as a supporter for the game (and was having fun!), but little did he know he would leave as a meme for the people because, yes, the world is cruel. As Uproxx points out, Stunned Bill Murray instantly got the internet treatment (i.e., crying–Michael Jordan Photoshop):
A couple dogs did their best Bill Murray impressions, too:
R.I.P., sanity. R.I.P., sanctity. (The other bad news is with Xavier knocked out of the NCAA Tournament that likely means no more Bill Murray at the NCAA Tournament; the Badgers, however, face No. 6 Notre Dame on Friday.) We are sorry, Bill.