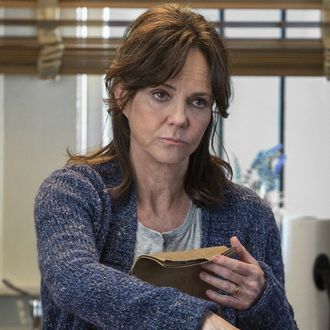 Sally Field not enjoying herself in The Amazing Spider-Man 2.
Photo: Columbia Pictures
Sally Field has been around long enough to no longer care about pleasing Hollywood's corporate overlords. Sure, she'll play Aunt May in The Amazing Spider-Man and its godawful sequel, but is she gonna hold back when someone asks her whether she thought they were good movies? Hell naw. Field was on The Howard Stern Show and went all in on some steaming-hot disses.
"Spider-Man! You didn't like that movie?" Stern asked.
"Not especially," Field said. "It's not my kind of movie. But my friend Laura Ziskin was the producer, and we knew it would be her last film, and she was my first producing partner, and she was a spectacular human." (Ziskin died in 2011.) Stern asked how much thought Field put into the character. "Not a great deal," she said.
Why did she laze off? Field's answer was kind in tone (this is Sally Field we're talking about) but harsh in content: "It's really hard to find a three-dimensional character in it, and you work it as much as you can, but you can't put ten pounds of shit in a five-pound bag."
Between this and Ian McShane's "tits and dragons" interview, it's already a banner week for veteran actors completely throwing genre fiction under the bus. Dare we hope for Jeremy Irons to say the Batman franchise is a bunch of bullshit by Friday?