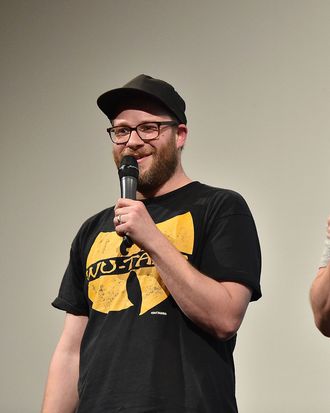 Photo: Mike Windle/Getty Images
Last night, at what was one of the most anticipated screenings of SXSW, I got to see a sneak peak of Seth Rogen's Sausage Party, an R-rated work-in-progress from Rogen and his longtime writing-producing partner Evan Goldberg about horny hot dogs and the buxom buns they want to be inside. "I literally heard a guy in the lobby just now say, 'I've never been more excited to see wieners on the screen before," said Rogen in his introduction.
"He should check out pornography," Goldberg replied.
Sausage Party is a passion project Rogen and Goldberg have been working on for eight years ("which is insane because it's called Sausage Party," said Rogen). It traces the existential and sexual awakening of food, as anthropomorphized grocery-store items slowly awaken to the harsh reality of their fates. "The story didn't change that much over the years: It was always about food figuring out they get eaten and they fuck each other at some point," said Rogen. He does the voice of Frank, a hot dog who, along with his girlfriend, a bun named Brenda (Kristen Wiig), becomes the unlikely leader of an army of vegetables and condiments.
The idea came from an honest love of animated movies and wanting to send up how Pixar in particular is always bringing household objects to life (toys, cars). It also sounds like Rogen and Goldberg might have come up with it while baked. "We were joking around about, What would it be like if our food had feelings?" said Rogen. "And then we very quickly realized, Oh, that would be fucked up! Because we eat it!"
What Rogen and Goldberg showed last night was a rough rough-cut, meaning there were still bits of hand-drawn animation in there, or times when what was clearly placeholder computer animation didn't move for several frames, even as the action did. Rogen explained that he wanted to debut it, in whatever state possible, at SXSW because "it's the only festival that treats comedy even remotely equal to other genres," though he added, "I can't stress enough how work-in-progress parts of it are. You will very quickly see that this is not semantical trickery. It's not fucking done yet."
Directors Greg Tiernan (who can add this one to his long filmography of Thomas the Tank Engine movies) and Conrad Vernon (Shrek 2, Monsters vs. Aliens) will, however, be done by the time it comes to theaters on August 12, with a score by composer Alan Menken, a.k.a. the guy who did the music for Little Mermaid, Aladdin, and Beauty and the Beast. How did Rogen and Goldberg get dudes of such legit pedigree to sign on?
"Eight years ago I went over to Seth's house, they put me in the right state of mind, and we sat down and they pitched to me, 'We want to make an R-rated movie about sausages who escape their packaging to fuck buns,' " said Vernon. "This is what I wanted to do since I was 13 years old." Added Tiernan, "All I needed to hear was this was a movie about sausages that wanted to fuck buns."
The movie opens with the entire grocery store being led in quasi-religious song by Corn, who has the best voice, about "The Great Beyond" where they will be taken once chosen by "The Gods." The big red, white, and blue day-sale is upon them and Frank's package of sausages knows this is the night they'll finally get to slip into Brenda's package of buns, even poor stumpy Barry (Michael Cera). "You've got girth. That's more important than length," Frank assures him.
But due to a disastrous series of events, Frank and Brenda not only fall out of their packages, they never make it out of the store. What follows is an odyssey back home and toward the truth, reminiscent of the one in Inside Out, except our heroes this time are being pursued by a vengeful Douche who blames them for robbing him of his purpose to flush out some lady parts, and accompanied by warring sidekicks, Lavash (flatbread) and Bagel (Edward Norton, doing a dead-on Woody Allen impression), who've been at odds ever since Tabbouleh got moved to make way for Challah (though they eventually find common ground in their shared friendship with Hummus).
There are plenty more outrageous stereotypes and out-there moments; at one point you will see a turnip blowing a radish, and that won't be anywhere close to the most insane thing that happens. Rogen is true to his word that there is plenty of food-on-food sex, and the MPAA has given its stamp of approval (or at least an R-rating instead of NC-17). "You can show food fuck! That's what we learned through this process," said Rogen. The ratings board had drawn the line, strangely, at "liquid going in people," according to Goldberg, but not at one type of bread licking the ball sack of another type of bread. And you thought all this time that eating carbs was bad for you!