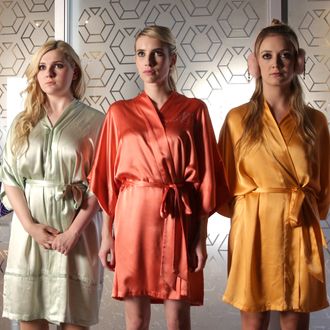 Scream Queen harder.
Photo: Patti Perret/FOX
Scream Queens started out as an anthology series, with the idea being that only a few (if any) characters would return in each installment, but it's quickly abandoning that premise, and just becoming your standard TV series — or as standard as something from Ryan Murphy, Brad Falchuk, and Ian Brennan can be. At a PaleyFest panel last night, Falchuck announced that the main cast would all return for season two as their characters from the show's first season.
According to Variety's report from the event, the Chanels (Emma Roberts, Abigail Breslin, and Billie Lourd) and Zayday (Keke Palmer) are studying under Munsch (Jamie Lee Curtis) in her new hospital. Hester (Lea Michele) will be back in some "aspect to this show that involves murder," while Denise Hemphill (Niecy Nash) will appear as a member of the FBI. Falchuk also said that Glen Powell (who played Chad Radwell) will also return, along with three new "studly doctors." If the concept of Chad Radwell hanging out with three studly doctors doesn't sell you on the next season, you're really not in Scream Queens's target demographic.