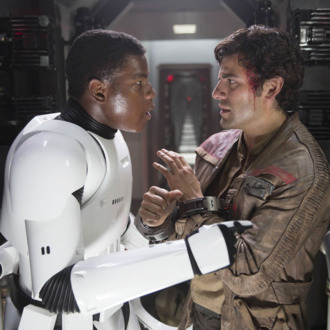 This photo doesn't have BB-8.
A movie some of you may have heard of, or even seen, called Star Wars: The Force Awakens, starring BB-8, is arriving early on Digital HD, on April 1, and as a Blu-ray combo pack and DVD on April 5. We know what you're thinking: "Sure, everything comes out in combo packs, but what else are they offering us?" According to the press release:
●  Secrets of The Force Awakens: A Cinematic Journey – For the first time, discover the complete story behind the making of The Force Awakens, revealed through in-depth footage and exclusive interviews with the actors and filmmakers in this feature documentary.
● The Story Awakens: The Table Read – Cast members familiar and new reflect on the memorable day they all first came together to read the movie's script.
● Building BB-8 – See how the filmmakers brought the newest droid to the screen, creating an instant fan favorite in the Star Wars universe.
● Crafting Creatures – Watch movie magic as the filmmakers bring a cast of new creatures to life.
● Blueprint of a Battle: The Snow Fight – Go deeper into the epic, climactic lightsaber battle between Rey and Kylo Ren.
● John Williams: The Seventh Symphony – The legendary composer shares personal insights of his work on Star Wars and The Force Awakens.
● ILM: The Visual Magic of The Force – An insider's look into the remarkable digital artistry of the movie's visual effects.
● Force for Change – Heroes come in all shapes and sizes. See how the Star Wars: Force for Change initiative has united Star Wars fans all over the globe to help others.
● Plus: Deleted Scenes
What more could you possibly want? Bloopers where Maz's goggles fall off and Chewbacca barks the wrong line? You're so demanding.