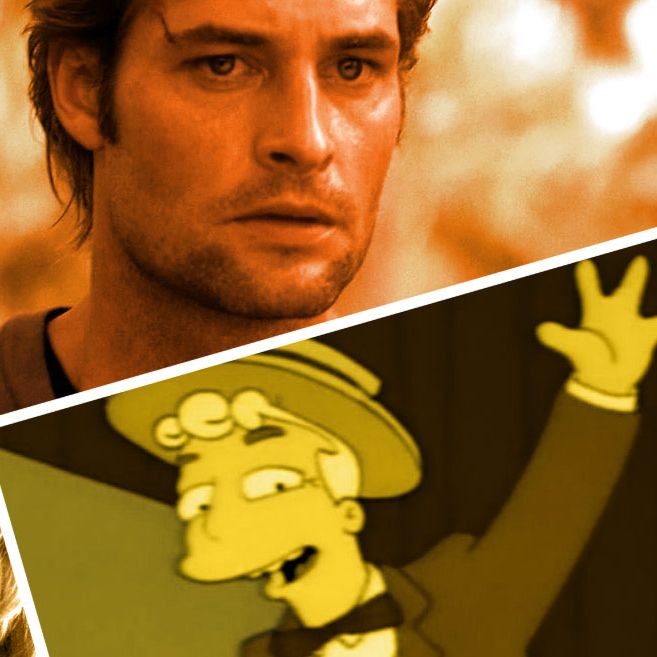 Photo: ABC/Getty Images, Fox
Big news, Stay Tuned readers: It's been a delightful run, but this is the final Stay Tuned column. Today is my last day at Vulture. It has been an incredible five years, and while I'm of course sad to be leaving, every Vulture has to fly away from the nest at some point. I could not be more indebted to all the wonderful people I've worked with or more grateful for all of your letters — please know I read every single one, and I have been so lucky that so many of you wanted to share your TV ideas (a.k.a. lives) with me and your fellow Vulture readers. If you've had half as much reading Stay Tuned as I've had writing it … then we've both had a lot of fun.
Spring is just around the corner, and the rain has already started, but the great thing about spring rain as opposed to brutal winter is that it's intermittent. There'll be these four-to-eight-hour stretches where it's horrible outside, but then suddenly it's not! So what are some of the best runs of TV to watch in windows of time like this, when a whole season is too much to bite off, but you want to digest a complete story? My go-to is usually The West Wing's "17 People" through "Two Cathedrals," but I'd love to add some other streaks of great TV, too. — Zach
Oh, I love this, and that's usually the exact West Wing batch I do, too. If you have eight hours, you're in a position to delve into something new. I think the three-to-six-hour range is more fitting for a "fire up the sure things" afternoon. These recommended blocks are for rewatching purposes, not first-timers.
Sports Night: "Sally" through "Special Powers"
That's season one, episode 16, through season two, episode one — nine total episodes, but only about three and a half hours of viewing. It all starts with Casey's not-favorite shirt, the white J. Press, and goes up through the big Dana/Casey kiss. If you go further into season two, you wind up with the infuriating dating-plan nonsense, so if you wanted to pad out your viewing I'd start earlier in season one rather than go later in season two. But this really is a golden chunk right here.

Roseanne: "Thanksgiving '91" through "This Old House"
You could probably pick any nine-episode run of Roseanne from its earlier seasons and do fine, but I like this batch from season four. If Roseanne were airing today, there would be mountains of coverage about the show's radicalism: Did you know that working-class people are people? Did you know that people of all shapes and sizes have sexual identities? Did you know that teenage girls can have serious ideas? Well, contemporary TV comedies are very unlikely to depict these truths, so delve into the vault. Another important part of Roseanne's DNA is that Roseanne and Jackie are abuse survivors, and this arc revisits some of that trauma, starting with their mother revealing that their father has been cheating on her for 20 years, and ending with a visit to their now-vacant childhood home. (This resurfaces most poignantly in season five's "Wait Till Your Father Gets Home.")

Veronica Mars: "Weapons of Class Destruction" through "Leave It to Beaver"
I honestly am more likely just to watch "Class Destruction" five times, but that's my cross to bear. This is the endgame for season one, and it's really stunning how much work these episodes accomplish: We find out who killed Lilly; there's a procedural mystery being solved; Logan and Veronica get together; Veronica figures out what happened the night she was raped; and the episodes are still snappy and funny and legit. Ugh, this show is so good it sort of ruins other shows.
Homicide: Life on the Streets: "Fits Like a Glove" through "Crosetti"
These season-three episodes aired out of order, so for clarity's sake I'm talking about "Fits Like a Glove," "Extreme Unction," "A Model Citizen," "Happy to Be Here," and "Crosetti." These are some of the best hours of TV, period, and taken as a piece, you really get the depth and patience that made Homicide one of the all-time greats. There is zero jazziness to the police work — no fancy computer models, no pseudoscience, none of the ostensibly erotic intrigue that keeps contemporary cop procedurals afloat.
Lost: "Pilot (Part 1)" through "House of the Rising Sun"
These are six near-perfect episodes. It's time to rid yourself of whatever Lost baggage you might still be carrying around and find the fun of the show again. It's been long enough.
BoJack Horseman: "Horse Majeure" through "Chickens"
I don't know why nine episodes keeps feeling like the right number for comedies, but here we are. This loops the final four episodes of season one with the first five of season two, so you get both that jolting, gasping sadness of "Downer Ending" and some of the recovery from that bottoming out.
What shows should engaged parents introduce their child to growing up that would really make for a cultural education? —Lindsay
Little kids have horrible garbage taste in TV, which I can only assume is the Lord punishing parents for their sexual wickedness. But if you can get them into Adventure Time, you are both in for a real treat. It's smart and gentle and has important messages about creativity, self-acceptance, and determination.
Ten and up, if you're trying to raise a kid who's curious about art and society, you could do a lot worse than watching The Simpsons with them. They will get some of the jokes — there are still burp jokes, it's not all wry social commentary — and the ones they don't get is where you come in. "You know, there's a movie called Citizen Kane. A lot of people think it's the best movie ever made. This is a parody of that movie." Even the hardened, modern children of tomorrow can get onboard with "Marge vs. the Monorail," can't they? "Have you ever heard of The Music Man?" you ask them. Maybe they have! But maybe not, and then you go to the library and check out a crusty old DVD and maybe a piano score? Your child will be a lonely nerd singing "76 Trombones" quietly to herself for a while, but trust me: She will grow up to be a really happy adult who gets to write a really fun TV column.