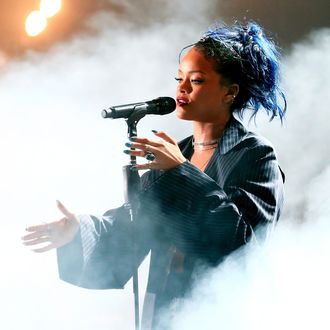 Streaming is queen.
Photo: Christopher Polk/Getty Images
Quick question: What was the last album you physically purchased?
Hmmm, too hard? How about this: Think about the last album you downloaded. Still nothing?
Turns out, no one can remember: According to a new report from the Recording Industry Association of America, the music industry made more money in 2015 off streaming than downloads for the first time in history. In fact, 34.3 percent of music sales came from streaming, which, while only slightly higher than the 34 percent generated from downloads, finally confirms what even Kanye West has already figured out: Streaming is now pretty much everyone's preferred way to get music.
We already knew CDs were dead (they were 28.8 percent of last year's revenue), but now it might even be time for iTunes and its competitors to start picking their coffins. The RIAA reports that streaming was so good in 2015, it brought in $1.2 billion in revenue from paid subscription services alone — especially thanks to newcomers like Apple Music and Tidal — making it "one of the most watched and talked about spaces in the industry."
And this week's Billboard 200 has already caught up to streaming's rise: Rihanna's Anti is back at No. 1 for the first time since, ironically, Tidal nearly prevented it from debuting at No. 1 last month — but the numbers are historically dismal. Last week it generated a mere 17,000 in true sales (no No. 1 album has ever sold less), but on some weeks in today's frigid music climate, that's surprisingly enough for a No. 1. Even more strange, the album at No. 10 on the current chart, Flatbush Zombie's 3001: A Laced Odyssey, sold more in pure sales (24,000) than Rihanna's Anti did all the way up at No. 1. How the hell is that possible?
Switch over to this week's Hot 100 chart and there's your answer. Rihanna and Drake rule it for a fifth consecutive week with "Work," which was also the most streamed song in America last week, and more than likely where most of Anti's 54,000 album equivalents came from. Rihanna essentially went No. 1 on the strength of people streaming "Work" and Anti alone. So yes, streaming is work, work, work, working but even the RIAA is quick to warn that that bitch better have artists' money — and fast.