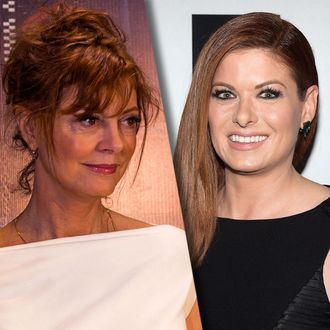 Sarandon and Messing.
Photo: Rafael Bossio/AFP/Getty Images/Charles Sykes/Bravo/NBCU Photo Bank
Stars: They're just like us! Which, in 2016, means that they, too, are getting into circular Twitter arguments with their friends and acquaintances about the presidential election. The latest fight tearing apart the upper echelons of Hollywood stems from Susan Sarandon's controversial interview on MSNBC Monday night, in which the Dead Man Walking star floated the idea that a Donald Trump presidency might "bring the revolution," and thus be preferable to a Hillary Clinton victory. The Gavrilo Princip of the war was Jamie Lee Curtis, who tweeted a response to the widely misreported claim that Sarandon said she would vote for Trump over Clinton:
Sarandon attempted to clarify, but it was too late — Debra Messing picked up the thread, and went in:
Sarandon awoke early on Wednesday, ready to defend herself:
But Messing wasn't messing around:
Which prompted another round of fire on Wednesday afternoon:
As of press time, neither Messing nor Sarandon has been able to convince the other that she is wrong.