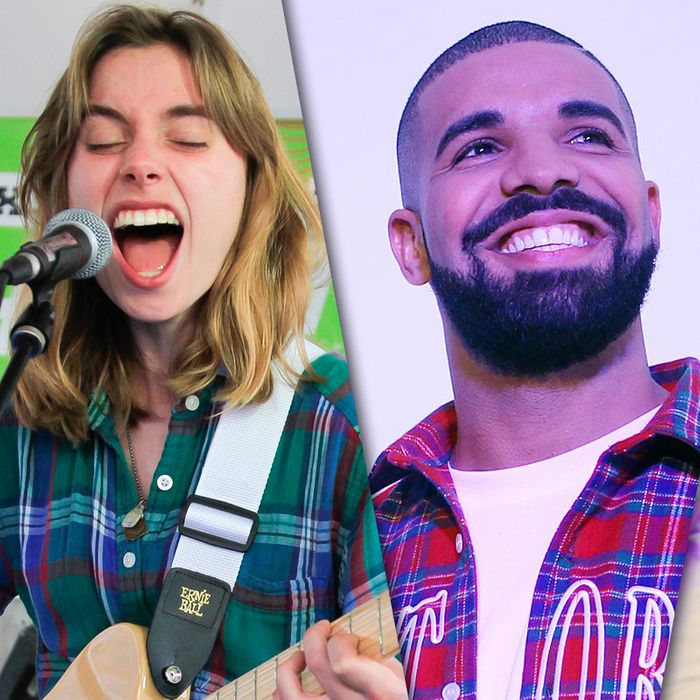 Julien Baker, Drake, Margo Price.
Photo: Getty Images
SXSW is now 30 festivals deep into its run, and what started as a celebration of music in 1987 has grown into an 11-day behemoth with three concentrations — tech, film, and music — that sets a standard for the industry at large: Everyone from Questlove to [insert band making a 20+ hour drive from Cleveland] finds value in SXSW, even if it's not readily quantifiable. (Official SXSW showcase bands are either paid meagerly for their participation or given an artist wristband as compensation.) The festival delivers logistical nightmares (intense crowds that keep the Austin fire department scrambling around town) and unpalatable corporate goings-on (Never Forget the staged dressed up as a giant Doritos vending machine), but it ponies up with unforgettable performances and multiple opportunities for musical discovery. The growth of unofficial events that take advantage of SXSW's schedule and touring traffic increases the ROI for the performer and value of the experience for the fan, too.
But is the toll, financially and emotionally, worth the trip to Austin? The short answer is yes, in that it's tough to go to SXSW and walk away without a new favorite band or a tale of a thrilling show. Margo Price, Third Man Records' current poster child and one of the most compelling country talents to come out of Nashville in recent memory, performed several superlative sets throughout the week, including NPR's official showcase at Stubb's (which has come to be regarded as one of the best shows of SXSW) and Willie Nelson's legendary Luck Reunion. Brooklyn's own Sunflower Bean stunned on a variety of stages, while singer-songwriters including Julien Baker, Waxahatchee, and Lucy Dacus displayed their musical dexterity and abilities to hush crowds in churches and rock clubs alike. Independent record labels such as Burger Records, New West, Sub Pop, Hardly Art, and ATO championed their artists with the same enthusiasm as the majors: The Avett Brothers and Ryan Adams may have headlined the massive UMG scrum that packed a ballroom at the JW Marriott, but acts like Rayland Baxter, Margaret Glaspy, Protomartyr, Robert Ellis, and others played to crowds that screamed just as loudly in smaller rooms.
The marquee events went off without a hitch, too, in the form of surprise sets (Drake's headlining one at the Fader Fort on Saturday night), big-name billings (Iggy Pop's two-night stand at the ACL Moody Theater; Erykah Badu at the House of Vans), and publicity stunts (Young Thug trotting a casket emblazoned with the release information for his forthcoming record, Slime Season 3, down Sixth Street). In each of these instances, talent that almost exclusively headlines sold-out arenas or the megafestivals, like Drake and the Avett Brothers, got up close and personal with audiences a fraction of the size they typically play.
Over the weekend, the pop editors at the New York Times outlined why they're approaching their festival coverage differently for the 2016 season, and the appearance of Drake, Erykah, and the Avetts at SXSW speaks to some of their main themes. They called out the indistinguishable quality of the lineups for "big, cross-genre, medium-cool outdoor pop festivals" like Coachella and Bonnaroo that more often than not share a slew of headliners (LCD Soundsystem, Radiohead, Major Lazer, A$AP Rocky, etc.) and predictable programming across their various main stages; as they put it, the bookings of these fests are no longer "somewhat exciting, if exciting means special and special means rare and rare means meaningful." The Times admirably doesn't want to perpetuate a narrative that makes festivals less about the musical experience and more about a social one in 2016, and anyone who's paid $13 for a warm beer in the Indio polo fields before packing into a tent to watch a DJ set can't blame them.
By this logic, SXSW plays a hand other festivals simply can't: This is the festival that turned the fear of missing out into cultural currency and established its exchange rate. It's the festival that can not only book the President of the United States and the First Lady for its compelling keynote discussions, but bring the Avett Brothers — who headline Madison Square Garden on April 8 — to a room that's typically reserved for wedding receptions and bar mitzvahs. It's the festival that turns backyard barbecues into breeding grounds for musical greatness and rock clubs into modern rock and roll landmarks. No question it has the potential to overwhelm with its onslaught of noise and frightening (and at times unsafe) execution. What remains after you recover, though, is a list of new favorite songs and a name or two that stuck, even through the blitz of corporate logos and the exhaustion of overstimulation. It isn't small by any means, but SXSW, as huge and unwieldy as it's become, is still a festival that plays out its purpose.