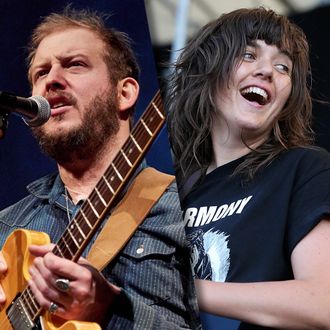 Does a tribute album get any bigger?
Photo: Getty Images
The National have been working for years to re-create the magic that was Dark Was the Night, a 2009 charity compilation for the HIV/AIDS org Red Hot featuring a who's who of indie rock, back when that genre was thriving. And now we see why it's taken so long. Their newest Red Hot compilation, Day of the Dead, which finally comes out May 20, has grander ambitions: This time, they've asked all of their indie friends to cover the Grateful Dead. And they've invited a ton more artists — enough to fill up six hours' (!) worth of covers. (That's right: All of your fave indie dudes — and a handful of women — have secretly been Deadheads all along. Get over it!)
In the tribute's first preview, we find the National themselves covering "Morning Dew," Courtney Barnett covering "New Speedway Boogie," Bruce Hornsby and DeYarmond Edison (which is another one of Justin Vernon's aliases, with Megafaun) covering "Black Muddy River," Phosphorescent and Jenny Lewis & Friends covering "Sugaree," and the War on Drugs covering "Touch of Grey." 
Still to come? Covers from a few other people you may have heard of: Mumford & Sons, Perfume Genius, Sharon Van Etten, Kurt Vile, ANOHNI, Wilco, Angel Olsen, Grizzly Bear's Ed Droste, Lucinda Williams, TV on the Radio's Tunde Adebimpe, Real Estate, the Flaming Lips, and too many more to name. And because the National aren't bragging or anything, even Bob Weir himself is involved, on covers with Wilco and the National. As if that's not enough, you'll likely even get to see most of these covers happen live, thanks to Justin Vernon. His Eaux Claires festival this year has an entire dedicated "Day of the Dead" set. Oh, just take our money already.