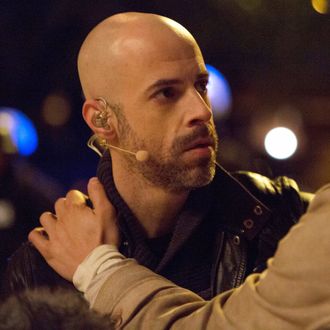 We need a sign to let us know this was real.
Photo: Michael Becker / FOX
Did you wake up Palm Sunday thinking, Why yes, American Idol's Chris Daughtry covering that one Evanescence banger in character as Judas is a thing I'd definitely like to see today? Or does the idea of Saint Peter belting Hoobastank bring on a deep nostalgia for the early '00s you've been hiding all this time? Perfect! Because Tyler Perry's The Passion delivered all that and then some. Jesus Christ Superstar it was not; what happened semi-live on the streets of New Orleans Sunday night can only be described as the karaoke night of Avril Lavigne's dreams — a smorgasbord of vaguely Christian hits from the early '00s that have aged about as well as Scott Stapp. Here are just a select few of the weirdest covers to happen to Fox since Glee bit the dust. Update: Fox has taken down the videos, but we trust you can use your imagination.

Hoobastank, "The Reason"
As if denying Jesus three times wasn't enough, Peter poured on the salt with some Hoobastank.
Creed, "With Arms Wide Open"
Nothing says you're one last meal away from being crucified like Creed.
Evanescence, "Bring Me to Life"
We never pegged Amy Lee for a Judas, but Daughtry has us reevaluating a lot of things right now.
Train, "Calling All Angels"
Sorry, was Pat Monahan himself not available to play Jesus?
Lifehouse, "Broken"
In the span of two hours, Trisha Yearwood covered Whitney Houston, Jewel, Jason Mraz, and Lifehouse — a miracle only Jesus' mom could perform.
Oh yeah, and this happened:
Tears for Fears, "Mad World"
Did you find it kind of funny that Seal (!) played Pontius Pilate? Not as funny as this.
Katy Perry, "Unconditionally"
We personally would've picked something from Perry's Christian singer-songwriter years for Jesus' big Resurrection song, but sure, this works.