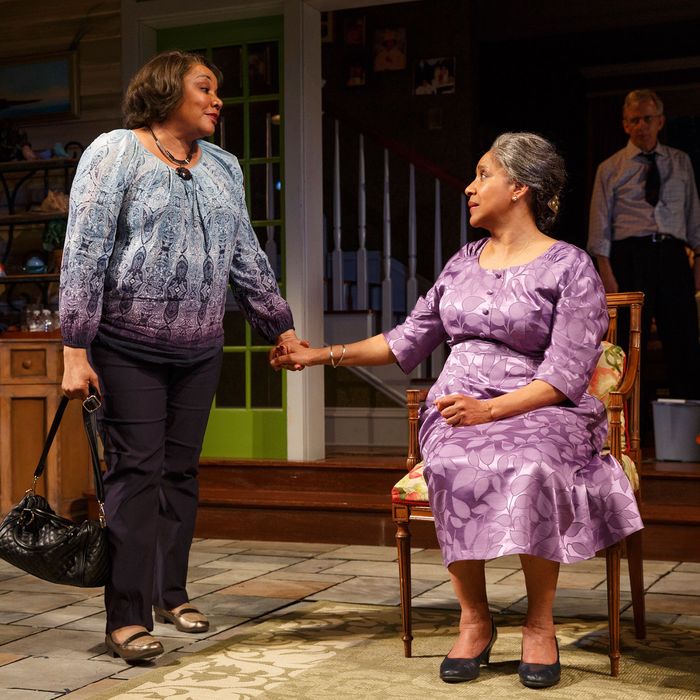 From Head of Passes, at the Public.
Photo: Joan Marcus
It's easy to understand why playwrights as diverse as Archibald MacLeish (in the verse epic J.B.) and Neil Simon (in the shticky God's Favorite) have been drawn to the Book of Job. Like most writers, and most humans, they are troubled by the fundamental mystery of faith and suffering: If there is a loving Father, why does he treat his children so cruelly? (Simon wrote God's Favorite after his first wife's death, of bone cancer, at age 41.) The biblical tale also appears to offer the playwright plenty of juicy, stageable events. God and the Devil debate the existence of innate goodness; God permits the Devil to test it by stripping the world's most pious man of all his comforts and joys; ruin, plague, and death ensue. But what makes a good parable may not, at second glance, make good drama. In the Book of Job, the conflict is mostly internal or supernatural, not interpersonal, and fate is unconnected to character. It takes place everywhere and nowhere: in any case, well beyond the pale of theater.
In Head of Passes, a startling but awkward new take on Job, the playwright Tarell Alvin McCraney tries to solve the problem by situating the story within a more conventional domestic drama. Shelah Reynolds, a widow of indeterminate advanced age, has just received bad news from the doctor. (Even if she hadn't, we would know it from her awful cough.) Like innumerable elderly black heroines before her, she enters wearing a dress that looks like it's made from upholstery and carries a bible, muttering to the Lord. We are in the Florida room of her home, a former bed-and-breakfast out in the swampy no-man's-land, 95 miles south of New Orleans, where the Mississippi River spreads into the Gulf of Mexico. (The title refers to this location.) As torrential rain leaks through the roof, and preparations are underway for her birthday party, Shelah calls her family together for a different reason. She wants to make things right while she still can for Cookie, the troubled girl born of her late husband's affair with another woman. Shelah's two grown sons, Aubrey and Spencer, will not be happy with what she plans to say; they have already seen too much of their mother's generosity to Cookie go "up her arm."
Despite this and other premonitions of doom, most of the first act passes busily, and often amusingly, in a blur of family comedy. Guests arrive one by one, soaking wet; the Reynoldses gab and squabble and dance; the deviled eggs made for Cookie go bad or don't. (Shelah doesn't like the word "devil" to be spoken, and it otherwise never is.) Even as the content darkens, the tone maintains a slightly satirical quality, as if Head of Passes were going to be a Madea-type send-up of black cultural clichés. ("How y'all just gone let it rain in the middle of the living room?" Spencer bellows. "That's some country shit!") If the laughter this provokes is uncomfortable, I have to assume McCraney is deliberately making it so; after two previous productions, at Steppenwolf in Chicago in 2013 and the Berkeley Repertory Theatre in 2015, he must know what effects he's after. Perhaps he means us to relax into a familiar emotional climate in which the bad things that happen, or have happened, or will happen, stay within our comfort zone and the bounds of stage realism. Because after an hour of this, as the first act gives way to the second, he leaps past those bounds entirely.
Now the Job story kicks in with a vengeance, as the secondary characters melt away and the focus narrows on Shelah. Much of the second half of the play amounts to a dramatic monologue in which she brutally interrogates her own faith and somehow finds it lacking. (Among other faults that are not very damning as faults, she convicts herself of blindness to the evil that went on in her home.) This material is blisteringly delivered by Phylicia Rashad, whose natural grandness is used to excellent effect, especially as it collapses. But a little of this goes a long way, and lacking a visible conflict beyond what Rashad can conjure out of thin air, the play becomes more and more abstract. Indeed, its final passage brings us over the edge of psychodrama: an apt enough response to Job but not, in the event, very convincing theatrically. You may tire of Shelah's struggle to understand and justify God well before she does.  
There are considerable compensations along the way. The cast, under the direction of longtime McCraney collaborator Tina Landau, is strong enough to withstand the gale force of Rashad, especially Francois Battiste as the frustrated Aubrey and Alana Arenas, harrowing as Cookie. The set, by G.W. Mercier, astonishingly mirrors the action of the play in a series of terrifying disruptions. And McCraney's flights of poetry — he has a terrific ear for both the saltiness and aspiration of vernacular speech — are so fluently rendered by Rashad they seem like plainest prose:
Find ways? You got ways? You holding keys 
To life and death? What pocket you hiding 'em
In? Tell me, Doctor Anderson, Show me now?
That's pride, there. Got learning of some earth and
Acids and feel you know the summons of sunrise.
You just tell what you see but man ain't tall enough to see all. 
Unfortunately, this lyricism, reminiscent of the Brother/Sister Plays that introduced McCraney to New York audiences starting in 2007, does not sit very well with a jokey spikiness that's reminiscent of his more contemporary Wig Out and Choir Boy. Each mode seems to undermine, not deepen, the other. Still, the bigger problem with Head of Passes isn't style but content. In trying to humanize the great and mysterious parable, McCraney has set himself a challenge surely no playwright could meet. A drama cannot long stand when structured so that the protagonist, God, appears only by repute, and the antagonist only in deviled eggs.
Head of Passes is at the Public Theater through April 24.