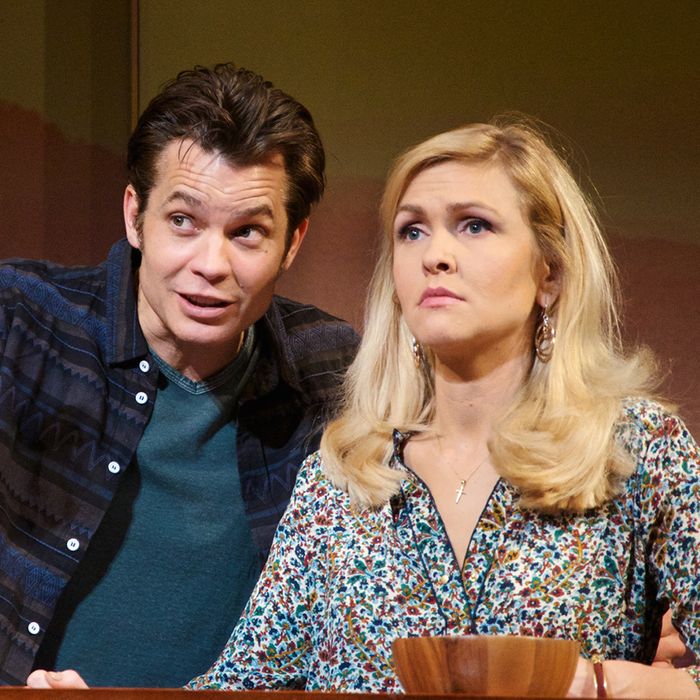 From Kenneth Lonergan's Hold On to Me Darling.
Clarence McCrane, better known as Strings, is "the third biggest crossover star in the history of country music." In Hold On to Me Darling, Kenneth Lonergan's lumpy and scattershot new play at the Atlantic, that means he headlines both the Grand Ole Opry and the Royal Albert Hall, appears on the cover of Rolling Stone, and portrays astronauts in Hollywood blockbusters. He's got homes and boats and personal assistants; he's charming, polite, and, naturally, a stud. "Is there anywhere you don't have muscles?" marvels the masseuse at the hotel he's staying in as the play begins. Well, yes, one place.
But if Strings is not a rocket scientist (except in his films) he's not an idiot, either. He worries about big things like the degradation of American values, at least when it impinges on his privacy. The failure to distinguish between "what's appropriate and what the hell isn't," he tells his chief assistant, Jimmy, is "a sickness goin' through this whole goddamn country like a venereal disease." Strings seems to be goin' through the country in much the same way, getting involved in a series of impulsive and disastrous relationships with almost every woman he meets. (He marries the masseuse.) Like the songs on his latest album, Ain't No Time for Cryin', he is generically sincere, only vaguely able to notice any feelings but his own:
STRINGS: You got any idea what it's like growin' up without no Daddy? 
JIMMY: I sure do. My Daddy run off when I was f —  
STRINGS: It's a kind of lonesome feelin', Jimmy. Like, somethin' was took from inside you, and you ain't never gonna get it back.
JIMMY: Must feel pretty bad. 
STRINGS: Why you think Mama took in all them step-daddies over the years? 'Cause she didn't want me growin' up without a father's love. 
The sudden death of his not-so-sainted mother is the crisis that has brought Strings home to Beaumont, Tennessee, interrupting a film shoot and reigniting a long nervous-breakdown-in-progress. After the funeral, at which he reconnects with a pretty young second cousin named Essie, he decides to give up the celebrity life, move back home permanently, and, with his good ol' boy brother, Duke, open a feed store. In the manner of absurd rural-slumming satires from Green Acres to Funny Farm, this does not go well.
But is it a satire? It certainly contains elements that are inexplicable otherwise. Celebrities and fans, country music and country folk, narcissists and sycophants all come in for mild needling. Very little of Hold On to Me Darling is funny, though, and not just because these subjects are so well picked over already; the tone is too wobbly, and the pace too languorous, for its teeth to gain any purchase on skin. (The play runs almost three hours, much of which is repetitious.) On the other hand, Lonergan can't possibly mean to be serious; the story is too ludicrous. Until the final scene, nothing really happens beyond Strings's wearisome dithering and the even more tedious working-out of its consequences. And then, in that final scene, when Lonergan finally gets some real drama going, he drops it like a hot pan and shuts off the lights. Nothing the director Neil Pepe tries to shape with the material can make a graceful exit of that. 
This is all very mystifying, and a little sad. After the spectacular first bloom of his stage career, with This Is Our Youth in 1996 and Lobby Hero in 2001 (and the film You Can Count on Me in between), Lonergan seems to have lost nerve, or at any rate efficiency. His 2009 play The Starry Messenger had a long, rocky development (as, famously, did his movie Margaret, eventually released in 2011); the script of Hold On to Me Darling was first copyrighted in 2004. More troubling is that the pointedness and pathos of those early works — a 2014 Broadway production of This Is Our Youth more than proved its continued stageworthiness — has here descended into confusion and sentimentality. Like Strings, Hold On to Me Darling seems to be trapped in an interior drama that doesn't really acknowledge the other people in the room. 
That includes the audience but also the actors, who have the daunting task of brewing what amounts to a tempest in a crockpot. As Strings, Timothy Olyphant (who before becoming famous on television in shows like Justified appeared at the Atlantic in David Sedaris's Santaland Diaries) has the requisite charm and muscles but spends most of the play leadfooting the accelerator, trying to make it go. Despite this, and the valiant work of the rest of the cast, it doesn't. (Even Walt Spangler's turntable set spins slowly.) I can't think that's because the play needed more thought; probably it needed less. In any case, we can hope that Lonergan will get back to us quickly with something new. As Strings no doubt would warble, this ain't no time for cryin'.
Hold On to Me Darling is at the Atlantic Theater Company through April 3.