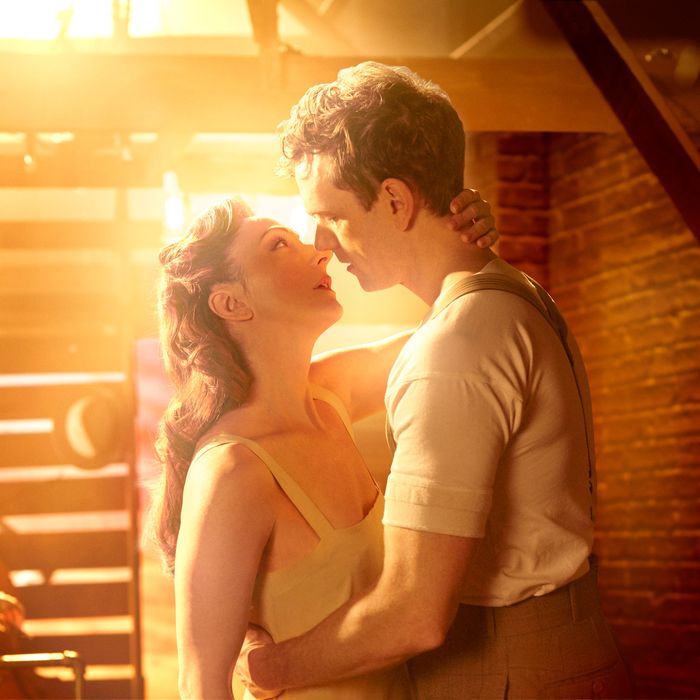 From Bright Star, at the Cort.
Photo: Nick Stokes
At some point between its San Diego premiere in September 2014 and its pre-Broadway tryout at the Kennedy Center earlier this winter, the musical Bright Star, which bows at the Cort tonight, acquired a new opening number. Many shows do; it's been almost a rite of passage since Jerome Robbins rescued A Funny Thing Happened on the Way to the Forum by having Stephen Sondheim write a new song to show the audience, right from the start, what to expect. (The result: "Comedy Tonight.") Since then, Robbins's fix, specific to that occasion, has become a nearly inflexible rule, and so Bright Star now opens with an establishing song called "If You Knew My Story." It's super-catchy, and Carmen Cusack, whose role in the proceedings we do not yet comprehend, sings the hell out of it. But unfortunately it does its "show the audience what to expect" job too well. With banal, self-cancelling, upbeat lyrics like "If you knew my story you'd have a good story to tell," it mostly shows us that we are going to have, in Bright Star, a banal, self-cancelling, upbeat musical, the kind that wants to demonstrate a lot of heart without actually having one.
Which is not to say it has no smarts and no value. There's a lot to like in Bright Star and a lot to admire in the way it was made. It is, for one thing, an entirely new work, not based on a movie or a book, though its authors, Steve Martin and Edie Brickell, do say it was inspired by their 2013 roots-music album, Love Has Come for You. (Only one of the musical's numbers — "Sun's Gonna Shine," the act-two opener — appears to be a direct lift.) Instead, the two have built, around an actual 1902 incident involving a baby thrown from a train, an elaborate new history set in two time periods and various locations around North Carolina. Cusack plays Alice Murphy, the prickly, punctilious editor of a literary magazine called the Asheville Southern Journal in the 1940s, and, in a series of 1920s flashbacks, a bookish yet spunky teenage version of herself in rural Zebulon. Awkwardly sandwiched within this story is another, involving A.J. Shively as Billy Cane, a G.I. just returned from World War II with a stack of stories to sell. I won't say more about the plot except that it doesn't take a wizard to figure out how these stories eventually intersect.
How the stories intersect with the songs is the larger problem here. The mostly bluegrass score, with country, gospel, and a little swing thrown in, sounds great (the music director is Rob Berman) but almost always does exactly the opposite of what a story-based musical requires. Instead of deepening and specifying the emotional situations they arise from, the songs repeat, in the most clichéd terms, what we already know from the dialogue. The title number, for instance, follows an early scene in which Billy tells his girlfriend that he's going to submit his stories to the Journal; the music has a nice locomotive impulse but the lyric offers only this generic and almost nonsensical sentiment:
Bright star,

Keep shining for me,

Shine on and see me through.
Bright star,

Keep shining for me,

And one day I'll shine for you.
It's not that the words don't fit the tune. Rather, they lack the granularity, the fingerprint, of lived experience: the particular need that (a few blocks away) causes Amalia in She Loves Me to make thrilling arias out of ice cream and missing shoes and phrases like "I am so sorry about last night." Or that causes Small Alison in Fun Home to feel her way toward a unique truth about herself in a song about a ring of keys. Pop music rarely works as theater music exactly because it's rarely so specific: It is most often told in the songwriter's voice, not a character's, and is designed to reach everyone, not someone. So the fact that Martin and Brickell, in their songwriting at least, are so broadly unironic — a rare thing in musical theater today — turns out to be not a boon but a boondoggle. Their sincerity keeps collapsing on itself; in compensation we get plenty of that all-purpose Broadway grout known as charm.
Charm is what Cusack, who looks and sings a bit like Donna Murphy, uses to produce, in her Broadway debut, a marvelous, dense performance from obvious, thin information. (Shively and the rest of the cast, having even less to build from, overdo it.) Charming, too, is Eugene Lee's scenic design, all slats and sidings and railroad trestles, with a spinning central cabin that looks like it escaped from his set for Sweeney Todd. (Mostly, it contains members of the terrific ten-person band.) And Walter Bobbie's staging is unusually handsome, integrating the choreography by Josh Rhodes into the storytelling more successfully than the songs. Still, all this charm undermines the tone of what is, au fond, a sad and almost gothic story. (The pep of the bluegrass doesn't help, either.) In the final ten minutes, as both stories come to what is meant to be a shared emotional climax, the audience members, unprepared for, or uncomfortable with, a sudden turn toward substance, start laughing. You can't blame them; they are merely collecting on the promise of a good time the show made in its opening number. Tragedy tomorrow, comedy tonight.
Bright Star is at the Cort Theatre.