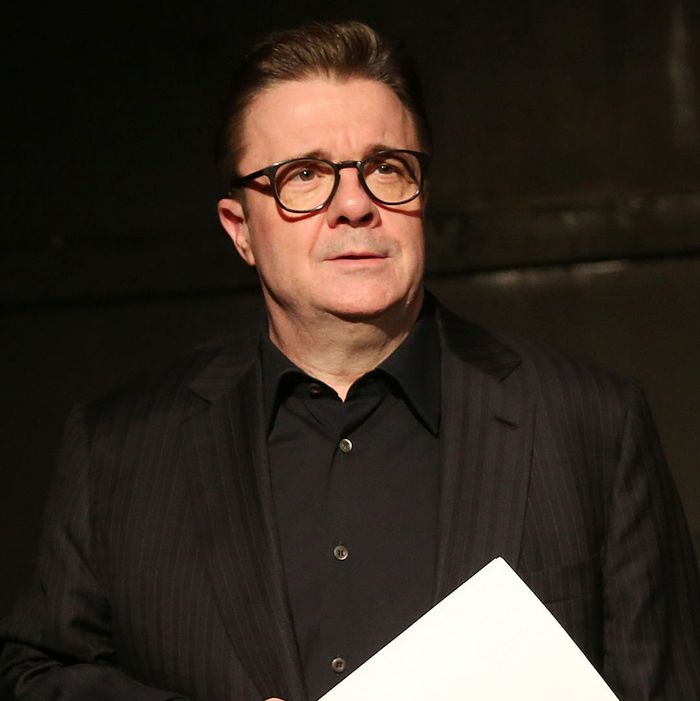 He's never seen the script before.
Photo: Bruce Glikas/VivacityPR
It takes a special kind of pluck, or vanity, to name your musical Disaster! and not expect critics to agree. But then everything about the campy little show of that name that's opening tonight on Broadway is foolhardy, especially the "opening tonight on Broadway" part. Disaster! originated at the 130-seat Triad in 2012, then played the 178-seat St. Luke's Theatre starting in 2013. It's possible to imagine (I didn't see either version) that its charms seemed large and its awkwardness charming in those little Off Broadway spaces. They do not in the 1,230-seat Nederlander, where a big but sparse and ugly set (by Tobin Ost) frames a tiny entertainment that should probably have been left in a basement rec room.
The idea, we are told, was to spoof the disaster-film genre of the 1970s (The Towering Inferno, The Poseidon Adventure) using mostly disco hits ("Never Can Say Goodbye," "I Will Survive") of the same era. To that end, the authors — Seth Rudetsky and Jack Plotnick — have invented a scenario in which 35 familiar songs, or at least wee gobbets of them, can be wedged into story holes. Or perhaps it's the other way around. The opening number, for instance, is Donna Summer's "Hot Stuff," repurposed to introduce the guests arriving for the maiden voyage of the floating Barracuda Casino & Discotheque in 1979. Each repeat of its chorus refers to a different literalization of the title phrase: In one, the nefarious casino owner argues with the chef about the crudité being served (he wants some hot stuff); in another, a scientist infers seismic activity beneath the pier because of the temperature of the water. You may now groan.
As such, this isn't really a spoof of disco music or disaster films; it's a spoof of the conventions of Broadway musicals. Over and over, and in exactly the same way, the characters — among them a dim chorine, a middle-aged suburban couple, an intrepid girl reporter, a lovelorn waiter, and, of course, a nun with a gambling addiction — launch suddenly and as if by surprise into a song that is so laboriously set up you can pretty much name it three beats in advance. The humor, such as it is, is entirely based on this shoehorning technique, which was already long out of fashion in 1979. Only when the nun sings "Torn Between Two Lovers" does it really pay off, and that's not so much because of the joke itself (her two "lovers" are Jesus and the one-armed bandit) as because of Jennifer Simard's brilliant underplaying.
Underplaying is not otherwise much in evidence. The Broadway names who stock the cast — Roger Bart as the casino owner, Rachel York as the chorine, Kerry Butler as the reporter, Adam Pascal as the waiter, Faith Prince and Kevin Chamberlin as the suburban couple —play to the balcony while trying not to look embarrassed. (Prince, by hook or crook, will make you laugh; she's not going down with this ship.) They sing the songs well, but this brings little pleasure in itself because, once the squibby jokes pop, they serve no function. The genre is, after all, useless as a narrative medium; did Got Tu Go Disco not teach us anything? (And by the way, despite the disco ball on the Playbill cover, a hefty portion of the tunestack isn't even disco: "Feelings"? "Muskrat Love"?) Meanwhile, the attempted spoof of disaster movies amounts to a few prop jokes and some severely underfed special effects. The staging, by Plotnick, is amateur.
Plotnick's co-author, Rudetsky, who plays the scientist stiffly, is a much-loved Rialto figure: a music director, coach, radio host, and all-around promoter of everything Broadway. (His video "deconstructions" of diva performances are insane fun.) It would be nice to find that his love for the medium and deep knowledge of its byways translated into the kind of show-writing discipline that could keep such an ungainly ship as Disaster! afloat. Alas, when it comes to musicals, love is not enough. Not even muskrat love.
* * *
The Iranian playwright Nassim Soleimanpour is also interested in genre shenanigans, but more in the way a prisoner is interested in keys. His one-person play White Rabbit Red Rabbit was evidently written in Tehran in 2010, under conditions that required him to dress any counter-revolutionary notions in the clothing of absurdism. That such a work — politically fraught but stylistically passé — has wound up at the Westside Theatre is almost absurd in itself. So is the task that faces the succession of well-known actors who will perform it, each only once, on Monday evenings for the foreseeable future. They are handed the script onstage as the show begins, never having seen it before. They must proceed to perform the 75-minute monologue cold, with no direction or help, except from a few audience volunteers.
Actually, the volunteerism is "obligatory," so watch out: As Nathan Lane pointed out at last night's opening, audience participation in the theater falls somewhere in the pantheon of entertainment "between incest and folk dancing." That was an ad lib — one of many — and it's in fact difficult to imagine White Rabbit Red Rabbit being bearable, or making much sense, without such a super-quick-witted performer delivering it. (The next four Mondays bring Whoopi Goldberg, Martin Short, Patrick Wilson, and Brian Dennehy.) The play itself is terribly earnest, filled with phrases like "it tastes of freedom" and redolent of a dorm room in which the bong is lorded over by a sophomore philosophy major. And yet, of course, the playwright is no mere student of repression but the onetime victim of it. (He now lives in Berlin.) So his parable about repression and competition — the title refers to an experiment in group dynamics that does not end well — achieves some emotional weight despite its form, which sometimes seems like an nth-generation photostat of 1960s Iron Curtain protest drama by the likes of Václav Havel and Sławomir Mrożek. (It is also rather closely reminiscent of The Painted Bird, Jerzy Kosiński's discredited refugee memoir.) No surprise that a portion of the profits from the New York production will go to PEN International.
But if the dated style and lingo occasionally led Lane to roll his eyes or otherwise undermine the text, he was sometimes pulled up short by its power. White Rabbit Red Rabbit was, after all, written under circumstances that, even more than usual, meant that the author might never see it performed or know who performed it in front of whom. By taking control of the actor's experience even at such a distance of space and time, he was not just being a sadist; he was asserting his future existence in the theater at a time when he might, for all he knew, be dead. In touching the universal desire for immortality, or at least the desire not to be made invisible, he clearly touched Lane. And with an actor so finely tuned, it's enough that he be moved to guarantee that we are, too.
Disaster! is at the Nederlander Theatre through July 3.
White Rabbit Red Rabbit is at the Westside Theatre, on Monday nights only.