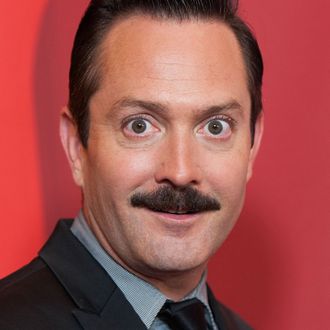 Thomas Lennon.
Photo: Valerie Macon/Getty Images
Tied to Terrence Malick's Knight of Cups release, Business Insider spoke to actor Thomas Lennon about his behind-the-scenes experience. The resulting interview produced a handful of gems that illustrate how potentially random, frustrating, brilliant, and fulfilling a Malick shoot might be. For starters, it took Lennon, a minor player in the grand scheme of things, quite some time to figure out his role: "I started making phone calls to people — 'Could you please find out what role I'm playing? Is there a wardrobe fitting?'" he told BI, noting he didn't get clues till roughly three days before his shoot. "The answer I would get back from everyone [was], 'No one knows anything about the movie.'" (A bit on that here.)
Lennon, who plays a Hollywood Hills jerk in the film, fortunately wrangled more info when he made it to set. But while there, he encountered even more oddities, which ranged from interchangeable cinematographers and non-answers, to anti-rules and marathon shoots. Read on for the main Malick lessons Lennon learned.
Memorizing the script is unnecessary …
… because there are inspirational phrases instead:
"We're all standing there and Malick hands out these pieces of paper to all of us … And the one he gave me said, 'There's no such thing as a fireproof wall.' And I ask, 'Is this something I'm supposed to say in the scene?' And he said, 'I don't know.' … And then Malick goes, 'Would you like some more? Because I have a whole stack of these.'"
… and because the lines and blocking will be improvised anyway:
[Lennon], [Joe Lo] Truglio, and [Christian] Bale began walking around the mansion, improvising their lines. For eleven full hours. Keep in mind the party scene, in the finished film, lasts about five minutes, and Lennon has at most a minute of screen time … The actors were also strictly instructed, according to Lennon, to make it as difficult as possible for the camera operator to shoot them, never standing in a way that they were squared up with the camera … Lennon admits that for the first few hours, he was unbelievably distressed: "I would ask, 'Like that Terrence?' and he would be like, 'Great, it's all great.'"
Fighting off camera is great …
… because Malick will love it, and it will be real and raw for everyone involved. Because everyone will be involved:
[Lennon] and his wife got into an argument over the phone. "We were basically yelling at each other … And at that point Malick himself came up to me with a camera with a stubby lens and got, I'm not kidding, eight inches away from my face, filming me having this totally real fight with my wife. At first I felt it was kind of an invasion of privacy and then I was like, 'Fuck it, this is the realest thing that has happened all day.'"
And Malick is ultimately fun …
… because his passion is crazy, but also infectious:
"[It was] the single most fun day I've ever had on a movie set ever. What I realized was, Malick loves to be on his feet and just making movies … I don't mean the editing, just the location, shooting a scene, and letting things happen. I mean, it was honestly an absolutely batshit crazy day. But I would have instantly come back and done it another day if the opportunity came up."
Check out BI's whole report here, and get ready for Malick's latest to hit select theaters Friday.