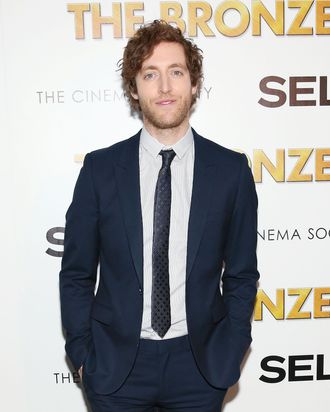 Ouch.
Photo: Monica Schipper/Getty Images
Silicon Valley star Thomas Middleditch might be the most enthusiastic Bachelor fan out there. Vulture caught up with him at a special screening hosted by the Cinema Society and Self of his forthcoming film The Bronze — that Sundance favorite with the crazy sex scene and F-bombs. Although Middleditch's character (he plays twitchy hometown boy, Ben) wasn't party to the Olympic-level romping or cursing in The Bronze, Middleditch himself does have some interesting habits while watching The Bachelor.
"I know, this is very weird. I don't know how this will work for print," Middleditch laughed. "You know I watch The Bachelor. I'm a big Bachelor fan. And sometimes that show, obviously, is very uncomfortable, and I have this habit of, when things are uncomfortable, I do this mainly in the privacy of my own home – I will fucking just like start hitting myself in weird places. I slap my junk. It's really dumb. I just mash my wiener around. Because I'm angry and it makes my wife laugh. And she likes that stuff so I goof around. Drag my butt around like a dog. Things like that. It's a real one-man show over there. Well, now I feel really weird." Same.