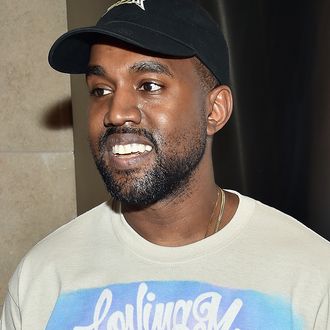 Most definitely not a humblebrag.
Photo: Dimitrios Kambouris/Getty Images
After Kanye originally withheld the official numbers on how well The Life of Pablo did because it wasn't finished, Tidal is finally spilling the impressive deets. (And they're doing so, curiously, on the same day that SoundCloud launched its own subscription service. Hmm.) No surprises here: They claim that Kanye's latest not-for-sale album was streamed more than 250 million times in ten days, meaning it most likely would have debuted at No. 1 on the Billboard charts had Tidal reported those streams to Nielsen. Just this week, Kanye added "Famous" featuring Rihanna to Spotify and Apple Music, which means that single (if he's even calling it that), at least, can chart.
In other Tidal news, it appears Kanye wasn't being presumptuous when he said keeping Pablo a Tidal exclusive all this time did the service a huge favor: Tidal says it's now surpassed 3 million paid subscribers worldwide, nearly a year to the day it relaunched, and six months after it hit its first million. And apparently, 1.35 million of those subscribers are paying for the $20 monthly tier. However, Tidal still has a long way to go before it even comes close to rivaling some of its big-name competitors. For comparison, Spotify now boasts 30 million paid subscribers, while Apple Music (which launched after Tidal) reached 11 million in February.