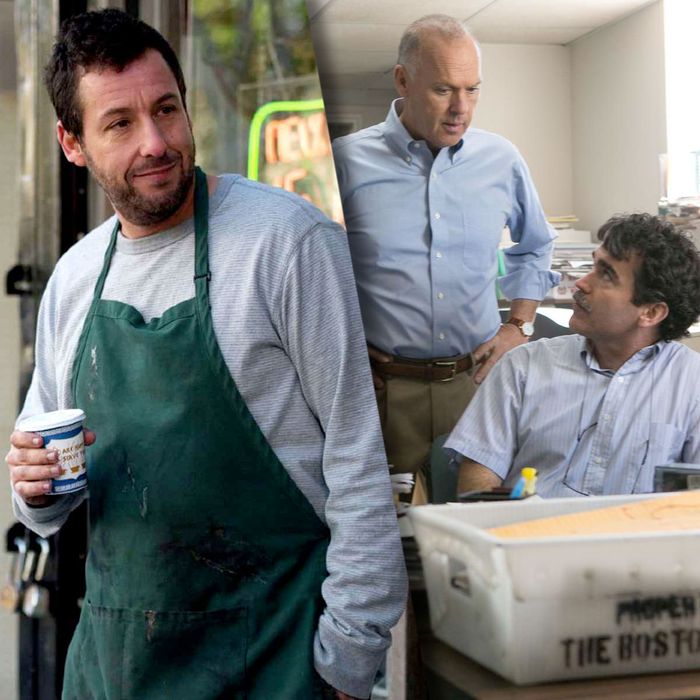 Photo: Voltage Pictures, Open Road Films
Forget Leo. The geekiest of film geeks among us know that Oscar night's most dramatic redemption narrative belongs to Spotlight director Tom McCarthy. Just last March, the man who won golden statuettes for both Best Picture and Best Original Screenplay was releasing his other movie of 2015 buried in a day-and-date VOD release: the universally panned comedy fable The Cobbler, starring Adam Sandler as a Lower East Side shoe mender who discovers a magical stitching machine passed down by his Jewish ancestors that allows him to physically transform into his clients — a hoodlum (played by Method Man), a drag queen, Dan Stevens, etc. — by very literally walking in their shoes. It has a 10 percent rating on Rotten Tomatoes; Vulture critic Bilge Ebiri called it "ghastly." More recently, Sandler got two Razzie nominations for it, one for Worst Actor and one for Worst Screen Combo, as "Adam Sandler and any pair of shoes."
I was at the Toronto Film Festival back in September 2014 when The Cobbler premiered at an early press screening because it wouldn't be debuting for the general public until the end of the fest, and the response was the definition of not good. Hopes had been high, given McCarthy's reputation on the indie-film scene as a director who can do no wrong (see: The Station Agent, The Visitor, Win Win). First came the snickering word of mouth, then the reviews comparing the movie to a blimp crash or making jokes of how Sandler "loses his sole." Then, one year later, McCarthy debuted Spotlight at the same festival, and, well, you know how that went. (Side note: He and Sandler are still good friends; according to Spotlight actress Rachel McAdams, McCarthy actually left the set of Spotlight to do a voice part in Sandler's Pixels. "He skipped out of work one day to play a robot!" McAdams told me. "Which I just love. I thought that was so quintessentially Tom.")
What's it like to go from a total bomb to Best Picture contender (and eventual winner) in a single year? Or to release three beloved indie movies and then have your next one flop harder than New Coke? I asked the very honest McCarthy exactly that when I interviewed him for a profile in New York Magazine just before Spotlight opened in theaters this fall. Here are McCarthy's thoughts on Sandler and The Cobbler that didn't make the original piece.
The Cobbler was not incredibly well received …
[Laughs.] How do you figure?
[Laughs.] I laughed a lot. I liked it!
I really liked it too! That's why we made it! But it freaked a lot of people out who were expecting a certain thing of me. It wasn't that thing, which is exactly why I made it. If you have four children and one's wacky, you go, "Hey, he's wacky, but I love that kid!" Every time someone reaches out to me, and it has been quite a few people over the last year and a half, many of them say, "Man, I finally saw it. I don't know — I liked it!" almost like, "Why is everyone so mean to you?"
Where did you get the idea?
I literally had the idea sitting at my desk one time, wondering, Where does the expression 'walk a mile in someone's shoes' come from? Then I had a buddy who's a young writer [Paul Sado] and said, "Hey, you wanna work on this with me?" and whenever we had spare time we'd play around with it. I thought it was interesting and weird and started playing with genre and style, and the idea of gentrification in New York City meant something to me. [Editor's Note: A lot of the movie's plot involves Sandler's cobbler character, Max Simkin, transforming into his customers to fight crime and/or evil real-estate developers who are trying to evict old people on the Lower East Side from their rent-stabilized apartments.] Also, a cobbler is a craftsperson, and the idea of people who do something really well was really interesting to me. You never want to defend your work. Our job is to make the work, present it, and move on, but it was tough because, critically, people did not connect with it. The bright spot is that there has been a real audience for it.
Where's the audience?
It's done really well on Netflix, which is where it ended up very quickly, as was part of the deal. I get a lot of emails, a lot of feedback from people because they find me. It's funny, I was at Telluride [Film Festival] with Spotlight and one of the women running it was like [whispering], "Can I tell you something? I loved The Cobbler." And I was like, "It's not a secret! You could say it loud, and it'll make me happy, too!"
What was it like to debut it at Toronto and have the reception be what it was?
We had a bad slot at the end of the week, but the P&I [Press & Industry] slot was at the beginning of the week, and a buddy of mine, a fellow director, was at that screening and was like, "Huh boy." He was like, "Get ready." I was like, "Cool, good to know." I was quite honestly surprised. There's some lovely things about that movie, and the response felt so definitive and one-note that I'm like, "Okay." But I had to accept it. Meanwhile, I'm deep in pre-production on Spotlight when that happens, which was a lot to balance. If I was doing nothing, that would be a lot to cope with, but I had work happening over there.
But then, here's what happened: For three or four days I had to live with the response from that P&I screening. Then we had our public premiere. Cast came in — huge theater. All I can say is that that movie screened exactly how I wanted that movie to screen. Audiences don't lie at festivals: If they don't love something, they'll let you know. If they're bored, or they don't get it, they'll leave. That was not the reaction of that audience, and we all walked backstage like, Wow! I've made a lot of movies with a lot of the people I collaborated on that movie with, and none of us felt like it was that far off the mark as the critical world thought.
Creatively, it was really interesting and challenging. Very early on, as it was happening, I felt very liberated by it. All my movies at that point had been critically well-received, and I was like, Okay, so this is the worst? I can live with this. I'm going to go make another movie now. Of course it's painful. You feel it, and, yeah, I had my dark moments. You can't not, it's personal; it's your film.
I can't say enough good things about Adam Sandler, and by the way, any actor or director I know who has worked with him — and he's worked with some very wonderful actors — has the same amount of good things to say about him. Unfortunately, I think the press paints him in a very specific light, and in my very strong, personal opinion, it's misguided. They have it out for him. But I thought he was great in the movie.
So was Method Man.
Love Method Man! Also on The Wire!
Were you friends on The Wire? [McCarthy spent season five of The Wire playing weaselly, fabricating Baltimore Sun reporter Scott Templeton, and his work and friendship with David Simon partially inspired him to sign up to write and direct Spotlight.]
No, we'd never met, but I had him in mind, and he's just a good actor. Everyone in that movie felt like they were there for the right reason. Method's from Staten Island, Wu Tang and he got that world.
Did you research cobblers?
Oh my God, yeah! Everything! I spent a lot of time with cobblers. A lot. A lot of time in certain sections of Brooklyn; spent a lot of time walking, walking, walking the Lower East Side; got to know as many people as we could. The work is always the same for me. I hire the same, I cast the same, I work as hard. There were a lot of pitfalls to making Spotlight, too. There are a lot of ways it could've gone wrong, and it didn't. It's obviously connecting, where The Cobbler didn't.
And it must feel like whiplash, now with Spotlight.
I'm used to it as an actor. What we do is very public and people have to accept that. I have a great job, and I'm a lucky guy, full stop. So when you experience criticism, you have to take it in stride and go, "This comes with the territory." Like you're that athlete who's a good pitcher and gives up a home run, and you might think no one's ever going to forgive you for it. But you've gotta be like, "All right! Next season!" and you go back to work. It's an easy thing now for me to do, especially sitting in this chair, to be honest, where I do have a movie that's connecting and doing well. But by the time I was into Spotlight, I was at peace with how The Cobbler was received.
I continue to be pleasantly surprised when I hear good things back from people, especially after everything we've been through on that one. And we had some really horrible partners on that one. The people who financed the movie were just bad partners. Life's too short to work with people you really don't trust or like, and that was one of those situations where we got our financing from a company that I greatly regret, just because they're not one of the good ones. [Note: That company seems to be Voltage.]
Remind me: Wasn't a big part of Adam Sandler's character that he's Jewish?
Adam plays a Russian Jew from Brooklyn.
So you went from writing about Russian Jews to a movie about Irish Boston reporters uncovering a conspiracy of pedophile priests?
As Sandler said, "Boy, the Catholics are really going to hate you. First you make a Jewish superhero in The Cobbler, and then you go after the Church!"