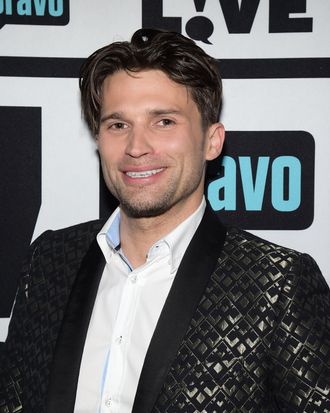 This guy knows a lot of people.
Photo: Bravo/Getty Images
Can you put a price on friendship? Lucky for Vanderpump Rules star Tom Schwartz, you cannot. Otherwise he would have had to come up with a brand-new price that was very big — much bigger than all of the prices we know currently. Talking to "Page Six" about his upcoming wedding to co-star Katie Maloney, Schwartz shared that the biggest stress factor for him in planning his upcoming wedding is, in fact, the guest list. This is because he knows so many great people around the country and world.
In his words: "The guest list is the biggest stress factor for me. I know so many great people around the country and the world."
Oh, yes. However, it is important to remember what Plato once said (allegedly) about knowing so many great people around the country and the world: "A good decision is based on knowledge and not on numbers especially if the number is referring to all of the great people you know around the country and the world, Tom Schwartz, I am speaking to you specifically. Big fan of your quote!"