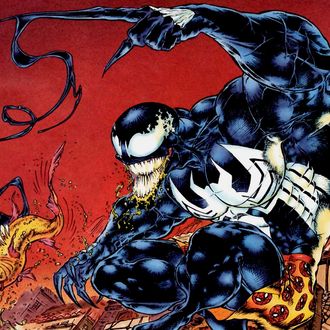 Venom. Courtesy Marvel Entertainment.
Photo: Marvel
Longtime Spider-Man supporting character Venom appears to be on track to get his own movie … and it won't include Spider-Man. The Hollywood Reporter is reporting that Sony — which owns the film rights for Marvel Comics' Spider-Man franchise — has hired writer Dante Harper to pen a script for a Venom movie, which would stand on its own and be unrelated to the soon-to-be-rebooted Spider-Man franchise. In fact, producers Avi Arad and Matthew Tolmach reportedly see it as a potential kickstart to Venom's own franchise.
For the less geeky among us, a quick Venom primer: The character was introduced in the pages of The Amazing Spider-Man in 1988, the brainchild of comics creators Randy Schueller, David Michelinie, Mike Zeck, and Todd McFarlane. Venom's shtick is a little complicated: There's a black-and-white alien entity that wraps itself around a human host and exists in symbiosis with it. When someone is possessed by the symbiote, they often go by the moniker "Venom" and usually either do bad things or at least violent ones. Venom has often been a villain, but has also been a sort of anti-hero, a moral alignment that would make a fair amount of sense for a big-screen starring role. The last time we saw Venom in film, he was played by Topher Grace in 2007's (underrated!) Spider-Man 3, but there's no word on who the new host body will be.