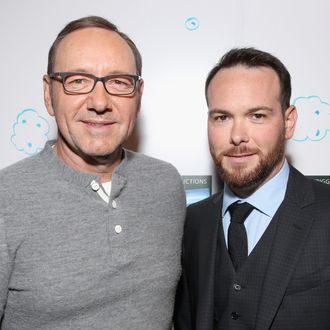 Kevin Spacey and Dana Brunetti.
Photo: Todd Williamson/Getty Images
Unless you're Einstein, Relativity is … well, complicated. The media monolith used an algorithm that could allegedly predict what movies would make money, but really it just helped Ryan Kavanaugh make fat stacks. It was, as the bros might say, "an epic fail." Our own Benjamin Wallace said:
If, for instance, a studio was planning to make an Untouchables prequel starring Nicolas Cage and Gerard Butler and directed by Brian De Palma, Kavanaugh posited that he could evaluate the potential investment by plugging scores of historical-performance variables into his model, from Cage's average global-box-office grosses in a particular genre to De Palma's track record within a particular budget range. Applying this analysis across a studio's entire slate, he could theoretically cherry-pick the winners and channel investors' money into those alone.
The company had accrued more than $1 billion in debt to its roughly $500 million in assets before the bankruptcy filing. In January, Relativity Media announced that it had tapped Kevin Spacey and Dana Brunetti's Trigger Street Productions to oversee "all creative and film production." Many wondered how Spacey would have the time, considering his prodigious acting commitments. (His House of Cards season five deal requires him to be on the East Coast set of the series for 200 days in the next 12 months.) Turns out he didn't have the time after all, as The Hollywood Reporter confirms. In a bankruptcy court declaration, Spacey said:
It is with much thought and consideration and after many discussions with those I trust most that I have decided not to go through with accepting the role of Chairman at Relativity Studios. I can think of very few things more exciting to an actor than being given the opportunity to work with fellow actors, writers and directors with the ability to bring their creative works to light. That was, and still is, a very powerful idea for me.
He went on, "However, as Relativity emerges from bankruptcy and now that I have a much deeper understanding of the specifics of the amount of work that will be needed to shepherd the company through this transition I have concluded it is work that I neither have the time nor the wherewithal to take on."
Brunetti, whom Vanity Fair called the "most openly disliked and secretly beloved executive," will continue working with Relativity, but he might want to avoid the DC metro, just to be safe.