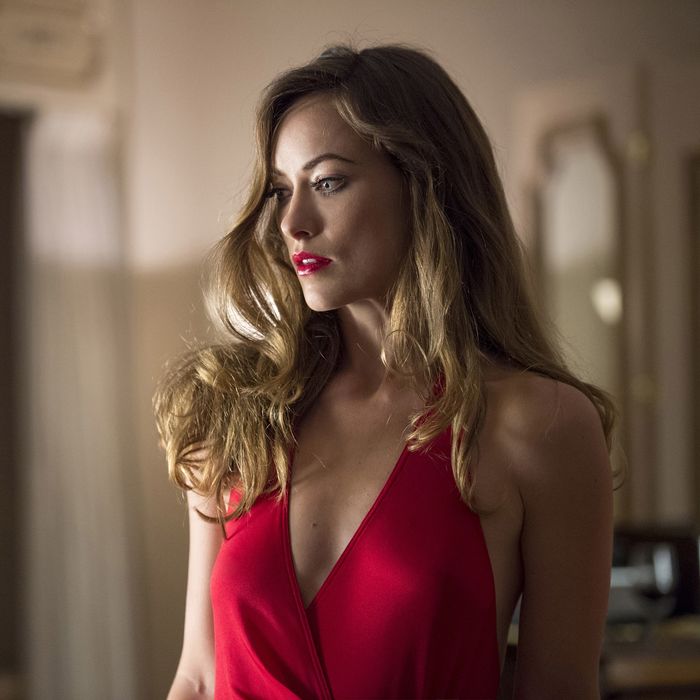 Olivia Wilde as Devon.
Photo: HBO
As we head into the second half of Vinyl's first season, the show has built one of the most ornate stages in television history, but it's having trouble figuring out how to fill it. This week's "Cyclone" takes us on a whirlwind tour of the Chelsea Hotel, Max's Kansas City, Coney Island, and a David Bowie soundcheck. And what kind of story goes on in all those historic places? One about a drug-addicted, mentally ill megalomaniac, who drives his wife away with his erratic, sometimes violent behavior. In other words: exactly the same kind of scenario that's been played out on cable dramas for the past decade-plus. What a waste of a great setting.
I'll go even further: There are times when it seems like Vinyl could be taking place anywhere, and at anytime. We could be in New York in 1973, Paris in the 1830s, Oklahoma ten years from now … whatever. That's because more often than not, Richie Finestra comes across as a generic TV alpha male: tortured, self-centered, inconsiderate, and insufferable. It really doesn't matter where he dwells.
That's more true than ever in "Cyclone," as Richie runs the gamut of antihero clichés. An out-of-control bender? Check. Conversations with a hallucination? Yep. Engaging in inappropriate sexual behavior, then getting frustrated when his inebriation keeps him from closing the deal? You betcha. Starting to patch things up with his wife, but then flying into a jealous rage? Oh, indeed.
Richie has the potential to be a rich character. He's a street-smart kid from Brooklyn, who made his way up in the music business by keeping one foot in the rackets and one in New York's artier neighborhoods. That's the kind of fellow who could anchor a good story, if Vinyl would just calm down for a few minutes and let one happen to him. Instead, the show's writers again seem fascinated with watching an accomplished professional be an embarrassing boor, in scene after scene.
That said, "Cyclone" is a definitive step up from "He in Racist Fire," because at least Richie's obnoxiousness leads somewhere. Most of the episode tracks how he's spending his days: screwing up at work, scaring his kids' nanny at home, and having unproductive conversations with the ghost of his old Warhol/Factory buddy Ernst (played by Carrington Vilmont). Meanwhile, Devon takes an extended vacation from being a wife and mother, and lounges around the Chelsea with Ingrid, Ernst's ex. When she finally returns home, Devon looks like an alien visitor to her own house. And when Richie flies off the handle after a perfunctory attempt to apologize, she takes the kids and flees, leaving her husband to remember the night years ago when his under-the-influence car accident killed Ernst.
That's a poignant moment, beautifully visualized by director Nicole Kassell and the show's crew. It almost makes the shrill tone of all the other Richie scenes worthwhile.
I'll get back to Kassell's work in just a moment, because what she does with "Cyclone" is so aesthetically pleasing that I'd almost encourage people who've never seen Vinyl to tune in and turn the sound down, just to look at the images. But Kassell's not the only reason why this episode's more tolerable than last week's blunder. My main beef with "He in Racist Fire" was that the heavier focus on the women exposed how they're nearly all drawn as shallow and shrewish. In fact, the overall lack of camaraderie between any of the characters has been a liability thus far, making the show harder to enjoy on a "can't wait to see what the gang at American Century is up to" level. Here's how bad it's gotten: This week, when Kip raced through the streets to ask a guitar thief he'd just met to join the band, it was nice just to see someone in Vinyl genuinely interested in spending time with somebody else.
That's why Zak Yankovich is shaping up to be such a pivotal character. If nothing else, he's been carrying the heftiest part of the 1973-specific narrative. This week, when the new PR exec Andrea (Annie Parisse) reports for duty, she talks about how American Century's logo looks like a toilet, and how their lobby decor looks square. But what she's really describing is Zak, an old-fashioned "record man" who's in danger of being left behind in Richie's new vision of the company. Zak confronts his boss about all this at his daughter's bat mitzvah (which Richie arrives to six hours late), and their direct, honest engagement is so rare for this show that even though it devolves into a shoving match, the scene's kind of sweet.
This is the dynamic Vinyl should be exploring: the relationship between two longtime co-workers and almost-friends, who may be undervaluing each other's gifts. Zak doesn't understand Richie's passion for the new. Richie doesn't respect Zak's musical taste. But at the end of the night, when Zak hears a lovely piano rendition of David Bowie's "Life on Mars?" (the character is played by Big Love's Douglas Smith, and he lip-syncs a Trey Songz cover), the implication is that he may have finally found his own fresh sound to bring to the label. Let's hope this works out, because the sooner Richie and Zak get on the same page, the more fun it'll be to watch American Century's revival.
And more broadly, that's the big thing this show needs right now: improved chemistry between the characters, and more emphasis on the business side. It sucks to be so persistently frustrated by something that boasts a look and an energy unlike anything else on TV.
This brings us back to Kassell, who's a good choice to direct a Vinyl episode. She previously brought a dreaminess and sickly momentum to other prestige shows, like Better Call Saul's "Alpine Shepherd Boy," and The Leftovers' nail-biting, heartbreaking "No Room at the Inn." Here, her frequent use of extreme close-ups, dappled sunlight, and colored filters gives everything a fevered intensity, all the way up to that devastating final scene of Richie sitting in a car near the Coney Island Cyclone, thinking about Buddy Holly, hot dogs, and the death of a friend.
When Zak complains that Richie pays more attention to Andrea's suggestions than his, Richie says, "Put on a dress next time, maybe I'll listen." And although that's supposed to be a joke, there is something to be said for slipping ideas — good and bad — into an attractive package. Even at its most aggravating, Vinyl maintains a certain surface appeal, too polished to dismiss. To paraphrase "Chelsea Hotel" and Leonard Cohen: It's ugly, but it has the music.
It's Only Rock and Roll (But I Like It):
Even though this episode treated him respectfully, I have to admit I was more rattled by the ersatz David Bowie (played by Noah Bean) than I've been by any other pretend rocker so far — even more so than last week's fake Lou Reed. Bowie's death is just too fresh. And while I don't generally care when Vinyl takes liberties with the rock-and-roll timeline, I found it distracting when Bowie talked openly to Zak and Andrea about retiring his Ziggy Stardust character, which is something he actually sprung on the public at the very end of his 1973 tour, at London's Hammersmith Odeon. (Also, Bowie played New York in February of that year, not over the summer. But that's not a big deal.)
The "Paul" whom Devon and Ingrid hang out with at the Chelsea may be intended to evoke Paul Morrissey, the filmmaker who worked with Andy Warhol on the likes of Chelsea Girls, Trash, and Flesh for Frankenstein. The personal details seem a little off between Vinyl's Paul and Paul Morrissey, but the implication is there.
One of Andrea's big ideas is to commandeer a benefit for Biafra that Jackie Jervis was involved in, intending to steal his plan to record a soundtrack album. I suspect that we'll be seeing that benefit by season's end — if only because it'll be an excuse to pack in more rock-star imitators.
This episode is credited to actor/playwright Carl Capotorto and screenwriter Erin Cressida Wilson. The latter's had an up-and-down career. She's worked on the cult indie Secretary, the Diane Arbus biopic Fur, Atom Egoyan's underrated erotic thriller Chloe, and the god-awful Jason Reitman dramedy Men, Women & Children. Television hasn't really been a big part of her resumé, but I hope she gets to write more for this show because the non-Richie scenes in "Cyclone" work fairly well.
Soundtrack to this review:
Television, Sketches: The Demos 1974-75
The Isley Brothers, Timeless
The Byrds, The Notorious Byrd Brothers
Crazy Horse, Crazy Horse
John Prine, John Prine
Correction: An earlier version of this recap failed to mention that Trey Songz performed the "Life on Mars?" cover.