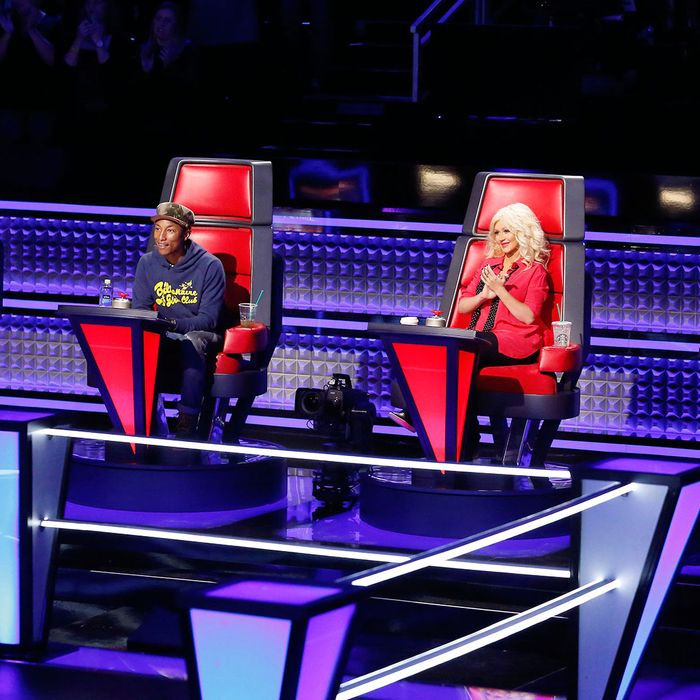 So much has changed since we were last all gathered here together! Adam Levine's hair is suddenly pink! All of the special guest mentors have been replaced by Miley Cyrus! Also, everyone gets to pick their own songs now, because we're on to the knockouts, where we really get to know our contestants and see who is most out of touch with their personal limitations and reality.
The first battle is between the El Salvadorian cruise-ship country singer from Georgia, Angie Keilhauer, and Paxton Ingram, who dances on his own. "These two are my fighters," drawls Blake. "They have such an attack on their vocals." For his vocal attack, Paxton will be singing "Hometown Glory" by Adele, because it is an anthem about having a hometown, and Paxton is from Miami. Miley, whose wisdom rivals that of my current hero and future Voice coach, Sean "Puffy" Combs, tells him to make big choices and also to lean into his low notes. Speaking of big choices, Angie Keilhauer makes the big choice to sing Sam Hunt's "Take Your Time." This is a bold decision given that "Take Your Time" is only marginally a song. "That's got a lot of … talking in it?" notes Blake, nervously. Angie agrees that this is indeed a challenge.
I think Angie should have picked a different song, like one with more singing. "The song didn't measure up to your potential," Pharrell tells her. I am sympathetic; I try never to measure up to my potential. Paxton, on the other hand, gives a deeply connected performance with lots of meaningful low notes. When you hear him sing it, you totally believe he has a hometown. The winner is Paxton, obviously. No one steals Angie, because that is what happens to good people who make bad choices. Let it be a lesson to us all.
After a quick break for judges' chitchat, Christina feels ready to push some buttons again, so everybody regroups to watch baby bird Owen Danoff face off against awkward Warby Parker model Ryan Quinn. I have missed Owen Danoff! He will be singing the best song, "She's Always a Woman," which he says everyone can relate to because it is about unconditional love. In other news, did you know Owen Danoff is dating Jesse Eisenberg's sister and is also Jesse Eisenberg's roommate? He is! That is probably why he understands love. Ryan Quinn, too, enjoys "melodic, heartfelt music" so he's doing "Drops of Jupiter." He is both very vacant and very good. I worry for Owen Danoff, today and every day.
Luckily, Owen is fantastic, and also dressed like a business-casual mime. I love him, I love this song, and I love his mime suit. By the time it is over, everyone is on the verge of tears, which also happens to be Owen's natural state. Then Ryan croons about Jupiter and the Milky Way and other space things, and is both perfect and soulless. In a great show of justice, Owen wins, but then Christina steals Ryan, because he is "no joke." This is true in all senses. I feel fine about it, though; tonight we are all winners.
Pharrell pairs Hannah Huston with Malik Heard, because they have "two different ways of approaching soulful singing." Malik's way is to sing "Isn't She Lovely," because he is an "R&B and pop singer with a splash of versatility." Hannah's approach is to be largely oblivious to her own talent, because until five minutes ago, she was a preschool teacher in Nebraska. The giveaway is that all her gestures look like she is doing "Itsy-Bitsy Spider."
Onstage, though, Hannah Huston is a bluesy force of growling nature. She has no idea what to do with herself, but it doesn't even matter! Her "House of the Rising Sun" is truly inspired, and everyone gives her a standing ovation. This is awkward for Malik, because he is next. He is fine. One might even say he is lovely. After a bunch of fake deliberation, Pharrell decides to go with his gut for a change and pick Hannah, because she is "the all-around full package." And she doesn't even know it!
Next up, we get the battle of Katie Basden and Lacy Mandigo. I am going to say something controversial right now: I just can't get behind Lacy Mandigo even if she is a true original or whatever. Anyway, she's doing "Zombie" by the Cranberries, because her grandfather fought in World War II. Miley thinks she is edgy. Blake thinks she is the future of rock music. I think I am rooting for Katie Basden, who's singing "Gypsy" by Fleetwood Mac. I keep forgetting Katie Basden exists, but she is great, it turns out! Miley is getting chills, even in her furry pink bathrobe-coat. Just imagine what it is like for the rest of us.
Katie's performance is crisp and soulful and polished, even though they have dressed her in rags for some reason. Lacy, meanwhile, stalks around the stage, roaring edgily. Poor Blake! This is going to be so hard for him. "I make myself a promise as a coach that I'm going to reward the person who sings the best," he says, steeling himself: The winner is Katie, even if it pains him. It is almost like it is the end of the road for Lacy Mandigo, except that it isn't, because Pharrell steals her immediately. And then Adam also steals her! Lacy is really getting the full voice experience. Ultimately, she takes a spot with Pharrell, because he is going to help her discover all the tools in her shed.
Christina has paired Alisan Porter with tonight's human sacrifice, young Daniel Passino. Instead of actually coaching Alisan Porter, Miley and Christina chat with her about what it's like to be a child star, since that is a fun thing they all have in common. Also, her haunting rendition of Joni Mitchell's "River" is already perfect, informed by years of struggle and pain. Christina suggests she look into the light more, maybe? That's about it. "She just triggers emotion," Christina raves. I know this to be true, because I have been listening to her "Blue Bayou" all week while gently weeping.
There is no hope for Daniel Passino, but he makes a valiant effort. He sings "Ain't Too Proud to Beg" by the Temptations, because he is from the Midwest. As predicted, he is promptly devoured by wolves. I feel terrible about it. Obviously, so does Daniel Passino. "He just had that young, fiery ambition," says Pharrell, mournfully. "It's just that she's like a unicorn." And she is, a unicorn that is going to win The Voice.
Last but not least! Pharrell is pitting 17-year-old Emily Keener against 15-year-old Shalyah Fearing, because they are "two old souls" trapped in the bodies of two young teenagers. Shalyah's doing "A Broken Wing," by Martina McBride, which Pharrell observes is "an interesting song choice, because she's not a country singer." Emily Keener is singing "Big Yellow Taxi" by Joni Mitchell, because that is what 17-year-old folk singers do. This is a very stressful battle; I don't even know what I want. Emily is a quirky performer with a gorgeous, eerily clear voice, but then Shalyah is a flat-out revelation in a peplum. All of the judges agree they'd pick Shalyah, but Pharrell's gut says the winner is Emily. "What?" shrieks Emily. Frankly, I did not see this coming either. It's fine, though, because Adam swoops in to scoop up Shalyah, and now we can breathe again.
That's a wrap, folks. Tonight the knockouts continue. Can anyone beat Alisan Porter, I wonder? Also, how many times have you watched "Blue Bayou" on YouTube? And why were there no Nissan Muranos in this episode? It is like you can't count on anything anymore.