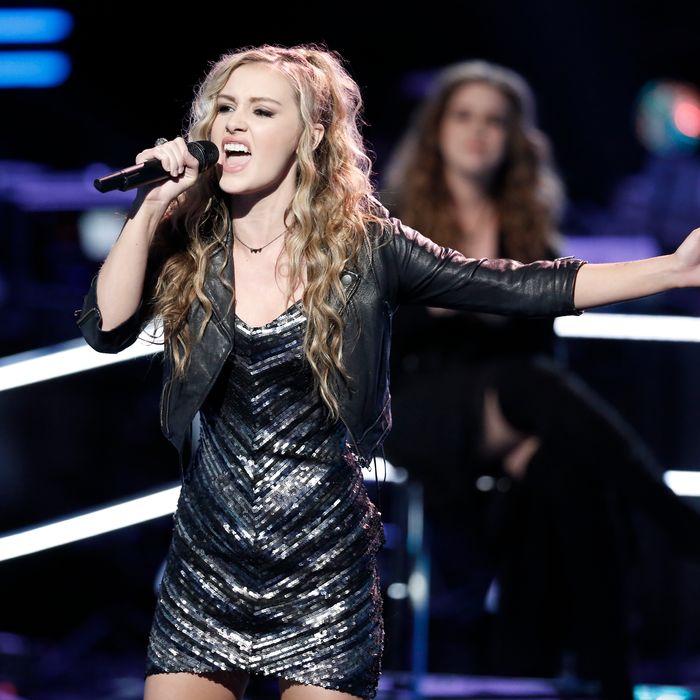 The great thing about this season of The Voice is that all the best people are the older ones. It's almost like experience matters, as well as years of devastating heartache and thwarted dreams. Alisan Porter is 34! Tamar Davis is 35! My boy Laith Al-Saadi is a wizened 38! I, for one, find it all very inspirational. It is like there is still hope for the rest of us, as long as we were once on Star Search with Beyoncé and stay under 40 forever.
To kick off the night, Blake matches up country-blues singer Adam Wakefield and ray of country sunshine Peyton Parker, because they are both "storytelling artists," which is also a job improv comedians can do at elementary schools. Storytelling artist Peyton will be singing "Travelin' Soldier," by the Dixie Chicks, because she, too, is a traveling soldier. Despite his initial skepticism, Blake decides this is actually a very good pick for Peyton. This is a relief to all of us, because she's stuck with it. Storytelling artist Adam, meanwhile, is doing the superior classic, "Bring It On Home to Me" by Sam Cooke, and spends most of the rehearsal trying to figure out what to do with his body on stage. He's a guitarist, what do you want from him? Miley tells him the secret is to have a personality.
And he does! He brings it on home with so much gritty, growling soul you can't even tell he doesn't know what to do with his feet! It is a weird contrast to airy, stripped-down Peyton, who sings about love and war in a way I would classify as "very pretty." Unfortunately, her voice cracked, which Pharrell thinks is a technique thing, but Adam argues is actually because she was "flooded with emotion," presumably from all the storytelling. Blake says you "just can't deny" that the winner is Adam, so I won't deny it: The winner is Adam, for his dirty, gospel-inflected strains, and our traveling soldier is sent traveling home.
Pharrell and Miley then take some time to reflect on how The Voice is a great show, which it is. I have listened to this section a lot of times, and I still can't figure out what Pharrell is actually saying, but it has to do with purity, and I'm sure it's true. In any case, he is having ex-med student Moushumi face off against ex-ballerino Nick Hagelin. A fact about Moushumi is that her parents want her to be a cardiologist. A fact about Nick is that he was once in a production of Cats. (He was Munkustrap, thank you for asking.) Moushumi's singing "New Americana" by Halsey, because it is an anthem "about not being afraid of who you are." Nick is doing "Lost Without U" by Robin Thicke, because it is "a very sexy song." This is one opinion I do not share with Nick Hagelin.
Honestly, I was a little worried that Moushumi would have to go back to being a doctor based on her iffy rehearsal, but in actual performance, her voice is intriguing and glassy and full of potential. Then Nick croons his sexy song in a high falsetto and … I don't know. I don't get this song, or this performance, or what is going on with this alarmingly tight beige undershirt. Everyone agrees that Nick is a great performer, probably due to his feline past, but that Moushumi has an amazing voice, even if she is frustratingly reserved about it. "I think I'm probably going to go with the person I can help more, only because I feel like there's more work to do," Pharrell says. This feels like a somewhat backhanded way of delivering good news, but whatever, we'll take it: The winner is Moushumi. And her parents are so proud of her! Now maybe she doesn't have to be a cardiologist after all!
Christina is pitting Maya Smith, who works at the post office, against Tamar Davis, who was in Prince's house band and has also starred in most of the theatrical works of my favorite contemporary American playwright, Tyler Perry. Additionally, she was in pre-Destiny's Child.  This is what I like to call "an Alisan Porter situation."
Maya explains that she is going to sing "No One" by Alicia Keys because it is "emotional" yet "fun." Christina seems unconvinced that it is either. "Do all post office chicks just wail?" wonders Miley Cyrus from beneath her rainbow suit. "There's all these hidden, talented people in the world. That's why this show is so great, because otherwise, how would you know about them?" I'm not sure why we're spending quite so much time advertising for The Voice on The Voice tonight, but I am going to chalk it up to this episode's continued lack of Nissan Muranos. Anyway, Christina gives Maya a lot of worrying instructions about riffing and adding notes. The main takeaway from Tamar's flawless rehearsal is that we should all wear more capes.
It is hard to pinpoint exactly where Maya's performance goes wrong, but I am going to say it happens in the singing part. It hardly matters, though, because the second Tamar walks on stage, it's over. Her rendition of Sam Smith's "Lay Me Down" is a gift, not just to us, but also to humanity at large. Sitting in the corner, Maya looks happy just to be part of it all. "Wow, damn," observes Adam, which nicely sums the situation. Obviously, Tamar is the winner, and obviously, Tyler Perry and I are thrilled. "I'm so excited to move on to the lives," Tamar weeps. "I really am!"  And she really is, that's the thing.
And there you have it! How's everyone feeling about the knockouts so far? In honor of Tamar's victory, what is your favorite Tyler Perry musical?