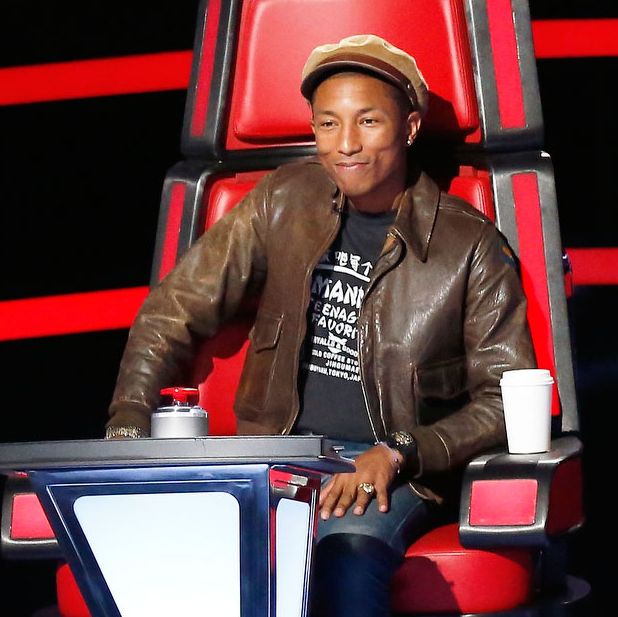 Pharrell Williams, Christina Aguilera, Blake Shelton.
Photo: Trae Patton/NBC
Welcome to season ten of The Voice, NBC's intricately complicated, multi-step singing competition that is so popular it is … on most of the time. Adam Levine, Blake Shelton, and Pharrell Williams are all back this season, and original Voice queen Christina Aguilera has returned, too, reclaiming her role as "woman" from interim female judge Gwen Stefani. They all seem delighted to be here.
Last week, we met our first bajillion blind auditioners, with early front-runners including former star Alisan Porter, otherworldly teen Emily Keener, and Laith Al-Saadi, a professional blues guitarist with the beard of a kindly caveman. I had thought we were done, but oh-ho-ho, how young I was. Let's keep going forever.
Hannah Huston, a 24-year-old Nebraskan preschool teacher, is up first. She got "bit by the music bug" by singing at her friend's engagement party, which is certainly one use for engagement parties. If she turns a chair, it will show her students that with enough hard work, they too can achieve their dreams, such as getting up close and personal with Blake Shelton's forearm tattoo. Hannah soulfully rasps through "Unaware" and gets a last-minute three-chair swivel from Christina, Pharrell, and Blake. Christina is so overwhelmed she fans herself, but her one-woman Tennessee Williams festival is for naught because Hannah only has eyes for Pharrell.
Next, we meet bright-eyed Brian Nhira, who is 23, lives in Tulsa, and was raised by traveling ministers. He seems extremely happy, which he expresses by singing "Happy." It is hard not to admire the simplicity here. Happily, Brian picks Pharrell, the originator of Happiness. "Now I feel like, YAY!" his happy mother cheers. I am powerless to resist this much happiness; I also feel like, YAY.
Aijia is 29, and married to country-pop musician Andy Grammer. His career blew up, and she is now a backup singer for Selena Gomez. "It's so hard to feel constantly in the background of someone else's moment," she reflects. "If it doesn't work now, I don't think it will ever work." This seems like a healthy approach. She belts "Say Something," which makes it particularly tragic when no one does. It is crushing; I am crushed. If you are looking for Aijia, you can find her standing somewhere behind Selena Gomez.
Brittany Kennell's backstory is that she is Canadian. She is inspired, she says, by Shania Twain, because Shania is also Canadian. Now, self-identified folk-rocker Brittany is seeking her fortune in Nashville, where she writes songs and plays ambient music at country clubs. She sounds tender and vulnerable and kind of like Gwen Stefani. Blake and Pharrell both turn around for her performance of "Strong Enough." They don't even know how good her hair is! I am trying not to dwell here, but her hair is really something special. She goes with Blake, because Nashville.
No one turned around for 28-year-old single mom Natalie Yacovazzi last season, but this season her dress has side cut-outs. Everything is different. Her "Mr. Know It All" is deliciously angry and you can tell she's nervous but also that she means it. Adam buzzes, correctly. Christina sort of half-buzzes, but she's too late and her maybe-buzz doesn't count. Whatever. Natalie Yacovazzi doesn't need her.
And the hits, they just keep coming. Nineteen-year-old Texan Malik Heard is the only non-athlete in his jock family, but his parents seem to love him anyway. His velvety rendition of "Chains" gets turns from Christina and Pharrell, who then fight for his favor using plant metaphors. Christina is a blossoming tree, you see, but Pharrell is a nurturing greenhouse. "I don't know!" Malik's mother wails. I don't know, either, Malik's mother! In the end, he picks the tree, which feels right.
Peyton Parker used to live with her parents in Georgia, but then she discovered music and asked whether they could all move to Nashville, so they did. Once, I asked my parents if we could move to New York; they said no. Anyway, PP softly croons "Dreams" by Fleetwood Mac and everyone except Adam turns for her. It's pretty clear PP wants Blake (Nashville, etc.), but Christina points out that she's the savvier choice, since she doesn't have anyone on her team like her yet, so she'll have less competition. "That's sort of a good point," Carson Daly sagely mumbles offstage. Strategy! A strategy Peyton nevertheless ignores. She picks Blake, surprising no one.
Then there are a bunch of people we don't see, but presumably they also sing songs. Blake picks up "indie artist" Gina Castanzo, who is wearing a gauzy lampshade, as well as "pop rocker" Trey O'Dell, who may have distinguishing characteristics we will discover later.
Kristen Marie is a 20-year-old theater major from Oklahoma City. Her passion is indie jazz. Her father's passion is that she become a lawyer. Kristen Marie sounds like Adele, and purr-growls "Mad World" with phrasing that is either very weird or very bold. I would have said the former, but what do I know? Christina and Blake both vigorously turn for her — maybe she won't have to be a lawyer after all! Despite Blake's pitch that they are both from Oklahoma, she votes Christina 2016.
Evan Taylor Jones of Orlando has the saddest story of the night. He is a musician because his mom died when he was 13 and he grieved for her through her music collection. He is usually a soul-rock artist, he explains, but tonight he is going country with "Homegrown" because it will "show off his versatility." This would make sense, if the judges knew anything about him, but they do not. Accordingly, everyone is confused and Evan Taylor Jones gets no swivels.
"Let's meet our next artist," chirps Carson, from nowhere. Okay, Carson, let's do it! Nate Butler is 19, from New Jersey, and used to get bullied because he was in the Philadelphia Boys Choir. Oh, how the tables have turned! Nate sings "The Walk" and his sweet Motown vibe inspires everyone except Christina to give him the ol' turnaround. Adam offers a thoughtful critique about the awkward break between his falsetto and his chest voice, which persuades Nate to sign onto Adam's team. For once, logic prevails.
Which brings us to our final competitor of the evening, 25-year-old hot-nerd Ryan Quinn, who lives in Westmoreland, New York, which we know from a close-up of a water tank that says "Westmoreland." He teaches music to kids who have "suffered varying degrees of trauma in their lives." The twist is that he has super-severe Lyme disease and a startlingly high voice (these facts are unrelated). His rendition of "Can't Find My Way Home" is aching and smooth and everyone turns for him. "You are one of those voices that needs to be heard worldwide!" Christina raves. "Goodwill is always rewarded in the end," Pharrell declares. "I pick Adam," Ryan says.
And with that, night three comes to a close. What did you think of Monday night's performances? Is goodwill always rewarded in the end? Please discuss.