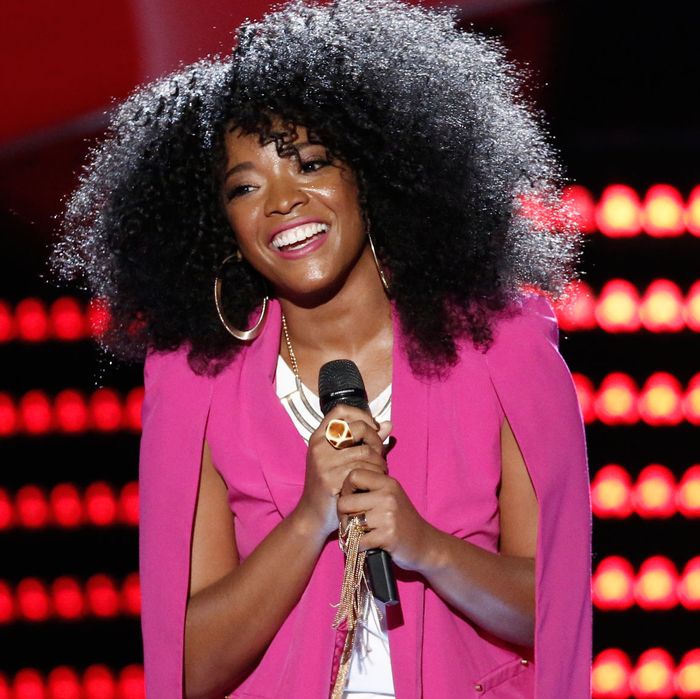 Tamar Davis.
Photo: Tyler Golden/NBC
This is the end of the beginning, folks. Soon, the teams will be assembled and everyone will be allowed to go home and change their clothes. Personally, I plan to swap out the gray T-shirt I am currently wearing for a different gray T-shirt. (It's darker.) But let's not get ahead of ourselves. In the immortal words of a wise man named Blake Shelton, "There's a lot of blind auditions yet, sister!"
Tamar Davis was almost in Destiny's Child, but then wasn't, because her parents wanted her to get an education and also she was a child. "It was hard for me, because I would see them living out their dreams, and I felt like maybe I blew my chance at becoming a recording artist," she says. But then she joined Prince's house band, so things turned out mostly okay. Also, she is friends with Tyler Perry and starred in his production of The Marriage Counselor, which I thought was a movie but Wikipedia says is also a play. "There's no better place to have a dreamer express their voice than on The Voice," Tyler Perry says, sagely. Tamar sings "Chain of Fools" wearing a neon-pink vest-cape; it's a soulful powerhouse with crazy range. Christina and Blake give her the turn, and she picks Christina, which seems logical. Tyler Perry is very proud.
Next, we meet 21-year-old Jessica Crosbie, who is from Cornwall, England. She discovered her love of music by playing at "pubs," but now she lives in Atlanta, so she plays in "bars." America truly is the land of opportunity! She is nervous and it shows, but her take on "Viva La Vida" is rich and simple and deeply sad, and everyone turns for her except Blake, who remains unmoved. After coy deliberations, she goes with Pharrell. Fun fact about Pharrell: His jeans appear to be missing the butt part.
Dapper Justin Whisnant is 28 and was raised by his grandparents in Oklahoma. After high school, he went straight to work in the oil fields, but then his boss gave him an ultimatum: music or oil. He croons "Ain't Worth the Whiskey" while wearing suspenders and it all goes down nice and easy. Adam turns first, but Justin picks Blake because they bonded over the geography of Oklahoma. "It's tough, when someone's from Oklahoma," Adam says, glumly.
When Jackie Lipson was 13, she weighted 266 pounds, but then she moved to New York City for college, discovered performing, and lost 103 pounds. Now she is a 25-year-old pop singer with purple hair. "I have 90 seconds to prove to that little girl inside of me that it does get better," she says, bravely. It doesn't, though, is the problem. Her "Ex's & Oh's" is very fun and pleasantly twangy, but also noticeably off-pitch. No one turns for her. Life is pain.
Daniel Passino is 21 and went to opera school, even though he just really wants to be small-town Michigan's answer to Michael Jackson. I love him almost as much as I love his weird, two-tone shirt. "It's like you never really get the chance to go out and try to do what your dreams are telling you to do," he reflects. The Voice is his chance. Daniel does a sultry rendition of "Marvin Gaye" that is only somewhat uncomfortable, inspiring a swivel from Christina and a sneak attack from Blake. Correctly, he chooses his childhood idol Christina, because she is "a true performer." This show is a roller coaster!
Now it is time for a Nissan Murano commercial. Carson Daly casually cruises through Greenwich Village (in a Nissan Murano) to meet up with our next blind auditioner, Owen Danoff, whose father is Grammy-winner Bill Danoff, the man behind "Afternoon Delight." Owen sings "Don't Think Twice, It's All Right." He has the voice of the world's saddest angel, and everyone gives him the swivel. Adam tells him he is "very heartbreaking and crushing and sensitive," which is "a very difficult combination of things to exist in one person." I can confirm that this is true. I, for one, am perpetually crushed, and it is very difficult. In other news, are you perhaps in the market for a Nissan Murano?
Thirty-one-year-old Maya Smith is from L.A. and works for the postal service, which is "not very exciting." "This is not her true calling, I think," says her mother, who is also a veteran of the postal service. Maya delivers a lovely rendition of "Do Right Woman, Do Right Man." She has an easy, mournful voice and an architectural crop top. Christina tries to woo her by saying she's the next Beyoncé, but Maya does right and goes with Pharrell.
Nolan Neal is 35 and from Nashville. When he was 18, he got a record deal with Virgin, and then his father shot himself. He told Nolan he was going to do it, and Nolan tried to stop him, but they had a fight, and Nolan hung up on him, and then he died. After that, Nolan got into drugs and his label dropped him. This whole story is just too devastating to contemplate. AND THEN NO ONE TURNS FOR HIM! Everyone feels like maybe "Drive" is just the wrong song? This is immediately confirmed when the judges let him sing a few bars of something else, but it's too late. The judges missed the boat, and Nolan is gone. "We were all a bunch of wusses," Christina says, before inviting him to come back next year.
Brittney Lawrence is a 21-year-old cheerleading coach from Florida. Based on The Voice, most people in America are cheerleading coaches. Brittney sings "Warrior" because she is a warrior, and Christina and Blake both turn for her. "Warrior" is a boring song. Boringly, she picks Blake.
And then it's that time of the night for a bunch of performances we don't see. Blake acquires "pop-country vocalist" Teresa Guidry, Christina gets "country singer" Chelsea Gann, and Adam adds 16-year-old "folk artist" Lily Green. Maybe they'll be important another time.
For now, it's onto Matt Tedder. In a change of pace, he is a 20-year-old who lives in Nashville. Matt Tedder stumbled upon music when he was playing hide-and-seek and found an electric guitar under the bed. "To have the opportunity to be on a show that embraces artistry is awesome!" he says. Matt Tedder is better at singing that at talking. Matt Tedder sings "(I'm Your) Hoochie Coochie Man" while accompanying himself on slide guitar and wins a slot on Adam's team.
Last but not least, it's returning competitor 24-year-old Joe Maye. No one swiveled for him last season because he danced too much, but now he is back and more static than ever. He soft-growls "I Put a Spell on You," transfixing both Christina and Blake. "You sang that like you were pissed," Blake offers, in what appears to be praise. "I would actually love to sing that with you," Christina drawls. She then takes the stage, in what is surely the best moment of young Joe Maye's life. It is a stellar performance, especially on the part of Christina Aguilera.
And so, those are your (almost) complete teams! Next week, the battles begin. In the meantime, please tell me about your best experience driving in a Nissan Murano.
Correction: An earlier version of this recap incorrectly suggested that blind auditions had ended in this episode.