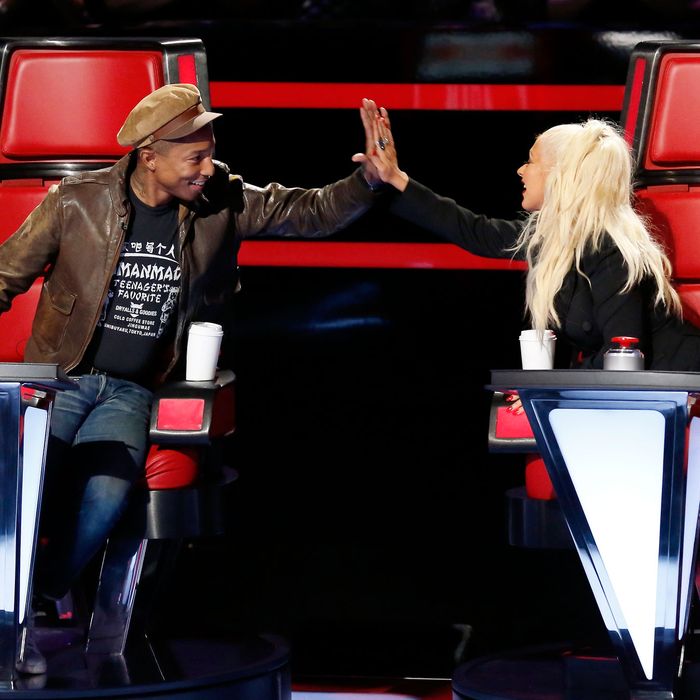 Pharrell Williams, Christina Aguilera.
Photo: NBC
Well folks, it's night five of the blinds, and according to the expert analysis of one Carson Daly, "the stakes have never been higher."
Christina, Adam, and Blake each have just one slot left to round our their teams, Pharrell has two slots, and they'll "do whatever it takes" to get the singers they want. But first! A special guest performance from the judges themselves, group-crooning "I Wish" by Stevie Wonder. What I wish is that I had Christina's jumpsuit. It is purple and printed like a very tight circus tent.
The first contender of the evening: A 22-year-old, baby-faced country singer named Jared Harder. Jared's budding music career was put on hold when his hometown of Joplin, Missouri, was hit by one of the largest tornadoes in recorded history and devastation reigned and our man saw his future drip-dripping down the drain. Now, though, things are better, and Jared manages an ice cream parlor that is also a coffee shop. He is a small-town boy with a big, twangy voice, an embroidered jean jacket, and a surprise upper register. He sings "Merry Go 'Round," and gets an enthusiastic swivel from Blake.
Moushumi is 22 and from New Jersey, where her dad is a doctor and her mom is a physical therapist. She went to medical school in India to study cardiology, but — much to the disappointment of her parents — she could not excise the love of music from her heart. On the bright side, she can always fall back on a lucrative career in cardiology. She delivers a haunting performance of "Wicked Game" that is smooth and rich and otherworldly. Adam says her voice is "glassy." Christina says her voice is "truly special." "I don't think I've ever met an Indian girl that sings the way you do," says Pharrell. That is a weird thing to say, but apparently it is just the ticket, because Moushumi picks Pharrell.
Next, there are a bunch of people we don't have time for, because life is rapidly slipping away from us. What do they all have in common? They will not be on season ten of The Voice.
Katie Basden is 23 and from North Carolina, but went to music school in Nashville, where she lived until her dad got sick and she had to move home. (He seems okay now, I think?) In honor of him, she is singing "Midnight Rider." Katie has a huge, belt-y voice and gets immediate turns from Adam and Pharrell, plus a last-second swivel from midnight-rider Christina. In a fight for her allegiance, the judges take turns demonstrating their country credibility. Adam wrote a song with Lady Antebellum! Christina went to Nashville once! Pharrell goes to the CMTs practically all the time! After carefully considering these persuasive arguments, young Katie Basden accepts the final slot on Adam's team, and I, for one, respect her for it.
Sixteen-year-old Jonathan Hutcherson is from rural Kentucky and has three younger brothers and five acres of chickens. Also, he has a hearing impairment, which affects his singing, but he's figured out how to adapt. "That's inspiring stuff right there," Carson Daly nods, deeply. Jonathan's "You & I" is simple and wrenching and utterly mesmerizing. Has he considered doing musicals? I think he would be great at doing musicals. (I mean that as praise.) Pharrell turns for him, which is correct.
And so, it is time for another round of my favorite game, "Let's Meet the People Who Will Not Be on The Voice." The rules are that people sing and then Christina rejects them.
Ayanna Jahneé started singing when she was seven and played a munchkin in The Wiz because her mother was a seamstress and did the costumes. But when Ayanna Jahneé was in eighth grade, her mother died of cancer; if she can win a spot on The Voice, it will be like making both their dreams come true. And she does! Her darkly theatrical "Skyfall" is the "crazy spectacular" vocal event Christina has been waiting for. To celebrate, Christina delivers a rousing performance of her iconic number, "My Team Is Full." The complete lyrics are: "My team is full / my team is full."
And with that, the blinds are closed, and it's onto the battles!
To kick off this new phase of our lives, we begin with Team Adam front-runners: New friend Katie Basden versus old friend Ryan Quinn. Ryan is the obvious favorite, because of his devotion to healing traumatized children through music and also his face. They will be co-singing "Maybe I'm Amazed," coached by Adam's resident mentor, Tori Kelly.
Ryan is much closer to Paul McCartney than Katie is, which is an advantage. On the other hand, Katie has a "limitless" voice and generally sings with her eyes open, which also seem like advantages. "I sure wish I had a hole I could climb into!" Adam offers, before crowning Ryan the winner, as we all knew he would. But then! Christina AND Blake are both amazed enough to steal Katie, and for this one moment, there is justice. She chooses Blake, because of the South. At this, no one is amazed.
Speaking of Blake, his first duel is up next. To co-coach, he has imported "two-time Voice coach and global music and fashion icon" Gwen Stefani, who is conveniently also his girlfriend. For the inaugural battle, he's pitting warrior Brittney Lawrence against dancing-on-his-own Paxton Ingram for a competitive rendition of "I Know What You Did Last Summer." She's got range, he's got presence, they're both pop singers, and for reasons I cannot begin to explain, they are also both dressed in beige leather jackets. When it is over, everyone agrees that Brittney's voice is staggeringly powerful, but Paxton is the more dynamic performer. Watching Brittney's crestfallen face, we know what is coming: Paxton gets the win, and Brittney is forced to return home to her real life, teaching babies to cheerlead.
Patti LaBelle is Christina's special mentor-friend, and she's coaching Bryan Bautista and Malik Heard on their battle anthem, "It's a Man's Man's Man's World," a song requiring both "soul" and "chops." Despite Patti LaBelle's initial concerns that they won't know who she is, both Bryan and Malik are totally bowled over by her presence. It's hard to know who to root for here! Bryan's voice is richer, I think? But then, Malik maybe has more control? Or something? I have no idea; they're both great. Still, Christina has to pick somebody, and she goes with Bryan, because he is "calm, cool, and collected" and the "full package." In response, Blake, Adam, and Pharrell all make plays to steal Malik. Pharrell's pitch doesn't actually make a ton of sense, but it is enough to persuade both me and Malik that he's the right choice. Pharrell it is!
The battles will rage on tonight, as they will forever. Until then, let us discuss: How do you feel about the final teams? More importantly, did Adam and Pharrell dye their hair separately, or did they do it together, like a blond suicide pact?