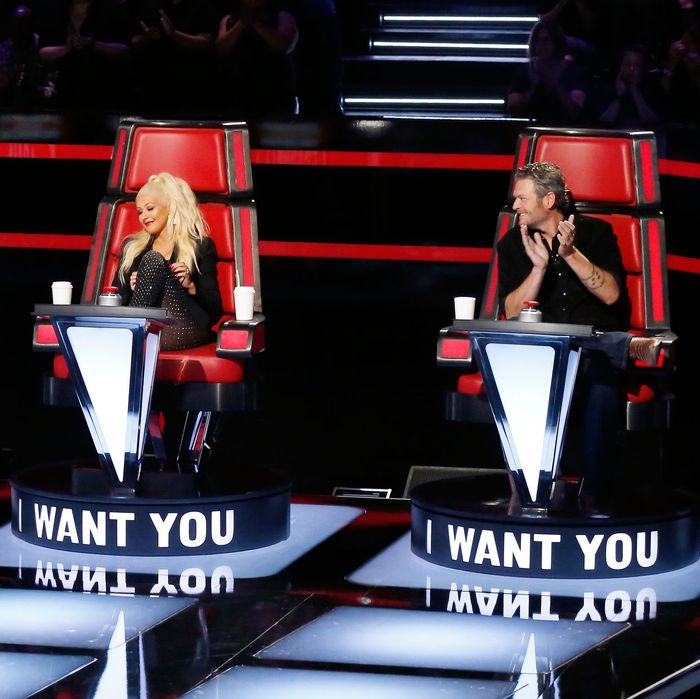 THE VOICE – Blind Auditions – Pictured: (l-r) Adam Levine, Pharrell Williams, Christina Aguilera, Blake Shelton – (Photo by: Trae Patton/NBC)
Photo: Trae Patton/NBC
What a super-duper Tuesday it is! On The Voice, the battles have begun in earnest. In America, a baffling number of people are voting for Donald Trump. It is a pivotal night all around.
On Team Christina, Shalyah Fearing dukes it out with Tamar Davis in an epic battle of "Lady Marmalade." Among other differences, Shalyah is 15 and in a family band, while Tamar Davis is 35 and used to be in proto–Destiny's Child. Even in a youth-oriented culture, it seems like young Shalyah has the immediate disadvantage here. She doesn't even know Beyoncé.
Shalyah has "beyond-her-years grit and soul," Christina says, but Tamar has "incredible range that takes you by surprise." Patti LaBelle thinks they both need to enunciate. This is her favorite note, and the best part is it's always true. "You gotta put your foot on this or don't sing it all!" she announces, sagely, and Tamar agrees she needs to channel her inner sass.
She does. At the battle, she is a powerhouse. She is sassy. She is sparkling. The complicating factor is that Shalyah is also a sassy, sparkling powerhouse. It is confusing that she is 15 years old. When I was 15, I was Yente in a community production of Fiddler on the Roof, and I assure you it was not at all confusing. "Shalyah, you are something else," Pharrell notes, accurately; on the other hand, Adam says Tamar had an extra "sparkle in her eye," as well as an additional 20 years of musical and life experience. "I'm going to go with the choice that I feel is deserved at this point in time," Christina says. Out of cosmic fairness, the winner is Tamar, because it is her turn, and Shalyah is, again, only 15. There are no losers, though, because Pharrell quickly and correctly steals Shalyah. Also, according to the bottom of my screen, Hillary Clinton just won the North Carolina primary. It's a big day for everyone.
Blake's first battle is between vintage-sounding country singer Justin Whisnant, who used to work on the oil fields, and vintage-sounding country singer Mary Sarah, who currently works at Boot Barn. If only this town were big enough for two vintage-sounding country singers! Alas, it is not. They are singing "Louisiana Woman, Mississippi Man," which is a fun little number that showcases neither of them. "It's going to be interesting," Gwen Stefani offers, helpfully. In other news, Marco Rubio has suspended his campaign.
Onstage, Justin is warm and easy and effortlessly controlled, but Mary Sarah is a star-in-waiting. Adam thinks they were both better in the blinds; Blake, on the other hand, has never been prouder. Still, he must choose, and he goes with the Louisiana Woman, because "there's just something about her," thus sending our Mississippi Man home to obscurity in Oklahoma.
Finally, it is the moment we have all been waiting to see! Sean "Diddy" Combs is here to mentor Team Pharrell, and it is glorious. To protect himself from his own glow, he is wearing sunglasses. "I'm here to help out in any way I can," he tells Pharrell, nodding gently to his own words. His first challenge: Guide English import Jessica Crosbie and former ballet dancer Nick Hagelin through their battle anthem, "Electric Feel." The idea is that Nick and Jessica have totally mismatched styles and voices, so pairing them might "bring out something interesting." I am having trouble pinpointing what is possibly interesting about this performance, but I trust Pharrell that it is there.
I would rate their battle a solid "fine." Jessica's low-growl voice is pretty and she wears a large shiny belt. Nick's falsetto is technically impressive and he has some nice low notes. John Kasich wins Ohio. Pharrell agrees they both "definitely brought it," but ultimately chooses Nick. In a surprise twist, Adam scoops up Jessica at the very last second, so she stays in the game, too. Yay! Yay? Yay.
Next, we loop back to Team Christina, where Chelsea Gann is facing off against Kata Hay. Chelsea was mostly glossed over in the blinds, but she is 27, her mom is a gospel singer, and she struggles with body image. Kata is a firecracker trying to make it in Nashville. They will be singing "I'm the Only One," which is empirically untrue, because there are two of them. Christina says they both have big, rocky, raspy voices, so this song in a very good choice.
Indeed, their voices are enormous. Are they in tune? This is less clear. When they take the stage, Kata is a raging fire, but Chelsea sings a lot of high notes. All the judges say they'd pick Chelsea, but Christina ignores them and keeps Kata, because of her unbreakable spirit and overpowering charisma. Ah, Chelsea, we hardly knew ye.
Over on Team Adam, Tori Kelly is preparing credit-card processor Natalie Yacovazzi for her head-to-head battle with high-school-musical-theater enthusiast Nate Butler. I love Natalie Yacovazzi. I love her with a deep, irrational passion. I love her even though I rarely process my credit card. They're doing "Hollow," which is convenient, because Tori Kelly is right there. Unfortunately, rehearsal is rough for my girl, and she is trapped in a spiral of her own self-destructive thoughts.
The actual performance, however, is thoroughly lovely. Natalie's voice is more interesting, Blake points out, but Nate has better pitch. Adam picks Nate, because we all love people that remind us of ourselves. It is, once again, the end of the road for Natalie Yacovazzi, and we are both devastated.
I did not realize Hannah Huston was among my favorites, but "Unaware" has been going through my head for a full week now, so I guess she is. The things we learn about ourselves! For the final battle of the night, she and also-extremely-likable postal worker Maya Smith will be singing "Elastic Heart." (You know what is a great song? "Elastic Heart.")
Coach Puff gives them lots of actually useful advice, which makes sense, because Pharrell says he has "that ability to look into you and see more than what you, your family, anybody else has seen." I'll take it! Certainly, it seems very effective, because when Hannah and Maya take the stage, they are mutually great. Hannah edges her out just slightly on stage presence. Hannah wins! Christina steals Maya! Blake also steals Maya! Donald Trump takes Illinois! What a world we live in! "Don't break my heart," Christina pleads. Maya wouldn't dare, and takes her place on Christina's team.
Next week, the battles rage on, and then on some more. Who are you rooting for? What gross miscarriages of justice have been committed thus far? Would you rather drive a Nissan Murano or a Nissan Altima? Let us discuss.