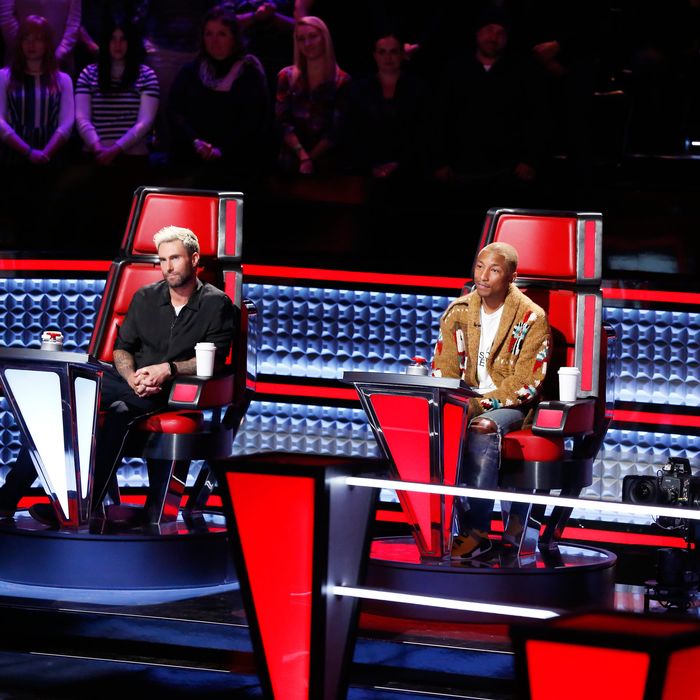 Adam Levine, Pharrell Williams, Christina Aguilera.
Photo: Trae Patton/NBC
Oh, what a night! Personally, my takeaway is that if I am ever on The Voice, I hope I'm on the team with our old pal Sean "Puffy" Combs, because he is great, even if he is determined not to take off his sunglasses. In other news, Patti LaBelle thinks you should enunciate more.
For his first battle, Blake pits bluegrass-country rocker Adam Wakefield against small-town country crooner Jared Harder, because they are his "two big voice dudes." They will be singing "Can't You See," a song Blake says every country artist knows "if they've done any time in a bar." Conveniently, Adam Wakefield has done lots of time in bars, because he is a professional musician. Too much time in bars, Blake wonders? "I've seen it a million times on this show," he warns, wearily. "The guy who's not as familiar with the song goes back and works on it way harder." Adam considers himself warned. Jared says he plans to "work on developing a stage presence."
And he does! Onstage, our boy Jared is warm and strong and only looks moderately concerned the whole time. Unfortunately for him, Adam is a growling soul machine. "You just sound like you come from a world where that soulful thing is very important to the music," offers Pharrell, resident mystic. "When I look at you," Blake says, "I just think of the word 'character.'" I am pretty sure someone said this to me once, and I am also pretty sure they were talking about my nose. For Adam Wakefield, though, looking "like you just shot somebody in a Western" is just the ticket: Blake crowns him the winner, and young Jared Harder is sent back to the ice-cream parlor from whence he came.
On Team Pharrell, otherworldly teen Emily Keener is preparing to go head-to-head with pre-med student Jonathan Bach. We mostly ignored Jonathan Bach in the blinds, but he is here to seek his parents' approval, which is my favorite reality-television narrative. Also, he has truly stunning eyebrows. They do Ellie Goulding's "Explosions," which Pharrell says is fitting because "they're both very eclectic." In rehearsal, Coach Puff works with them on having and expressing emotions. "You have to make me want to cry," he advises, sagely explaining how feelings work.
I think Emily and Jonathan are both great, but I do not particularly like this song for either one of them, which might be another way of saying I do not like this song. "I kind of felt you were both stronger on your own," Adam says, validating my opinion. Christina likes Jonathan because he was theatrical; Blake likes Emily because she was not theatrical. In the end, Pharrell picks Emily because she is a girl who knows what she wants. I keep hoping someone will steal Jonathan so that his parents will approve of his dreams, but no one does. It makes me want to cry. I know all about how feelings work.
Luckily, things are brighter in Christinaland, where two-tone shirt enthusiast Daniel Passino and Adele impostor Kristen Marie are working on their competitive rendition of "Turning Tables," by Adele. The problem for Kristen is that she is not actually Adele, which is a curse we must all bear. The problem for Daniel is nothing, because he is uniformly spectacular. (His uniform is a two-tone shirt.) They have very good stage chemistry, and Christina suggests they'd make a cute couple.
Indeed, you can feel their connection the minute they pull up in their Nissan Rogue, which is different than an Altima or a Murano in ways I cannot understand. Onstage, they sizzle with intensity; as Adele might say, all that they have is on the floor. But while everyone agrees Kristen has a pretty, powerful voice, Daniel knows who he is and has the technique to back it up. "The choices he brought to the table were actually good," Christina marvels. Daniel Passino it is!
Next, we skip a bunch of battles too gory for prime time. Resident cardiologist Moushumi triumphs over sprightly Jonathan Hutcherson; Katherine Ho beats out Lily Green in the battle of people we have not seen yet; and Angie Keilhauer takes down Teresa Guidry, who only sort of has been on The Voice. We'll see the victors in the knockouts! I mean, maybe.
In the words of our Virgil, Carson Daly, "Now let's look at Pharrell's next pairing!" Abby Celso is 21 and found solace in music when her mother died. Brian Nhira is the son of missionaries. To "showcase their potential," they will be singing Maroon 5's "Sugar." Coach Puff is concerned that Abby isn't vulnerable enough. Pharrell worries that Brian needs better diction. "This battle round is like the Olympics," Pharrell philosophizes. "There's many scores, not just one."
I am going to be honest: I do not have strong feelings about this one. Blake likes Abby's "rock-sounding growl," and Christina likes her "textures." On the other hand, ever-ebullient Brian is an electric performer with a "silky, smooth" voice. Everyone says they'd go with Brian, but Pharrell cannot be cowed by the whims of the masses, and chooses Abby because "she kept swinging for the fence." Just like in the Olympics! In a not-so-surprise twist, Adam and Christina both make bids to steal Brian, and he chooses Adam after assuring Christina that she is also beautiful.
Speaking of Team Adam, 16-year-old Caroline Burns is now up against recent L.A. transplant and person of legal drinking age, Mike Schiavo. "In trying to pair people together, I like to be not too formulaic in what I'm doing with it," Adam says. "I wouldn't say this makes much sense at all, but sometimes that works." Caroline has the crystal voice of a baby angel, while Mike has the velvety, gentle rasp of a guitarist from New Jersey. They sing Meghan Trainor/John Legend duet, "Like I'm Gonna Lose You," an infectious song that I will now download.
As promised, they are an unlikely pairing. Does it work? Sometimes! Blake worries that Mike ceded too much of the stage to Caroline because she's adorable. Adam says Mike did the right thing, because look at Caroline — she's adorable! This whole discussion made me very uncomfortable. Adam ultimately picks Caroline, and while this seems correct, I cannot help but feel terrible for Mike Schiavo.
The final performance of the evening is an epic battle between former child star and early front-runner Alisan Porter, and 18-year-old vocal "hot mama" Lacy Mandigo. They do "California Dreamin'," which Christina says she picked to showcase both Lacy's "natural grit" and Alisan's "wide vocal range." Alisan is a dynamic powerhouse, so she's got that going for her. Then again, as Lacy points out with some regularity, Lacy is only 18. I would argue that confessional videos are not her strong suit.
Singing, however, is. If anyone is a match for Alisan, it is youthful rocker Lacy. But our Alisan, she is unbeatable, even when she is inexplicably dressed up in a sexy witch suit. "You just became this thunderstorm," Pharrell says, "and I'm thinking, man, what a weather system!" Lacy will become a star, the judges agree, but Alisan is ready for stardom right now; she already has her own Wikipedia page. It is undeniable: The battle is Alisan's. But it's not over for Lacy Mandigo yet, because Blake swoops in "like a big ol' papa bear" and scoops her up, just as she dreamed he would. "No one saw that coming," Carson Daly bellows, inaccurately.
And there you have it. In the next episode, we will have … some more battles! Let us now consider our regrets so far, both in this season and in life.