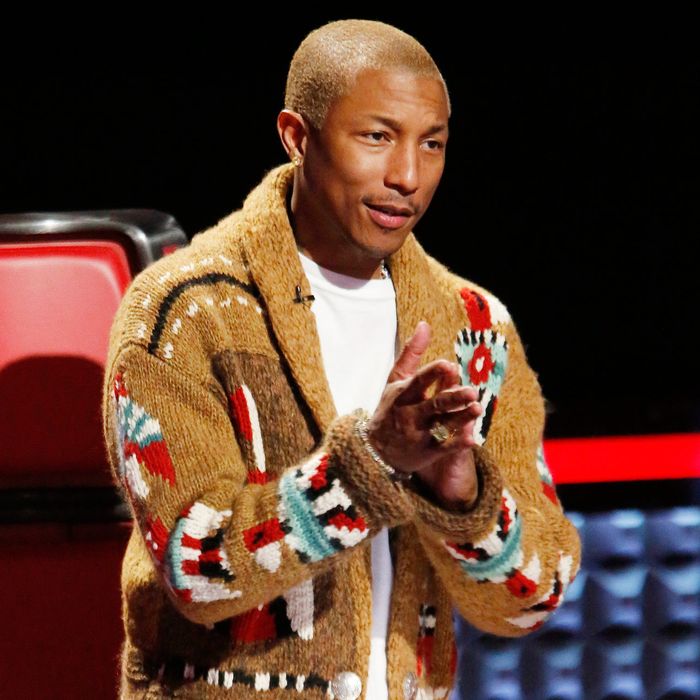 Pharrell Williams.
Photo: Trae Patton/NBC
Well, what a slippery little wisp of an episode that was! Blink and it was over, like it never happened at all. To try and fill the void, NBC provided us with the premiere of a new medical drama called Heartbeat. Obviously, I could not watch it. After the battles, my heart has been beaten enough.
To kick off the night, rasping blues guitar powerhouse Laith Al-Saadi goes head-to-head with young Matt Tedder, who is conveniently also a rasping blues guitarist. "I'm sure you're not totally shocked that you guys are being paired together," Adam says; indeed, they are not. To capitalize on their rasping, bluesy strengths, they will be singing "Honky Tonk Women," by the Rolling Stones. A fact about Laith Al-Saadi is that he has been playing music professionally "over 300 dates a year for the last 20 years." A fact about Matt Tedder is that he is 20. It is sad that he is about to be devoured by Laith. He was so young!
Indeed, Laith is growling and enormous, like a very soulful grizzly bear. Comparatively, Matt is but a smooth-voiced fawn. Matt may be a star, but Laith is a beast. "That guy just sang my face off!" Blake drawls. "You growl with no strain!" marvels the equally awestruck Pharrell. "I think that it's really important to reward the person who really deserves it in this moment," Adam adds, before stating the obvious: The winner is Laith, because he is "a badass." I wish someone would steal our fallen friend Matt Tedder, but no one does. It is a tough out there for a slide-guitar player.
Over on Team Pharrell, education student Caity Peters is preparing to battle nervous carnival manager Joe Vivona. They're doing "Honesty," by Billy Joel, which Pharrell says is because they are both very "emotional singers." So far, Joe Vivona's primary emotion is "anxiety." In rehearsal, he is losing it. "Everyone's acting like it's not crazy that we're sitting here talking to you guys! For me, I'm just trying to cope with that fact and get through this," he says. Ever soothing, Puff tells him, "Let that thing flow and let it go." "It's like swimming," Pharrell nods. I could not tell you what this means, but the way he says it, I believe him.
So does Joe, apparently, because onstage, he brings it. He is tender. He is raw. One might say he was swimming. Still, he only stands a chance because Caity should be singing a different song. Caity's advantage is that she is "a fire-breathing dragon" with a quiet confidence I can only wish someday for Joe. Also, she was great in the blinds. Despite her thoroughly uninspired performance, Pharrell keeps her for knockouts, sending Joe back to the carnival business in New Jersey. His emotion is now "disappointment." My emotion is now "general ambivalence about this battle." Whatever, I'm proud of Joe Vivona.
And with that, we come to the portion of the evening where we skip a bunch of battles, because Heartbeat waits for no one. Country singer Peyton Parker goes up against still-unseen mystery competitor Gina Castanzo and emerges victorious; "passionate second-chance artist" Joe Maye out-sings music student Ayanna Jahneé; and folk hero Owen Danoff triumphs over aspiring rockabilly icon John Gilman. Poor Gina Castanzo. It's like she was never even there.
There is now one battle left, and one steal left. I'm no mathematician, but I think we all know where this is going.
Brittany Kennell is a Canadian folk rocker who came to America because it is the land of musical opportunity. Her hair is stunning. Trey O'Dell is a poppy business student from Arkansas. His hair is unremarkable. They will be facing off with a competitive rendition of Fleetwood Mac's "The Chain," which Blake says he chose because it occupies the middle ground between their respective styles. I interpret this to mean that it suits neither of them.
Brittany cannot stop smiling, which is an adorable trait that doesn't serve her well when she is damning your love and also your lies. "At some point, you got to get into the character and try to figure out what this means to you," Blake advises. Brittany smiles. Gwen helpfully notes that "all the emotion falls into line if you're just feeling it." Oh, Gwen, I have been saying that for years.
Are they feeling it, though? I do not believe either one of them, but they sound very nice. I give them a B, overall. Christina, who is more enthusiastic about this whole thing than I am, says she loved Trey's falsetto, but also praises Brittany's Gwen Stefani–ish vibrato. "You guys both did incredible," Blake agrees, but there can be only one winner, and the winner is Brittany, because her voice "is going to sneak up on everyone." Stay vigilant! In response, Christina scoops up Trey, because his falsetto had her "really interested." Also, he was the last contestant and she had one slot left.
And so another year of battles has come to an end. How bittersweet it is! Next week, Miley Cyrus comes in like a wrecking ball, and everyone gets to change their clothes again. So far, I feel like all the decisions have been fairly reasonable, but I am really looking forward to being outraged about something. See you at the knockouts!