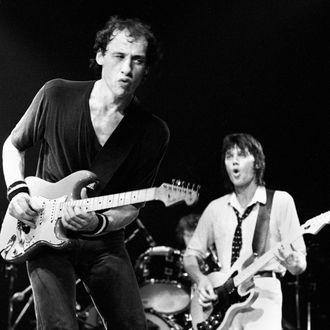 Photo: Gijsbert Hanekroot/Getty Images
"Walk of Life" is a great (albeit slightly corny) song — who could forget the iconic use of synthesizer-organs, smooth guitars, and Mark Knopfler's vocals — and the Walk of Life Project couldn't agree more. So much so that the project's creator, Peter Salomone, set out to prove that the 1985 rock classic would be the perfect way to close out any film, regardless of genre or theme. And you know what? It's pretty true — that damn song fits well into comedies, tragedies, dramas, and even sci-fi movies. Behold its silly cinematic power:
Here comes Johnny singing oldies, goldies …
… Be, bop, a, lua, baby, what I say.
Here comes Johnny singing I got a woman …
… Down in the tunnels, trying to make it pay.
The rest can be viewed here if you're so inclined. We can only hope the Sultans of Swing Project will be up next.