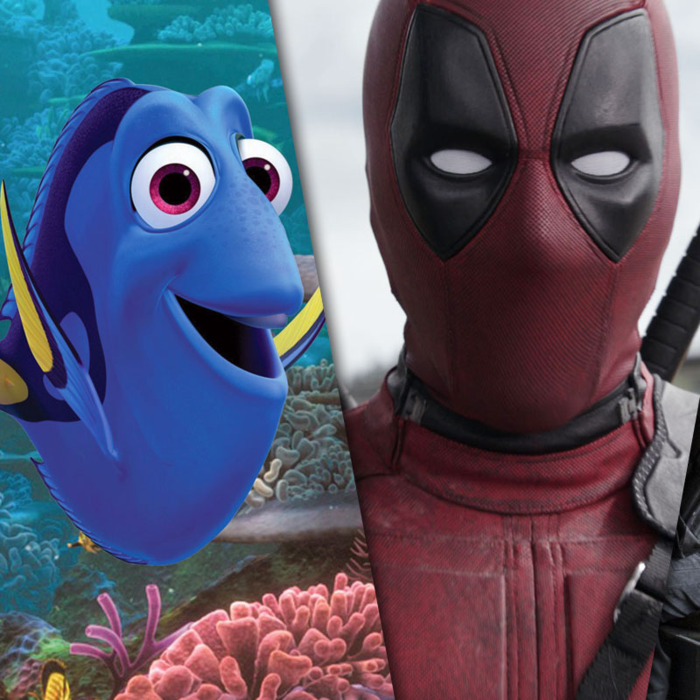 When all is said and done, will the biggest hit of 2016 be an R-rated superhero movie released in February? At $311 million and counting, Deadpool is likely to finish within striking distance of a massive $400 million domestic haul — more money than any movie made in the entirety of 2014, when American Sniper and The Hunger Games: Mockingjay – Part 1 topped the year-end list. If Deadpool manages to hold onto its crown for the next several months, that will be the movie's final remarkable feat, but there are nine upcoming contenders that have their eyes on that same prize.
Batman v. Superman: Dawn of Justice
Now that Deadpool has broken records outside the summer movie season, will Batman v. Superman dominate with its unusual March release? This matchup of Earth's two biggest superheroes is a sure bet to out-earn the recent Man of Steel ($291 million domestically), but whether it can match The Dark Knight Rises — which made $448 million after following one of the most acclaimed superhero movies of all time — is less clear. Certainly, Warner Bros. is counting on a big haul: The film is infamously expensive, and it's intended to become the cornerstone for a shared DC universe that mimics Marvel's movie continuity.

Captain America: Civil War
When you're citing the predecessor for this film, do you mention Captain America: The Winter Soldier, which made a solid $259 million, or the $459 million Avengers: Age of Ultron? While Civil War is meant to be a direct sequel to the former, it's as stuffed with superheroes as the latter, though I do wonder if the matchup between Batman and Superman a few months before will dent Civil War's big rumble between former friends Captain America and Iron Man. In any case, a gross north of $300 million seems assured, though only one other Marvel film has passed $400 million without the word "Avengers" in its title (2013's Iron Man 3, which made $409 million).

Finding Dory
For a good several-year streak, Finding Nemo remained Pixar's highest-grossing movie ever, only recently falling to acclaimed Oscar-winners Toy Story 3 and Inside Out. Can this Dory-focused follow-up outdo the 2003's original's then-staggering $339 million and take back the Pixar throne? In its favor: Most Pixar sequels outgross the previous entry (the only exception being Cars 2), and star Ellen DeGeneres has become a massive media mogul in the years since the first film, with a talk show that will provide incredible reach and promotion for Dory. But to make it to the upper tier of Pixar successes, you've got to have more than name value going for you: There has to be a certain kind of magic to your movie, and we'll see if Dory can boast it.

Independence Day: Resurgence
Could this long-overdue sequel hit the nostalgia sweet spot and become this year's Jurassic World? Consider that the first film, released 20 years ago, was by far the highest-grossing film of 1996, topping out at $306 million. (That film also did so well overseas that, at the time, it was the second-largest worldwide grosser ever.) Still, there are a few potential debits here: Original star Will Smith chose not to return, and the marketing campaign has failed to produce a moment as galvanizing as the first film's famous White House explosion. In the two decades since Independence Day, we've seen plenty of post-apocalyptic stories and CGI aliens, so what does this sequel bring to the table that feels new?

Ghostbusters
The original Ghostbusters wasn't the highest-grossing film of 1984 — Beverly Hills Cop squeaked by with that honor — but you'd be forgiven for thinking so, since the film has had such an appropriately long afterlife. A sequel released five years later couldn't even earn half of the first movie's $242 million gross, but reviving this franchise has long been a priority for Sony, and they found a fresh new direction with director Paul Feig's all-female take. Yes, it's a little odd that they kept the teaser trailer under wraps for so long — every other summer blockbuster-to-be was advertising ages ago — but the film is a bona fide headline-maker and, if it's good, this could be the biggest female-fronted comedy ever made.

Suicide Squad
It can be awfully profitable to color outside the traditional superhero lines: The comedically out-there Guardians of the Galaxy became one of Marvel's biggest hits, while R-rated Deadpool has now outgrossed the more traditional X-Men movies it was spun off from. All this is to say we wouldn't be surprised if Suicide Squad, with its novel collection of DC Comics baddies (including fan favorite Harley Quinn, played by Margot Robbie) actually makes more than Batman v. Superman, which looked on paper like a surer bet. That great recent trailer, cut expertly to Queen, has only primed the pump.

Fantastic Beasts and Where to Find Them
It's been five years since the final Harry Potter film was released, but fans of J.K. Rowling's wizarding world are just as ardent as ever. Can they lift this spin-off, starring Eddie Redmayne, to the heights that other Potter films reached? The period setting (it takes place in the 1920s) may work against it, and none of the original stars found their way into this one, so the connection will be sold primarily on Rowling's name. Still, Warner Bros. is forecasting big returns, and they'd be pleased as punch if this hit the $300 million mark that the Potter movies usually topped out around.

Moana
With Frozen having earned an eye-popping $400 million, expectations are high for the next family musical from Walt Disney Animation Studios. Set in the South Pacific, this one has a lot of things going for it: Its empowered young heroine will pull in girls, while voice actor Dwayne "The Rock" Johnson is a strong draw for boys; directors Ron Clements and John Musker made Disney classics like The Little Mermaid and Aladdin; and Hamilton creator Lin-Manuel Miranda had a hand in the songs. Frozen set a high-water mark that will be hard to beat, but Disney Animation is on a real roll.

Star Wars: Rogue One
Finally, we come to the year's most intriguing box-office question mark. Lucasfilm now intends to release a Star Wars movie every annum, and while Rogue One will follow The Force Awakens — which has earned $928 million, making it the biggest domestic grosser of all time — it's not supposed to be a sequel to that film. This side story actually takes place before 1977's franchise-starting A New Hope, and chronicles a band of outlaws trying to steal the plans for the Death Star. Will there still be the same intense level of audience engagement with a cast comprised mostly of character actors, none of whom are playing familiar Star Wars figures like Han Solo or Princess Leia? And will moviegoers understand that this much-darker-looking film is a stand-alone prequel to the original franchise, or will it leave them asking, "Where's Rey?" Nine months out, we're still lacking even an official teaser-trailer for this one, so how it will perform is anybody's guess.