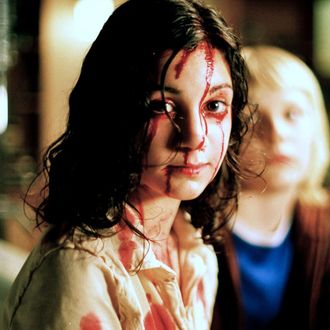 Each month, several films and TV shows leave Netflix's catalogue. We provide a list of departing titles so you can watch them before they're gone forever (or are just available on a different site). For more comprehensive coverage of the best titles available on Netflix and elsewhere, check out Vulture's What to Stream Now hub, which is updated throughout the month.
Good-bye, farewell, and amen: M*A*S*H (Seasons 1­ to 11)
All 11 years of the Korean War comedy leave Netflix at once, so unless you fall into some sort of Alan Alda–tinged fugue state, you're not going to get to all of it. Still, check out "Abyssinia, Henry," "Old Soldiers," and the very, very dark finale if you have the time. Leaving April 11.
Bring me everyone! Léon: The Professional (1994)
A hardened hit man befriends a young Natalie Portman. The rest of the plot spirals ludicrously outward as the two team up to get revenge on a bad DEA agent (Gary Oldman, gloriously overacting). Léon launched Portman's career, cemented director Luc Besson's, and remains thrilling and unsettling to this day. Leaving April 1.
Know your foe: Starship Troopers (1997)
A sci-fi film turned send-up of a fascist state, Paul Verhoeven's Starship Troopers imagines a brutal, ceaseless battle against bug aliens fought by the world's best and brightest teen heartthrobs. It's The Hunger Games without the glitz of reality TV, but with Neil Patrick Harris doing the propaganda videos. Leaving April 1.
Twisted love: Let the Right One In (2008)
Bergman-like Scandinavian vampire horror — with children! A lonely boy befriends a mysterious, dark girl, and they have the kind of puppy love that leads to increasingly brutal acts of violence. As if small blonde children weren't frightening enough already. Leaving April 10.
A Danish girl: A Royal Affair (2012)
The Swedish Alicia Vikander began her rise to American prominence with this Danish feature about a queen who falls in love with her physician (Hannibal's Mads Mikkelsen). Filled with sumptuous period costuming, A Royal Affair also manages to focus on the purpose of royalty and the challenges of adapting to a modern world. You'll learn a lot about the history of Denmark, and then you'll try to explain it to your friends, probably inaccurately. Leaving April 25.
TELEVISION
April 1
Barefoot Contessa: Back to Basics Collection (Collection 1)
Chuck's Eat the Street Collection (Collection 1)
Dear Genevieve Collection (Collection 1)
Eureka (Season 4.0)
M*A*S*H (Seasons 1­ to 11)
Throwdown With Bobby Flay Collection (Collection 1)
Vanilla Ice Goes Amish (Season 1)
The Vanilla Ice Project (Seasons 1­ - 4)
April 2
Short Poppies (Season 1)
April 22
Freakshow (Season 1)
MOVIES
April 1
101 Dalmatians (1996)
2 Fast 2 Furious (2003)
Along Came a Spider (2001)
Along Came Polly (2004)
Amistad (1997)
Bad Johnson (2014)
Bandslam (2009)
Berkeley in the Sixties (1990)
The Butcher's Wife (1991)
Charlie's Angels: Full Throttle (2003)
Craigslist Joe (2012)
Flashdance (1983)
Hook (1991)
Hotel Rwanda (2004)
House of Wax (2005)
I'll Be Home for Christmas (1989)
The Inexplicable Universe With Neil deGrasse Tyson (2013)
Léon: The Professional (1994)
Nanny McPhee (2005)
The Naked Gun 2 1/2: The Smell of Fear (1991)
Nine to Five (1980)
Pride & Prejudice (2005)
Remember Me (2010)
Rock Star (2001)
The Rundown (2003)
Smokin' Aces 2: Assassins' Ball (2010)
Something New (2006)
Star Trek: Insurrection (1998)
Starship Troopers (1997)
The Tale of Despereaux (2008)
The Wedding Date (2005)
The Whole Ten Yards (2004)
April 2
Anchors Aweigh (1945)
Around the World in 80 Days: Special Edition (1956)
The Devil at 4 O'Clock (1961)
High Society (1956)
On the Town (1949)
Pal Joey (1957)
Some Came Running (1958)
Take Me Out to the Ball Game (1949)
April 2
Space Dogs (2010)
April 6
The Passion of the Christ (2004)
April 10
Let the Right One In (2008)
April 15
All American Christmas Carol (2013)
Bill Cunningham New York (2010)
New York, I Love You (2008)
April 16
Mr. Bean's Holiday (2007)
April 17
Lord of War (2005)
April 20
Half Baked (1998)
April 25
A Royal Affair (2012)
April 30
Sordid Lives (2000)
For more details on the best film and television available online, consult Vulture's What to Stream Now hub.