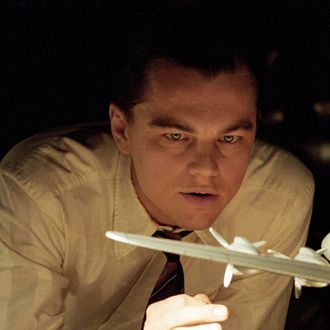 Each month, several films and TV shows leave Showtime's catalogue. We provide a list of titles leaving the platform so you can watch them all before they're gone forever (or just available on a different site). For more comprehensive coverage of the best titles available on Showtime and elsewhere, check out Vulture's What to Stream Now hub, which is updated throughout the month.
The way of the future: The Aviator (2004)
Leonardo DiCaprio rises and falls in Scorsese's biopic of Howard Hughes, visionary filmmaker and aviation entrepreneur. The film includes our favorite Leo performance, a masterful combination of moneyed assurance and adolescent anxiety, and, not for nothing, gave birth to a truly all-purpose GIF. Leaving April 15.
Scream! Scary Movie (2000)
Scary Movie is the beginning of a long chain of horror spoof films, and a pioneer of the kind of reference comedy that relies more on pointing at things than actual comedy. Read our comprehensive guide to the franchise before watching. It'll be like a film-history class, but with more fart jokes. Leaving April 30.
Caught in: Traffic (2000)
Steven Soderbergh tackles the drug war in a set of interconnected stories all shot in their own distinctive style. Enjoy Benicio Del Toro's Oscar-winning performance as a Mexican police officer alongside Soderbergh's razor-sharp critique of American drug policy. Leaving April 30.
MOVIES
Mighty Joe Young (1998)(April 11)
Arachnophobia (1990)(April 12)
The Aviator (2004)(April 15)
August: Osage County (2013)(April 26)
Novocaine (2001)(April 30)
Jackass Number Two (2006)(April 30)
Tapped Out (2014)(April 30)
Scary Movie (2000)(April 30)
Superstar (1999)(April 30)
Traffic (2000)(April 30)
For more details on the best film and television available online, consult Vulture's What to Stream Now hub.