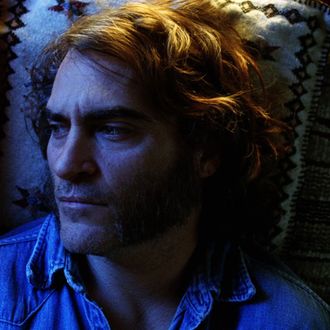 At the beginning of (and during) each month, HBO adds new movies and TV shows to HBO Go and HBO Now. We figure you want to know what they are. For more comprehensive coverage of the best titles available on HBO and elsewhere, check out Vulture's What to Stream Now hub, which is updated throughout the month.
 Very relatable: Trainwreck (2015, Unrated)
Amy Schumer's big summer film blends her raunchier humor with the arc of an Apatow-style romantic comedy. It doesn't all fit together, but the performances are solid across board, with Brie Larson as Schumer's sister, Tilda Swinton transformed into a tanned magazine editor, and even LeBron James as a surprisingly funny version of himself. Available April 2.
The hunt for the golden fang: Inherent Vice (2014)
A missing person, a criminal conspiracy, hippy-hating cops, and pizza-eating cults — the plot of Paul Thomas Anderson's adaptation of Thomas Pynchon's novel makes about as much sense as your average acid trip. But plot isn't, like, the point here, as the director summons the atmosphere of late-1960s L.A. in exquisite detail, from the latent fascism of the crumbling establishment to the salt and ganja stench of the dissenters on the beach. Available April 11.
The drop: We Are Your Friends (2015)
If there were any logic to the world, a Zac Efron EDM DJ movie about bland, attractive guys in L.A. would be terrible, but this, somehow, isn't. Credit to director Max Joseph (of Catfish) for finding a way to bring out Efron's veiny despair by pairing him with mentor-slash-burned-out-rival Wes Bentley. These bros just want to make music, man, but life keeps getting in the way. Available April 18.
Teenage wasteland: The Fault in Our Stars (2014) and Paper Towns (2015)
HBO acquires two films based on work from teen feelings juggernaut John Green this month. The Fault in Our Stars is the showier and arguably better work, with strong performances from Shailene Woodley and Ansel Elgort as star-crossed cancer patients. But Paper Towns captures the rush of adolescent semi-profundity better than nearly any other film. That's thanks to Cara Delevingne, the resident not-so-dream girl, who flutters between pretty girl magnetism and despair as empty and unnerving as the breeze on a suburban cul-de-sac. The Fault in Out Stars is available April 1. Paper Towns premieres April 30.
Winter, by all reports, is still coming: Game of Thrones ( Season 6 Premiere)
Yes, this is what you were waiting for. Game of Thrones is back. HBO has kept all of the secrets of the next season close to its chest, so no one knows what could happen. Is Jon Snow alive? (Probably.) Will a character you love die? (Definitely.) Will Gendry finally get out of that rowboat? (We can only hope.) Available April 24.
TELEVISION
El Hipnotizador (April 1)
Mapplethorpe: Look at the Pictures (April 4)
Animals. (Season 1 Finale) (April 7)
Nothing Left Unsaid: Gloria Vanderbilt & Anderson Cooper  (April 9)
Togetherness  (Season 2 Finale) (April 10)
Confirmation (April 16)*
Vinyl  ( Season 1 Finale) (April 17)
Girls  ( Season 5 Finale) (April 17)
Game of Thrones  ( Season 6 Premiere) (April 24)
Silicon Valley  ( Season 3 Premiere) (April 24)
Veep  ( Season 5 Premiere) (April 24)
Heart of a Dog (April 25)
2016 Rock and Roll Hall of Fame Induction Ceremony (April 30)
FILMS
April 1
American Pie (1999)
American Pie 2 (2001)
Breach (2007)
Casper (1995)
Mean Streets (1973)
Mr. Magorium's Wonder Emporium (2007)
Slither (2006)
The Fault in Our Stars (2014)
The Invasion (2007)
We Are Marshall (2006)
White Fang (1991)
Wild Wild West (1999)
X-Men (2000)
X-Men Days of Future Past (2014)
Mr. Kaplan (2014)
En las nubes (2014)
Available later in April
Trainwreck (2015, Unrated) (April 2)
Papita, mani, tostom (Peanuts and Crackerjacks) (2013) (April 8)
Lucy (2014) (April 9)
Inherent Vice (2014 ) (April 11)
We Are Your Friends  (2015) (April 18)
Jurassic World  (2015) (April 23)
Dracula Untold  (2014) (April 27)
Paper Towns  (2015) (April 30)
For more details on the best film and television available online, consult Vulture's What to Stream Now hub.