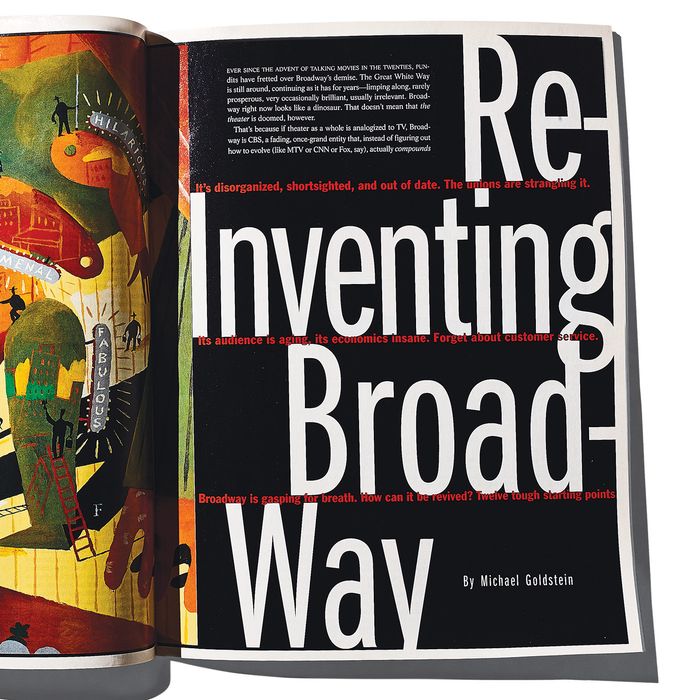 "Can Broadway Be Saved?" by Michael Goldstein from May 29, 1995.
When New York took a long look at Broadway back in 1995, there was no talk of a golden age. Instead, the question on the table was "Can Broadway Be Saved?," and you could be forgiven for thinking that the answer was no. The business was looking particularly frail, after a decade of nearly flat box-office take. Artistically, the dominant form in that decade had been the blowsy, razzle-dazzle British-import musical: Cats, The Phantom of the Opera, Les Misérables, even (God help us) Starlight Express. Various factors (union featherbedding, steep rents) had driven up ticket prices, making a theater visit an occasional treat instead of a regular event.
Meanwhile, the product was pretty thin. In the 1994–95 season, exactly two new musicals opened, one of which (Smokey Joe's Cafe) was really a staged revue. The theater community was demoralized, too, not least ­because you could barely go a day without seeing a young male actor or costumer or set designer in the Times' obituary pages, the cause of death elided with a proximate euphemism like "pneumococcal pneumonia."
Michael Goldstein, who wrote the feature for New York, laid out a 12-step plan, suggesting (in step one) that Broadway's overlords first had to acknowledge their problems. The remaining 11 points included a few ideas that, admittedly, were never going to pan out: "Opening the Tony awards to Off Broadway." (It would clobber a small show to send freebies to 800 voters, a letter writer noted the following week.) "Broadway needs a czar." (Who?) "Serving up McTheater" — that is, licensing halls across the country to produce plays on the cheap, creating competition for upper-middlebrow moviegoers. (The quality control …)
But other ideas he set forth were not only workable but necessary. Absurd union work rules for stagehands and musicians were crying out to be renegotiated. Ticket sales had to be modernized — "the virtual box office" is the phrase here, describing an order-by-phone arrangement like the 777-FILM movie-ticket system. Notably, Goldstein wrote, "It's also time for the half-price TKTS booth to hop on the info superhighway." Nobody was there yet. Ticketmaster made its first online sale the next year.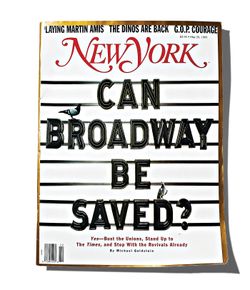 He further recommended that producers one-up the scalpers by selling premium seating, as The Producers eventually did and most shows now do. The diagnosis ended with a plea for composers to embrace newer music. "Musical theater today is everywhere but Broadway," he wrote, citing the storytelling ability of the man then known as Snoop Doggy Dogg. "At last," Goldstein concludes, "Broadway could join the '90s. Or at least the '60s."
The Aftermath
Broadway has indeed come back, and is livelier and more exciting than it has been in generations, but it did so via a route somewhat different from the one we laid out. The unions certainly weren't busted, but some of their most expensive work rules have been renegotiated. (A show at the Majestic Theatre, for example, was required to hire 26 musicians in the pit; now the minimum is 18.) Load-in requirements — which had meant that getting a show's set and props into the theater could cost nearly $1 million — have been tamed slightly. And, Goldstein says today, "One thing that I got wrong — I said something about profit sharing, and to my knowledge that's never happened. But a buddy of mine pointed out to me that they've got 12 ­producers' names above the title on some shows. It's definitely not profit sharing, but almost loss sharing. You just have to get a lot of people to sign up who might not mind sharing in a $15 million bath."
Most of all, though, two things happened: Tourism — stoked by governmental action — poured money into Times Square and its environs, and the subsequent growth of the audience widened the realm of possibilities. Amid semi-permanent fixtures like Chicago and Jersey Boys, unorthodox shows like Fun Home and The Curious Incident of the Dog in the Night-Time have run in the black. Ten new musicals were staged in the 2014–15 season, and although the year had its share of clunkers, three of the ten were critical and commercial successes. Even movie adaptations like Bring It On: The Musical and Kinky Boots are a lot better than they need to be.
Snoop Dogg never got a Broadway revue, but Tupac Shakur did (albeit unsuccessfully) — and, of course, hip-hop's vigor finally arrived in the form of Lin-Manuel Miranda, with In the Heights and Hamilton. Twenty years on, Broadway did finally find the 1990s, and has a clue about moving beyond them. Even if Cats is due back this fall.
*This article appears in the March 7, 2016 issue of New York Magazine.