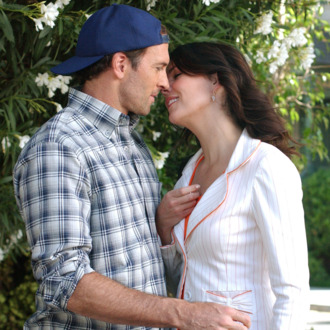 Lorelai and Luke sitting in a tree. G-I-L-M-O-R-E.
Photo: Patrick Ecclesine/Getty Images
Recently on a tour of the Warner Bros. studios, a Gilmore Girls fan-slash-super sleuth, Jordan McKamie, who was probably carrying a magnifying glass and wearing a houndstooth cap, saw a telltale sign of a possible Gilmore Girls wedding: a prop lamp thing with a tag on it that said it's for the "WEDDING" set. But we all still have one question: Could it be a typo? Is it for the welding set? Has Rory given up her dreams of becoming Christiane Amanpour to become a welder? Time will tell. If there are in fact some nuptials in store, who's about to tie the knot? Lorelai and Luke would be the obvious choice, Rory and Jess a less obvious choice, and Paul Anka and Miss Patty a very very unlikely non-obvious choice. Check out the gumshoe's Instagram below, and see how you feel.