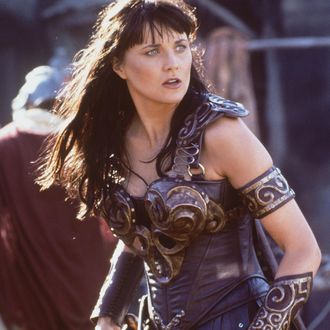 Xena, the warrior princess.
Photo: Getty Images/Universal International Television
As you might be able to tell from their adoring fans on Tumblr, Xena: Warrior Princess's two leads, Xena and her bard companion Gabrielle, were something of a mid-'90s lesbian item, though of course that couldn't be said explicitly on TV. Now, that relationship will finally come out of the TV closet, at least according to Javier Grillo-Marxuach, who has been hired to write the pilot for NBC's planned "modern" reboot. "Xena will be a very different show made for very different reasons," Grillo-Marxuach wrote on a post on his Tumblr while addressing questions about The 100, where he is currently a co–executive producer. "There is no reason to bring back Xena if it is not there for the purpose of fully exploring a relationship that could only be shown subtextually in first-run syndication in the 1990s."
Grillo-Marxuach had taken to Tumblr after fans of The 100 criticized him for writing a recent episode in which a major queer character was killed off. In his responses to many LGBTQ viewers' frustration, Grillo-Marxuach emphasized that he is "a very different person with a very different world view than my employer" and added that the Xena will "express my view of the world." According to an earlier interview with Grillo-Marxuach, Lucy Lawless and Renee O'Connor, who played Xena and Gabrielle in the original series, won't be back for the reboot. NBC had better get new actresses who look very much like them — just to recreate a few GIF sets as accurately as possible.