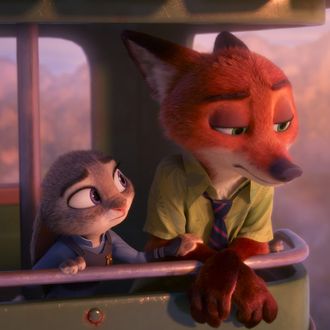 Moviegoers flocked to Disney's Zootopia this weekend. The film earned $73.7 million, the biggest three-day opening for a Disney animated movie. That's also the ninth-best three-day opening for an animated movie, and the second-best for an animated movie that wasn't a spin-off or sequel. It won't face much competition this month, either: The next wide-release animated movie, Ratchet and Clank, adapted from the popular video game series, doesn't open until April 29. Zootopia, which has an anti-bigotry message, more than tripled the starkly xenophobic, us-vs.-them Donald Trump wet dream London Has Fallen, which pits Gerard Butler against an onslaught of Middle Eastern terrorists, and took in $21.7 million.
Deadpool, earning $16.4 million in its fourth week in theaters, became the third R-rated movie to gross $300 million; it trails Clint Eastwood's American Sniper by just under $40 million and Mel Gibson's The Passion of the Christ by under $60 million.
Tina Fey's Whiskey Tango Foxtrot fell short of the studio's projected $10-12 million opening, making $7.6 million on a $35 million budget. And director Alex Proyas can rant all he wants about critics, but moviegoers may be his true enemy: Gods of Egypt, which had a still-birth debut last week, is basically just a $140 million CGI-addled corpse at the box office, making $5 million for a two-week total of $22.8 million. The Witch, which cost 1/140th of Gods of Egypt, has made almost as much money, conjuring up $20.9 million in three weeks.