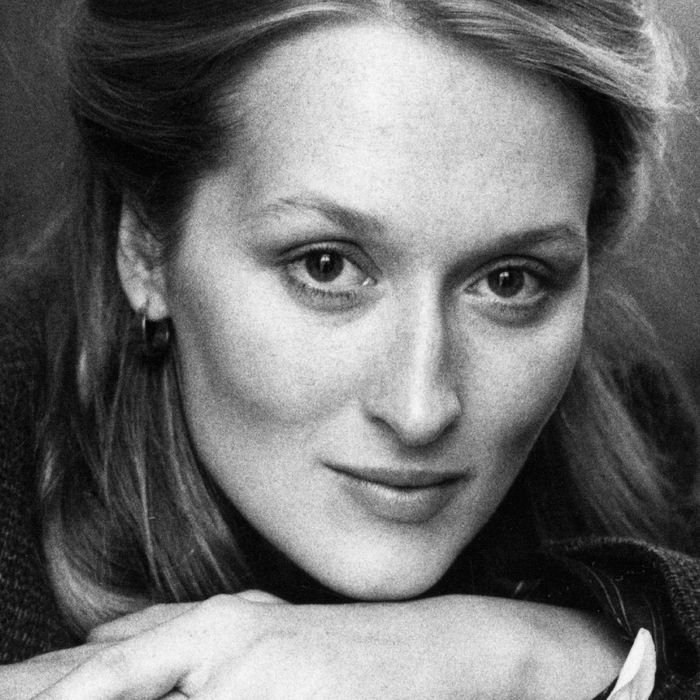 Meryl Streep.
Photo: Evening Standard/Getty Images
Every legend needs an origin story, and Michael Schulman attempts to provide one for the legendary screen actress Meryl Streep with his biography, Her Again: Becoming Meryl Streep, available for purchase today. Schulman sketches out Streep's early years, from her time as a high-school student in New Jersey where she was voted homecoming queen, through her hellish years at Yale, ending with her first Oscar win for Kramer vs. Kramer in 1980. The Streep that emerges in the book is the consummate professional: indefatigable, preternaturally talented, and always gracious. Despite extensive research and interviews, Streep herself is curiously absent from the biography. (The author did not conduct any interviews with Streep.) Instead, we see Streep through the eyes of her collaborators and colleagues, former boyfriends and suitors: Men who admired her. There are faint glimmers of Streep, but she is elusive, and perhaps, awaiting another book.
She played her first role was when she was 6.
Even Meryl Streep was a baby! Streep remembers feeling the power of acting when she was just 6 years old, in her first role, playing the Virgin Mary and cradling her Betsy Wetsy doll. "I felt quieted, holy, actually, and my transfigured face and very changed demeanor captured on Super-8 by my dad pulled my little brothers … into a trance," said Streep. "They were actually pulled into this little nativity scene by the intensity of my focus, in a way that my usual technique for getting them to do what I want, yelling at them, never ever would have achieved."
She performed an abortion on herself for a "death scene" exercise at Yale.
Unsurprisingly, Meryl Streep was the star student in her class at Yale, where she went to get an MFA after graduating from Vassar. In her first year, Streep had to take an acting class with Tom Haas, who, according to then-dean Robert Brustein, was the "bane" of her existence. One of the exercises for first-year students was acting out a death scene. Whereas other students went the conventional route of setting themselves on fire or shooting themselves, Streep decided to perform an abortion on herself. One of her classmates said she was "incredibly intense" and said that her last name became a verb: "to Streep it up" meant to step up your game.
Jane Fonda taught her how to hit her mark.
Her first film acting gig was in Julia, starring Jane Fonda and Vanessa Redgrave, in which she played a gossipy friend named Anne Marie. Her scenes were all with Fonda, and Streep remembered her as having a "feral alertness." They rehearsed the scene, and afterward Fonda told her, "Look down." Then she pointed down at the ground. "That green tape on the floor. That's you. That's your mark. And if you land on it, you will be in the light, and you will be in the movie."
John Cazale died in her arms, but returned briefly.
Streep married Don Gummer in 1978, and the pair went on to have four children. But before that, she was in love John Cazale, who she met when they both performed in Measure for Measure for Shakespeare in the Park. Their romance would be brief, interrupted by Cazale's diagnosis of terminal lung cancer. Indeed, it was because of Cazale's health that Streep decided to take the role of Linda in The Deer Hunter (for which she would receive her first Oscar nomination) so that she could be with him on set. (Streep has repeatedly stated that the role of Linda goes against her own instincts as to how a woman should be.)
Streep remained by his side as an unconditional caregiver during the last years of his life. According to Schulman, this is what his deathbed was like:
Around three in the morning on March 12, 1978, John closed his eyes. "He's gone," the doctor said. But Meryl wasn't ready to hear it, much less believe it. What happened next, by some accounts, was the culmination of all the tenacious hope Meryl had kept alive for the past ten months. She pounded on his chest, sobbing, and for a brief, alarming moment, John opened his eyes.

"It's all right, Meryl," he said weakly. "It's all right …"
And with that, he passed away.
She didn't care about her first Emmy win.
Soon after the death of Cazale, Streep won an Emmy for Outstanding Lead Actress in a Limited Series for Holocaust, in which she played Inga Helms Weiss, a German citizen with a conscience. She had taken the job because, according to Schulman, she needed the money to help pay for Cazale's medical expenses. The shoot itself was desperately long for Streep, who simply wanted to be by Cazale's side. As for the ceremony itself, she didn't go to the Emmys to collect her prize; instead it arrived in a box, and she placed it with the rest of her things. At the time she said, "I wish I could assign some great importance to it," but that it had "no lasting power."
Dustin Hoffman was hell to work with on Kramer vs. Kramer.
Hoffman apparently drove the entire cast and crew crazy during the shooting of Kramer vs. Kramer. For instance, he would manipulate the young actor Justin Henry (who plays the couple's child) in order to get the right reaction out of him on camera. He would also try to do this to Streep. In an advance excerpt, we learn that Hoffman taunted Streep about Cazale's death throughout the shoot, whispering his name during emotional courtroom scenes to provoke her. Once, he shattered a wineglass next to her, and shards of glass got into Streep's hair. She coolly said, "Next time you do that, I'd appreciate you letting me know."
Streep rewrote her own character's testimony.
Viewers will remember that Streep's character, Joanna, doesn't appear again in Kramer vs. Kramer until the third act, when she returns to ask for custody of her son. She appears on the witness stand and has to make a case for why she should have custody. The original script makes her out to be selfish and narcissistic. Director Robert Benton told Streep, "I don't think it's a woman's speech. I think it's a man trying to write a woman's speech." He asked her if she would rewrite it. She did, and that's what was used in the film.