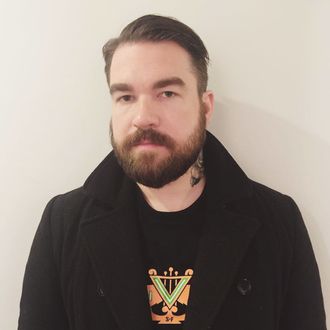 Isaac Fitzgerald.
Photo: isaac.fitzgerald/Instagram
"What a time to be an introvert," said BuzzFeed books editor Isaac Fitzgerald, who is not an introvert. "Everyone in this room just won the lottery." It was the first day of AWP, the roving annual conference of MFA-affiliated writers, and the bearded and tattooed avatar of literary affirmation was on a morning panel titled "Networking for Introverts." The panel's organizer was author-blogger Meghan Ward, whose shy affect belied her former career as a fashion model.
Fitzgerald, Ward's anointed "extrovert liaison," was talking about the internet, the great social leveler that promises (or threatens) to make body language obsolete. But hundreds of AWP's young writers and editors showed up at the panel in the flesh, driven either by curiosity or genuine hunger for advice on the art of dignified self-promotion.
The convention, run by the Association of Writers and Writing Programs, has grown rapidly over the past decade, keeping pace with the recent proliferation of MFA courses. This year's edition, which ended Saturday in Los Angeles, topped 10,000 attendees. In contrast to the transactional and competitive mood of BookExpo America, a trade-focused publishing show usually based in New York, AWP has an aesthetic and academic cast and a relatively low-pressure vibe. The networking on the convention floor, at journal-sponsored parties, and in late-night confabs at the nearby Marriott felt substantive and endearingly shambolic. "Embrace the awkwardness, have fun with it," said panelist Shanthi Sekaran, author of the novel The Prayer Room. "Start an awkwardness journal of these encounters."
Ward kicked off the conversation by noting recent research that replaces the simplistic extrovert-introvert dichotomy with a matrix of social function along two axes — shy and calm, introverted and extroverted. Save for Fitzgerald, all the panelists identified optimistically as calm introverts, solitary but confident. They tolerate crowds but do best one on one.
"I'm looking for just one or two people, and we tend to recognize each other. You hear what someone is into. You recognize their energy," said panelist Sophfronia Scott, the author of a novel and several how-tos, including Doing Business by the Book: How to Craft a Crowd-Pleasing Book and Attract More Clients and Speaking Engagements Than You Ever Thought Possible.
Ward put up projections listing tips for staying calm. "Do some jumping jacks before you give a talk to get your heart rate pumping," one read. "Your mind will think it's the jumping jacks — not the fear — that has your heart racing." Panelist Alison Singh Gee emphasized practice, practice, practice — something she did while touring for her travel memoir. "I've collected great people in my life from every single book event, and every one of those people became my friend," she said. "Any introvert can develop the training to become an extrovert at least for very defined moments in time."  Hers was a reverse prosperity gospel: Become successful, and the networking will follow.
And what about schmoozing with the more successful? What to say while shaking hands with conference attendee Jonathan Franzen (or, more exciting to the assembled, Claudia Rankine)? On that subject, Ward turned to her token extrovert, who'd been unusually quiet for the first quarter of the talk. "Be excellent, know what you have to say, and be done," said Fitzgerald. "Don't corner them and talk about your poetry manuscript for 40 minutes."
"And don't ignore the non-famous authors," said Ward. "You never know what the nobody sitting next to you will be next year." She nodded to Fitzgerald's party prowess and millennial cohort by asking what parents like her could do with the limited schmoozing time available to them. Fitzgerald responded that he had a lot of friends with kids, and loved visiting them. "Will you babysit this weekend?" Gee asked.
The back half of the panel pivoted to the introvert's home turf, the internet. That's where most writers cultivate their superiors. "Facebook really has been my best friend," said Gee. "It's the great equalizer. You can get access to amazing authors and agents and editors you wouldn't otherwise meet." In response to a birthday message from Pulitzer Prize-winner Robert Olen Butler, whom she didn't know, Gee wrote to tell him his worked featured in her memoir. His response: "I'm off to Amazon now." She gained a customer and an influencer.
The usual social-media tips emerged. Treat your interactions as you would real-life conversations; post six selfless tweets for every nugget of self-advertising. Panelists addressed that moment familiar to convention-goers and Tinder users alike: How do you bridge the gap between your ebullient, Instagram-filtered persona and your actual personality? Scott suggested emailing your prospective coffee date with something along the lines of, "Just so you know, I'm a very shy person and it's something I'm working on."
When Ward began taking audience questions, the tone shifted from instruction to affirmation. That seemed to be a secondary aim of the convention — bucking up idealistic artists in a cultural market glutted with underqualified loudmouths. (One conversation on writer's block spawned the observation that "the wrong people are always taking off their shirts"). A woman at the panel asked why Facebook friends loved her personal posts but ignored those about her writing. Ward pointed out that posting was writing, and "maybe what people are responding to is your writing." Fitzgerald snapped approvingly. "Maybe give yourself a little more love," he said, meaning both self-approval and self-promotion.
Any good networker knows that the best way to put insecure people at ease is to admit your own insecurities. Accordingly, Fitzgerald offered a confession. When he first took the job at BuzzFeed, he told an interviewer he was only interested in positive coverage ("If you can't say something nice, don't say nothing at all"). A tsunami of vitriol stalked him in the aftermath. The media's "eye of Sauron" lit him up for weeks.
How did he react? "I turned off all the lights and I got into a bathtub fully clothed, and I just didn't move for seven hours." It was a dark moment, but also the discovery of an escape hatch from extroversion. "To be honest, I still spend some bathtub time," he said — but not too much, because public risks are a part of the game, whatever the medium. "The only other option is to not put yourself out there at all, and if that's the case, why would you want to be a writer?"