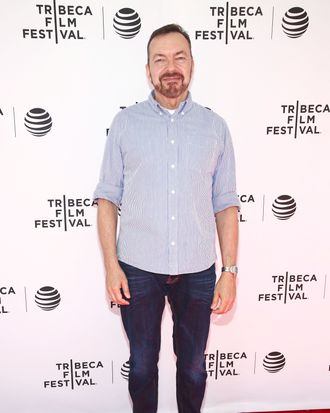 Alan, making us bawl.
Photo: Astrid Stawiarz/Getty Images
"I watched the finale on my iPhone last night in preparation for this and I cried," Alan Ball told Vulture at the screening of the Six Feet Under finale at Tribeca, in honor of the show's 15th anniversary. While he kept it together during the screening, that didn't stop audience members from letting the tears fly. "I miss David and Claire. I was really, really emotionally invested in them, and identified with them in so many ways," said Ball. "David, partially because he's gay, and I know that whole thing about trying to be the best little boy in the world, and struggling with everyone's expectations because you have that internalized shame. It's gotten better for people who are younger than me, and certainly was way worse for people who are older than me, but … it was hard."

And with Claire, he identified with the need to be an artist and "her need to be expressive, her need to be creative." Ball said, "The scene at the end where she tells Ruth, 'I'll stay,' and Ruth says, 'No, you will go.' That happened to me with my mom. My dad had just died, and I was prepared to stay home for her. She told me to go live my life."

Six Feet Under's final montage of each character's death is one of the most beloved endings in television and was famously set to Sia's "Breathe Me." "Now, I don't know if this is apocryphal or not, but I had heard that she [Sia] was on the verge of retiring," said Ball. "And that all this sort of goaded her into keep making music." With death, a birth.