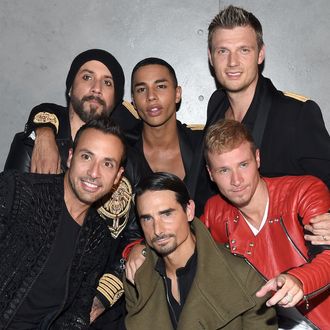 Photo: Nicholas Hunt/Getty Images
Roll out your basically vintage, lipstick-smudged poster and recall your brooding boy-band feels; the Backstreet Boys are returning for a nine-show run in Vegas, confirms Entertainment Tonight.
Nick Carter told ET that the Backstreet crew signed a nine-show deal with Live Nation as a sort of trial run for something more permanent. Yes, there's a possibility that the Backstreet Boys will be at your constant disposal, just like Cher, but with fewer glitzy headdresses. Although, maybe they will do a spoof on their recent zombie-film collab with *NSYNC — a superfan can only hope.
Carter says all five of the band members are confirmed for the nine shows, so Vegas can surely expect their Millennial tourism count to increase exponentially.