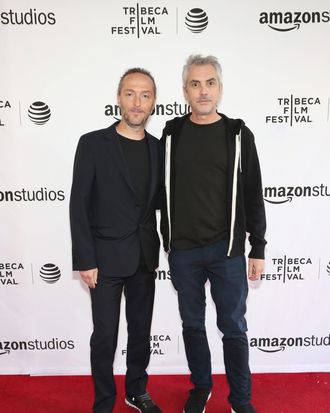 Lubezki and Cuarón.
Photo: Monica Schipper/Getty Images
Emmanuel Lubezki, longtime friend and colleague of Alfonso Cuarón, sat with the director on Wednesday at the Tribeca Film Festival, where they remembered their past films. They kept things lighthearted, reminiscing about their early film-school days in Mexico and arguing over their favorite — and least favorite — films together. But it wasn't just lighthearted banter: Lubezki is a total softie, and Cuarón has made him cry on multiple occasions. From working together as assistant directors on Gaby: A True Story to the classic film A Little Princess, here are three moments when Lubezki was moved by Cuarón's movie magic.
Gaby: A True Story
The duo both worked as assistant directors for Luis Mandoki early in their careers on the 1987 film Gaby: A True Story: Cuarón as the first AD and Lubezki as the second. "What a great DP he is, but he's the worst second AD," Cuarón said. "He was just looking at how he would place the lights, and I was like, put the cable here!" Lubezki laughed and said, "That was the first movie where I called action … and I cried that day. Ready, camera, action! And as they started shooting, I cried." 
Sólo Con Tu Pareja
"There was a beautiful moment in the movie, and it probably doesn't look that great anymore," said Lubezki, who worked on the cinematography of the 1991 film. "We shot in a helicopter and there's these two characters that climb the highest building in Mexico. It looks a little bit like the Empire State [Building] and they got a love scene up there. Alfonso wanted the camera to swirl around, so we got this helicopter and went up in the helicopter and shot at magic hour with the lights of Mexico City — it really was amazing. And that was the second time he made me cry."
A Little Princess
"There is a moment in that movie where we are shooting and the Little Princess wakes up because she realizes that she's in the middle of this tornado of flowers and petals, and those petals take her to see this Indian man, but we didn't have money to do this," Lubezki said to Cuarón. "And you were very upset one day, because the producers came in one day and said, No petals. And I saw one of the greatest moments of Alfonso improvising like jazz player at the top of his game."
Cuarón decided to open the doors and add snow."We were adding one thing to the other, and it was one of those things that was a magical moment for us," said Cuarón.
"It was completely magical. That was the third time I cried," said Lubezki. "I'm soft."
Cuarón agreed. "You're softer than I thought."