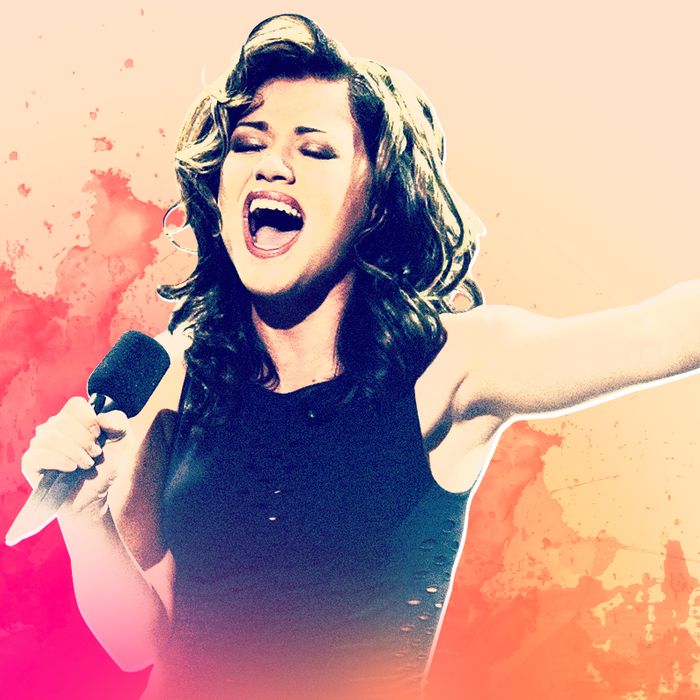 You know, it shouldn't have been much more than a footnote. A short-lived summer-replacement Star Search reboot on a fourth-place network that was still best-known for teen soaps, The Simpsons, and Cops? A singing competition show starring Paula Abdul and some unpleasant British dude? A show with Big Band Week? Preposterous. Even the name sounded tone-deaf and desperate: American Idol: The Search for the Next Superstar. No, thanks.
And yet, here we are saying goodbye to Idol, 15 seasons, hundreds of millions of dollars, countless hit singles, and one Oscar later. You just never know what America is going to eat up.
I will miss American Idol, first and foremost, as the last thing about which we all had an opinion. In 2016, we're an uneasy coalition of rabid fanbases who barely overlap; I myself am a popular-culture fanatic who's never watched House Of Cards or seen a second of an Avengers film, and I don't feel like I've missed a step. But in the heyday of Idol, whether you watched it every week or avoided, hated, and mocked it, you knew about it. Even if you'd never seen the show, you could do a Simon Cowell impression, simply through cultural osmosis. Idol was either appointment viewing or a sign of the end-times. (During the show's run, I have held both opinions, often in the space of a single episode.) Do you think The Voice will ever polarize a nation like that? Please.
Idol came along at a perfect time, and like a big, glittery fire hose, blasted a whole bunch of new faces, ideas, and concepts into our living rooms. To paraphrase the show Wicked, which surely has some Idol veterans in its cast by now: Who can say if we've been changed for the better, but we have been changed for good.
First and foremost, Idol brought on a democratization of pop culture stardom we take for granted now. In the summer of 2002, pop music was getting over its boy-band and rap-rock phase, and the Great Niche-ification brought on by the iPod was just beginning. But there was still a thing called a "recording industry" at the time, and if a young artist wanted to get to you, he or she would first have to convince it that they were worthy. They'd have to have a marketable sound and look and attitude, as determined by a conference room full of executives. They would need polish and media coaching and focus-grouping. They'd have to be developed, as all products must be.
For a moment, American Idol cut that step out of the process. In its glorious first season, we were allowed to believe we were guiding Kelly Clarkson's development from week to week by voting for her, by sending her and her chunky highlights forward from '70s Week to Burt Bacharach Night. We felt like we were in it together, us and her (and Justin Guarini and Ryan Starr and Jim Verraros). Nowadays a Shawn Mendes or a Charlie Puth can put himself on YouTube and have as good a shot at your ear holes as anyone with a record deal; it is in fact now preferable to have some element of grassroots support as your backstory. Back in 2002, Idol was your only shot at it.
American Idol connected with a young audience that was learning to make its voice heard through social media; we were at the dawn of Friendster in '02. In 2016, airing our opinion on what we're watching has become an essential part of the television viewing experience. Now we watch our stories with one eye on Twitter. We have aftershows where viewers can call and let showrunners know what they think of their plot twists. There's a whole slew of sites and apps where we can complain that we don't know whose head got bashed in on The Walking Dead. If we can't weigh in immediately and publicly, what's the point of watching TV? In allowing us to drive the plot, American Idol brought us into a new era of television. Pretty revolutionary for a show that could initially only accept votes via an 866 number.
The show could be nasty, of course; some of the delusional singers in those early audition episodes might actually have been hearing voices. My mind flashes more often than I am comfortable with to Alexis Cohen, a tragic young weirdo who you would previously only have encountered in your level-one improv class.
In the age of Idol, our nation's Alexises got the attention they craved, and whether it was positive or negative didn't seem to matter. Nowadays, they can scratch that itch by making parody Twitter accounts. (Rest in peace, Alexis Cohen.)
But Idol viewers could be jerks, too. Around season three, some cruel young Internet go-getter made a GeoCities web page called "Vote for the Worst," where anarchic Idol fans could meet, conspire, and decide on which less-talented singer to support, thereby disrupting the house that Ken Warwick, Nigel Lythgoe, and Cecile Frot-Coutaz built. (Those names! I will miss those names.) We can thank VFTW for Tim Urban, for Scott Savol, for sweet, patient Sanjaya Malakar. And then that guy took "Vote for the Worst" down, because he wasn't having fun with it anymore. American Idol outlasted the mean streak of a guy on the Internet. That's something to be proud of.
Once it established itself as a cultural force, Idol also managed to shake country music out of its post-Shania, pre-Taylor doldrums. In 2002, country was off at its own table, but Idol put the twangy kids right alongside the rockers and R&B divas, and paved the way for a world in which Dierks Bentley and Keith Urban could coexist with Rihanna and Drake on the pop charts. (For a while, it seemed like every even remotely country-flavored Idol hopeful got a Nashville recording contract. Even Josh Gracin. Even Bucky Covington. You can expect the Farewell Season's Tristan McIntosh to join them.)
The show came into its own at the dawn of another television breakthrough, one whose use made the Idol viewing experience far more palatable: the DVR. American Idol was a two-hour show that you could easily watch in 15 minutes. You'd choose a few favorites early in the season, watch their performances, catch a few seconds of the one you hate the most, fast-forward right through to Paula's and Simon's comments, and you were in and out before you could even finish your snack. God help you if you watched the show in real time, with its Ford music videos, Ryan vs. Simon gay-offs, and group numbers. I mean, get a load of this:
Who do you feel worst for here? John Stevens, right? No contest. Stevens, by the way, went on to Berklee College of Music and just released Mr. Nice Guy, the debut album of his swing outfit John Stevens Band. In those early seasons, it seemed like there was a lid for every pot.
So where did it all go wrong? I blame three things:
The departure of Simon Cowell. In the competition-show glut that followed Idol's success, the Mean Judge was a must. (I could link to video of Lorenzo Lamas laser-pointing a contestant's problem areas on Are You Hot, and I'm not going to.) But Simon wasn't just mean; he knew what he was talking about, even if his first great musical success was Sinitta's "So Macho." He was harsh, but he was right. When he left, the show lost its anchor in reality. Who would speak truth to lack-of-power in his absence? Steven Tyler? The judges who came after were too focused on their brands. Harry brought a wealth of musical knowledge and an admirable lack of give-a-shit about being booed, but it was too little, and too late.
The predictable tastes of the viewers who drove Idol's mid-life success. From seasons 7 through 11, it was clear that tween girls were behind the wheel, and powerhouse females like Pia Toscano and Jessica Sanchez got passed over for sleepy-eyed dreamboats like Kris Allen and Lee DeWyze. Idol tried to over-correct toward the lady-belter side in season 12, which left us with Candice Glover, who I believe is currently in the Federal Witness Relocation Program.
The inevitable copycats. Not the ones that sprung up in Idol's immediate wake; we have forgotten Celebrity Duets, Fame, and the WB's indefensible Superstar for a reason. But Simon Cowell's post-Idol talent show The X Factor, even if it didn't succeed, took a chunk out of Idol's viewing audience. And then The Voice, with its buzzy judging panel, stole the heat. If you can't name a single winner of either of those shows, it doesn't matter. The market was saturated with competition-show singing talent. There was too much noise.
Tonight, it's the final finals, with a heterosexual Adam Lambert facing off against a diva with a flawless voice and compelling backstory, both of whom deserve better than to be crowned the next Nick Fradiani. If neither one seems a proper bookend to Kelly Clarkson, let's not forget: Kelly Clarkson wasn't really Kelly Clarkson until "Since U Been Gone." With the right single, anything is possible.
Whichever way it goes, we're at the end. Unless we're not; at this year's TCAs, the judges were quick to point out that this is Idol's "Farewell Season," and that, as The Eagles and Cher have demonstrated over a series of farewell tours, "farewell" doesn't necessarily mean "goodbye forever." The stage is set for a brief hiatus and a triumphant return before the end of President Trump's first term. In its inevitable reboot, Idol will have to learn how to stand out in the pop-culture world that it created.
And like its first winner, you can't help but root for it.