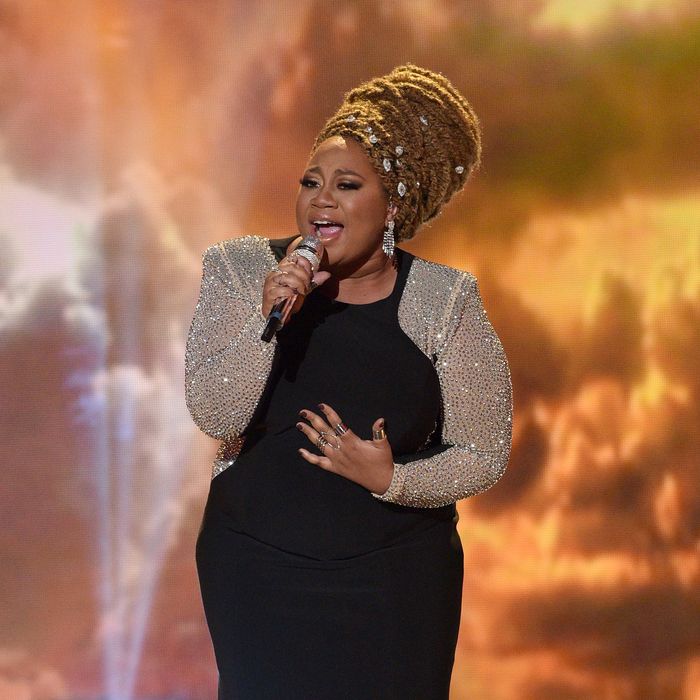 La'Porsha Renae.
Photo: Michael Becker/Fox
The first thing I notice as the final show on the regular stage of American Idol's FAREWELL SEASON gets underway is that this show will end as it began, and as it stayed for pretty much all of its run: All of the top four are from the South. We Yankees never did so great on Idol, did we? I guess we'll never have a chance until the 2018 reboot. Shame.
Maybe it's just the fact that the show is going away, and I'll miss it like I would an exasperating sibling going off to college, but tonight's top three show got me a little emotional. Buckle in.
First up, a trip home to Louisiana for sweet MacKenzie Bourg. I like this kid, and I always have. He seems exceptionally genial, but it might just be the teeth; you cannot help but smile with veneers that huge. We follow him back to his old school, where he plays some basketball, and to the Main Street of his town, where everyone wears big, fake glasses. Standard hometown-visit stuff. But then we go to the pediatric intensive-care unit in which he clung to life after heart and lung failure. He meets and tries to cheer the kids, and, I mean, it's just too real. I could not be rooting for this kid any harder.
Of course, we couldn't get out of the FAREWELL SEASON without someone doing "Hallelujah," so it might as well be Mack. There is dry-ice smoke and an oceanscape on the Idoltron, like he's in a scene from Disaster!. (Sidenote: How much must it suck to be a new Broadway show that isn't Hamilton? Do you even bother to go to the Tonys?) It suits him perfectly. The judges agree.
Also, the families of the top four are up on the Idoldais with them. Let me take this opportunity praise Mack's dad for his vigorous cheering this season. He's got spirit, yes he does. Second only to Tommy Stringfellow's old man, really!
Next, the top five — including Sonika, which is awkward because she's not here anymore — go to the Fox lot to see a screening of the new Ice Age movie. In the words of Dalton, "the coolest thing happened" while they were there — they got to see Ray Romano do his voice-over! It would have been even cooler if it were Ray Romano doing ADR for a nude cocaine scene in Vinyl. But the promotional segment has a purpose, kind of: The winner of the FAREWELL SEASON gets an opportunity to record a song that could be used in Ice Age: Collision Course. That's some complicated legal wording, so I'll translate: The top four have the same chance as you and I of ending up on the Ice Age: Collision Course soundtrack.
But there is no time to consider this, because we are off to Texas, where Dalton arrives in a hat from the Trent Harmon Collection. We quickly get a sign of American Idol's declining relevance when Dalton visits a morning zoo show on a radio station called the Wolf, which boasts "the best of the '90s and now." Five years ago, he'd have appeared on the big top-40 station; this year, he's on the one where "Black Velvet" still plays five times a day.
Dalton's visitation with children causes me as much distress as MacKenzie's, but for very different reasons. He goes to the "School of Rock" where he teaches voice lessons, and meets with a kid who is maybe 8 years old, who sings Adele's "Someone Like You." If there is one thing you do not ever need to hear, it's a child singing a breakup song. And if there's a thing you don't want to see, it's a girl of roughly the same age at the hometown parade holding up a homemade sign that says "Daltonize Me!" Yikes, Texas. Yikes.
Also, Dalton's dad's name is Fran. There's a lot going on tonight.
Dalton sings a Blue October song, because in many ways Dalton is a Blue October song. And then he tells us that the lead singer of BO is a friend of his, and has bipolar disorder, which might be why all of their songs feel like you're listening to a therapy session. He does it well, though he may suffer from the song being the least well-known of the bunch. (And the least interesting.)
Incidentally, I'm leaving out the judges' comments in this recap, for the simple reason that they don't really make any.
We're are off to Mississippi, where Trent grew up. If I remember my human-interest stories from this season, that means this is the first time he's seen his family since this whole thing started. They are, of course, overwhelmed with emotion, but Trent handles it all with the practiced cool of the youth pastor he almost certainly was at some point.
Amory, Mississippi declares it Trent Harmon Day! Miss Amory herself makes an appearance at the Trent Harmon Day parade! They get one of those big stages, like the one that blew down at that Sugarland concert a few years ago! They've pulled out all the stops. Stops are probably much more affordable in Amory, Mississippi.
And then he sings "Tennessee Whiskey" by Chris Stapleton, entirely through his nose. Did you wonder what that song would sound like with absolutely no edge at all? Wonder no more.
La'Porsha goes back to her hometown of McComb, Mississippi. She visits her old performing-arts school (yes, fine) and her family (okay, great) and then the domestic-violence shelter where she stayed after fleeing an abusive relationship. Idol really saved all of its emotional wallops for one evening, didn't it? The visit is intense, and the women seem to be nourished by the sight of one of their own pulling herself out of poverty and abuse. Of course, we breeze past this emotional scene and get into a soul-food brunch.
Back on the soundstage, La'Porsha takes on "Glory" from Selma. She's passionate and flawless and it will be a crime if she doesn't win this thing, honestly.
We gotta get rid of one of these people, though. As the top four gather onstage — for the last time! — Trent reaches for Dalton's arm, which does not move. I say "ouch," right out loud. But Trent makes it through! And then Dalton! Which means Mackenzie and La'Porsha are in the bottom two, and sweet Mack knows he won't make it through. He says, "I'll say it for you!" But he can't. Ryan has to say it. Mack is out. Damn.
His farewell package is the first time in this whole season where he's not smiling. It feels awful, but if anyone has a clear path to post-Idol fame and fortune, it's this kid. If we have room for a Vance Joy and a Foy Vance, we have room for him. Good luck, MacKenzie Bourg.
So our top three are Dalton, Trent, and La'Porsha, and we get two more performances from each. First up, picks from Scott Borchetta, then the dreaded Judges' Picks. Scott, who is our music expert, chooses Bruce Springsteen's "Dancing in the Dark" for Dalton, because "it is a rock number." I bet "Dancing in the Dark" is Scott Borchetta's favorite Bruce Springsteen song. Did you ever wonder what a version of "Dancing in the Dark" recorded specifically for Hot Topic would sound like?
La'Porsha does "Stay With Me Baby" by Lorraine Ellison, and … alright Scott, you're back on my good side. This slightly modern take on classic R&B is exactly the kind of thing she should be doing, and nobody else is even approaching it right now. It's out of this world, especially when it ends and she gives a little sass, saying she wouldn't have chosen it because she's not about to beg a man to stay. Work.
For the first time in history, Justin Timberlake has given Idol permission to use one of his songs, and for Trent, Scott chooses "Drink You Away." Back on my shit list you go, Borchetta. Not only is it forgettable Timberlake, it's yet another drinking song for a guy who will almost definitely never drink. It is nasal; it is fluttery; it is Trent.
On to the judges' picks!
For Dalton, the judges choose Tears for Fears' "Everybody Wants to Rule the World," a song I listened to three times in my car this very day because it was a perfect spring afternoon and that's the perfect song for those conditions. The problem with taking it from my Prius to the Idol-dome is that it's not a singer's song. It's a marvel of songwriting and production. People have fondness for the original because it was well-constructed, not because Curt Smith gave a vocal performance for the ages. Also, Dalton has no idea what the song is about — neither do I, honestly — and the whole thing is too low for his range. Even J. Lo. notices. That's how bad it gets.
La'Porsha is given Adele's "Hello," which is actually a really good call. It's the biggest song of the last three years, so she has no choice but to switch it up a little bit. She puts it in a lower register, dials back the runs and the tricks, and wears her dreads as a giant Erykah Badu hat. It's perfect.
And finally — FINALLY — Trent Harmon brings us home with a song called "Waiting Game" by Parson James. It's another opportunity for him to flit all up and down the scale, and he does it in an '80s stand-up comic's sportcoat and Colonel Sanders tie. It's great if you like that kind of thing.
For me, it was La'Porsha's night, but the way this country is going, it could be Dalton and Trent in the finals. God help us all.
Your thoughts?