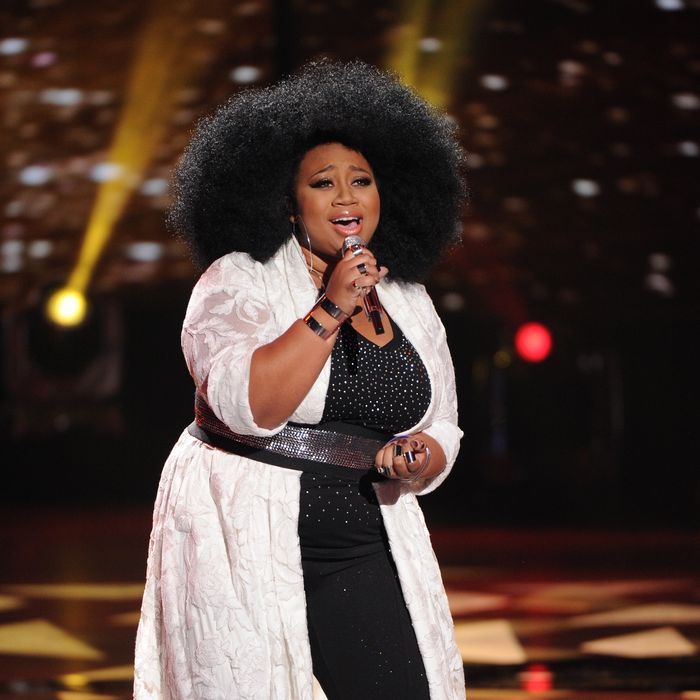 La'Porsha Renae.
Photo: Michael Becker/Fox
This is going to be a close one, you guys.
Let's begin at the beginning, with Dalton, Trent, and La'Porsha singing Kygo's maudlin "Stole the Show," a song about taking your final bow and learning and growing and leaving forever, as though this whole season hadn't been heavy enough with meaning. Message received, Idol. Tomorrow's the end. (Or it isn't, if you believe Simon Fuller.)
The first round isn't really a "round" per se, because there are no judge critiques and nobody's voting information is onscreen. Anyway, each contestant gets to sing their potential winner's single. Trent's song is called "Falling," and it's a little more carnal than the treacly winner's singles that have come before. It's actually about someone, and there seems to be a lyric or two about actual sex, instead of flights on angels' wings or rainbows to Dreamtown or whatever all the rest of these awful singles have been about through the years. I can actually imagine hearing it on the radio; it's the Weeknd for even whiter people. I would call it sexy, but there is nothing sexy about contorting and shrieking unless Prince is doing it. Nothing initially grabbed me about Trent, but the dude has won me over a tiny bit, which makes his journey the most profound of the bunch.
Dalton's single is called "Strike a Match," and if you guessed that the next three words are "across my heart," you win a cash prize of $75. It's Dashboard Confessional to be played inside a Claire's. Next!
They never tell us the title of La'Porsha's single, but I'm guessing it's "Battles," because she says the word "battles" exactly 5 million times. It's your boilerplate song about overcoming life's obstacles and following your heart and being a winner, and I can already hear it over a training montage on The Biggest Loser. The best part about her performance is that she keeps her tempo situation together despite two rhythm-challenged white girls clapping away in the front row. That's a pro right there.
On songs alone, Trent wins the Battle of Round One, so it's a good thing they get it out of the way early. But somebody's gotta go, because this is how we do it now, right in the middle of the episode. Our bronze medalist is obviously Dalton. The kid is talented, and he has a bright future ahead of him, no question. His looks and charisma guaranteed him a pass to the top three — he's been coasting on eyeliner and brooding stares for weeks — but it was his time.
Our finalists are Trent and La'Porsha, which I have to say I never saw coming. Trent did nothing for me at first, and although La'Porsha is a belter in the true American Idol tradition, too many of those have gone through the Idol machine through the years. And yet, here we are. It's a fine FAREWELL SEASON pair. (My favorites, Avalon and MacKenzie, would have made for a pretty low-energy finale, I have to admit.)
Up first, they will sing Simon Fuller's choices, which lean toward traditional soul. I'm happy about that. It's long past time someone pushed these kids out of their comfort zones and into a style with lyrics they'll have to think about and grow into.
Trent is up first, with Harold Melvin and the Blue Notes' "If You Don't Know Me By Now." It's a nice fit because it's already been covered by a white guy in terrible hats who makes gruesome singing faces. It's a challenge, though, as the lyrics force Trent to act like he's emotionally complicated. He almost pulls it off.
La'Porsha gets "A House Is Not a Home," and needless to say, she blows down the house-that-is-not-a-home. There is palpable longing in her vocals, and now that we know how she feels about songs in which a woman begs a man to stay in her life, it counts as both a singing and an acting tour de force. Also, the afro is back and I am all the way here for it.
The final round is each finalist's favorite performance from the season. I would like to remind you here that if Dalton had made it this far, there would have been a Blue October song in the last American Idol finals. Even in the year of Donald Trump, Batman v Superman, and Justin Bieber's dreadlocks, that would have been America's greatest shame.
Trent goes with Sia's "Chandelier," surely his showiest performance in a showy, showy season, and I must ask: Why does this guy get all the drinking songs? You just know he'd be a needy, teary mess after a single Michelob Ultra. As it was before, it's vocally flawless, though I'm not sure it needed to be turned into a ballad. Based on the way he sings it, he definitely thinks he's the first person in the world to notice it's a sad song. Whatever. Dude can sing, and if we could promise to work on his faces and coax some more personality out of him, I wouldn't be mad if he won.
La'Porsha closes out the night with Rihanna's "Diamonds" — another song written by Sia, who is probably spending the night inside a massive cotton ball or whatever her deal is now. Though she too is pitch-perfect, this feels less like a performance than a vocal exercise. I don't feel the song, or what it means, or who it's meant for.
Just as I began to worry that Trent might win this thing, Harry did a wonderful, terrible, pure-Harry thing: He asked a sobbing La'Porsha who she was singing to in the "you and I" part of the song. La'Porsha said her daughter, and then I welled up, and so did you, and so did America. We have a real game here now.
Both are talented singers, and I have no idea what we'd do with either one. I say La'Porsha Renae for the win, by a hair. Who you got?