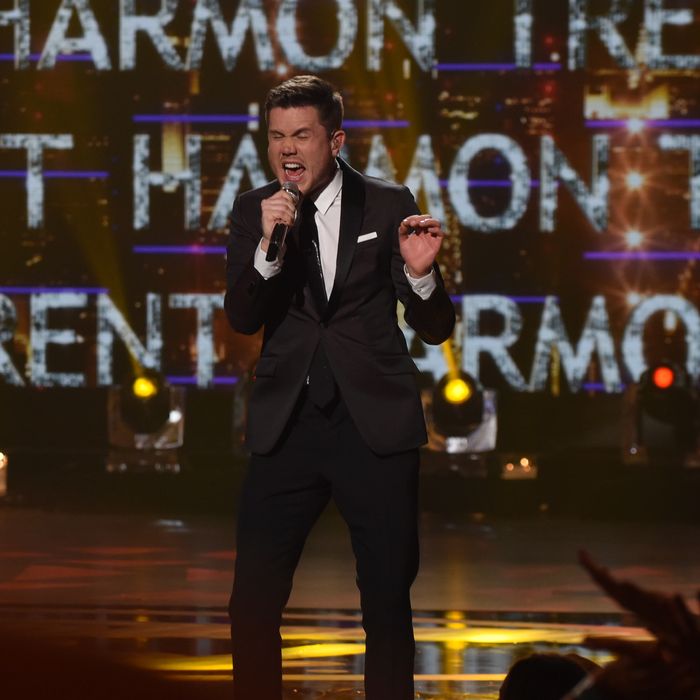 Trent Harmon.
Photo: Ray Mickshaw/Fox
On Thursday night, American Idol came to an end (or didn't, but more on that later). All I can say is that it died as it lived: confusing, frustrating, as tone-deaf as its best contestants were right on pitch, and wildly entertaining, even if by accident. Sanjaya Malakar was there, wearing a Marie Antoinette wig, but Adam Lambert was nowhere to be seen. Nobody from the FAREWELL SEASON except the top two got solo performances, but there was still time for a tribute to the Ford Music Video. Simon made a surprise appearance, which surprised nobody except Paula Abdul. You were weird, American Idol, and we will miss you (if we ever get a chance to, which we won't).
Right after a taped message from President Obama about the importance of voting — which, you know, seconded (unless you're dumb) — we're treated to an angelic chorus of Idols past: as many former contestants as the producers could track down, all dressed in white and singing something I can't identify but let's just assume it's from the OneRepublic Triumphant-Song Collection. This is by far the best part of the show, because you get to see the ones you know won't get a solo. I found myself pausing to see if I could spy a Tim Urban, a Kevin Covais, a Carmen Rasmusen. My results are inconclusive — it's mostly shot wide, so I couldn't really make out all the faces — but I did spot a David Archuleta and a Mikaela Gordon, who (spoiler alert) we won't hear from again.
And guess what? Brian Dunkleman is there! Brian Dunkleman is a sport and a half. I used to run into him in waiting rooms for hosting auditions, and the guy knew he'd sort of pissed that job away. He knew what a mistake it was, and he knew his name had become the reality-TV equivalent of Pete Best, and he never had to say any of this out loud; you knew it because he wore it. But he kept his head up, and he kept plugging away, and he still does. Because that's what you do. You're going to get screwed over. You're going to make mistakes. People are going to make jokes at your expense, sometimes right at your actual face, but you keep going. What else are you going to do? Let them win? Die? Anyway, ha-ha, Brian Dunkleman is here. He used to be the co-host of this show, but now he's not. Wah-wah, boing, glitter cannon.
We meet our top two, Trent Harmon and La'Porsha Renae, who do a little nod to Idol's first-season finale with a duet of "It Takes Two." It's very nice and very polished, and if you saw the Idol retrospective show on Tuesday, you know the Kelly and Justin version was very not. I do wish they'd called back to season one's Paula Abdul medley, specifically the moment when Nikki McKibbin shoved a mic into Paula's face, and Paula forcefully declined. It was the realest moment this show ever had.
And then our top two are locked out of the studio for two hours and six minutes so we can stroll down memory lane and almost completely forget the last three seasons ever happened.
Throughout the night, some more producer-approved former Idols get solos, which seems like a generous gift to them and a fine how-do-you-do to this season's top ten, who are not even pretending they're going to be sent on tour this summer. They're given nothing to do all night but smile and wave. Tamyra Grey stops by in a wig from Heart's "Never" video, and Colton Dixon shows us that, truly, the higher the hair, the closer to God. Even Pia Toscano gets a nice, long solo; good on Idol for righting democracy's wrongs. No Jon Peter Lewis, no Jasmine Trias, but the guy who sang "Pants on the Ground" gets to sing all of "Pants on the Ground." Also: Kara DioGuardi, Allison Iraheta, and Kimberley Locke with that "8th World Wonder" song they still play at the Abbey.
Kelly Clarkson's medley is very long and absolutely compelling throughout. Do you ever have one of those moments where you're seeing a band you didn't necessarily want to see, or you're sitting in a friend's car listening to the greatest-hits album of a musician you didn't think you particularly liked, but then you find yourself singing every word of every song, and then you're like: "Oh shit! I'm a Stone Temple Pilots fan!" I had that moment here. Of course I liked Kelly Clarkson; it is physically impossible to not like Kelly Clarkson. I just didn't realize I was the president of her fan club until tonight. (I am way behind on my dues. Sorry, Kel.)
Next, we get to the "'Rockers, But, You Know, This Being American Idol, Rockers Is a Relative Term' Medley," the title of which the producers trimmed down to "The Rockers Medley." Hey, there's Constantine Maroulis! Bo Bice looks like he is about to sell you a speedboat! I honestly could not identify James Durbin because he looks like he's in a VH1 Faster Pussycat biopic! Turns out I still kind of resent Caleb Johnson! And that's the guy who played Judas in Tyler Perry Presents the Passion!
Although the announcer never gets any screen time (and neither does poor Keiran in the light booth), he's a total pro and announces Keith Urban with a very special guest. We know who she is before she ascends from beneath the stage, because who the hell else would it be? It is Carrie Underwood. They do a duet of Stevie Nicks and Tom Petty's "Stop Draggin' My Heart Around" that answers the question, "What would that song have sounded like if, instead of cocaine, Stevie and Tom drank açai-berry smoothies?"
This leads us directly into our "Bumpkin Medley": Lauren Alaina, Skylar Laine, Kellie Pickler, Bucky Covington, Kree Harrison (who deserves better), big winner Scott McCreery, and then for some reason Ace Young and Diana DeGarmo, showing off their enduring knack for doing what they're told. The medley surprisingly does not include that "bebbe lock them doors 'n turn the lights down low" song that poor Scotty had to trot out every 20 seconds during his season. I think there are hay bales onstage, but the Snapchat filter in my brain might just be placing them there. Also: Ace got some arms.
Harry sings with a little kid named Marley Fletcher from the Ellis Marsalis Music Institute in New Orleans, and it's adorable and inspiring and leads us to the "Idols Who Will Crush Medley": Carly Smithson, who stopped getting new tattoos, thank God, accompanied by harp. Katherine McPhee. Clay Aiken. Ruben Studdard, who still sweats more than you do. Casey James, whose hair remains on point. Amber Holcomb, who seems to want to move around more than she's able. Jessica Sanchez gets the big finish. Nobody here gets to show any personality.
Jennifer Lopez sings her new song, "Ain't Yo Mama." It's about how she ain't yo mama, and I'd swear the dance includes a little wagging no-no finger in front of her vagina, like: You are not from this area. Can we say that it did? Thanks.
We never really got to spend time with Trent's family, since he banned them from the set for the whole season (which, as much as I love my family, I absolutely get). They seem nice, and they fill sow blissed ewver Trint's succiss.
That said, I will miss La'Porsha's daughter's little headphones most of all.
The "three divas" of season three lead us into our soul medley, and I will say this: I'm good on Jennifer Hudson and Fantasia for a moment. They're great — they're great! — but we have heard plenty. Let's maybe give LaToya London the solo, then let Jen and 'Tasia be Taylor Hicks's Soul Patrol on "I Knew You Were Waiting," instead of the other way around, could we? (Same goes for Daughtry and Underwood, honestly.) But we do get some of our more soulful male contestants — Brandon Rogers, George Huff, Clark Beckham, Danny Gokey, and my favorite Idol contestant of all time, Yitzhak Rabin Elliott Yamin (who went to a cosmetic dentist and asked for "the MacKenzie Bourg") — all doing some very Temptations dancing. Only some of them are good at it. In an admirable show of restraint, Blake Lewis does not show up to beatbox. (And there is no Chris Richardson. How dare you, American Idol?) Joshua Ledet gets a solo and, as is his custom, goes directly to crescendo. Melinda Doolittle and Candice Glover bring us out with some gospel. I would go to this church. (Not unrelated: Mandisa is absent.)
Rupert Murdoch and Jerry Hall get a nice little crowd shot. Vladimir Putin and Wendi Deng are probably watching at home.
Next up, they get all of the Cute White Boys With Guitars out of the way in one David Bowie tribute, though a Dave Matthews tribute would have been much more appropriate. They're all still cute. (In descending order: Phillips, Allen, DeWyze, Fradiani, Cook. My rankings are final.)
You knew we couldn't get out of here without a tribute to all of the weirdos and wannabes and regular desperate people who'd never had a moment of validation in their lives and showed up just to see if maybe another human being might see a spark in them and blow it into a flame, but instead they were publicly ridiculed and shamed. I don't want to talk about this segment, except to say that I sat upright in my seat when they showed Jason Greene from season nine because:
I totally remember him.
He is absolutely brilliant as gender-fluid "Freckle" in a web series called The Gay and Wondrous Life of Caleb Gallo that is every bit as sexy and funny and affirming of alternative sexuality and gender expression as American Idol was not in every single minute of its run. Watch it. It's an antidote.
Paula and Randy come out to bring closure to the experience, as their therapists have recommended. They give Ryan an enormous American Idol sign, which is literally too big to put anywhere unless you live on a sound stage, which Ryan Seacrest actually probably does. Paula says, "Simon can't be with us," but then he comes out because of course he would, and she seems shocked because of course she is. And then William Hung sings a Smiths medley. No, just kidding, it's "She Bangs," and I start drinking.
Trent wins. (Remember Trent and La'Porsha? We're here to find out which one of them won.) He sings that "Falling" song that might end up being a massive hit for all I know, but does nothing for me. It is the Weeknd Lite. "The Weakened," I say. My boyfriend says "The Wannabeknd." Which one is better? Who wins our relationship tonight?
La'Porsha seems genuinely hurt by not having won, more so than any runner-up in the show's history. It actually hurts to watch. She needed this win. But you know what? She's going to be fine. She'd better be. If 19 Entertainment botches her career, they will have to answer to me. (Until I forget about it sometime tomorrow afternoon. Sorry, life's not fair sometimes. Ask Brian Dunkleman.)
And then Ryan appears to show human emotion when he says he's saying this for the last time: "Good-bye from American Idol … " and then off-camera, after a pause, "FOR NOW."
Listen: We knew there was a new iteration on the way. Everyone connected with the show has suggested it. But can we pretend for a moment that this night has significance? Can we act like there's a higher purpose to short-shrifting Avalon Young and Olivia Rox on what should have been their big night? Do we have to do the television equivalent of that thing when a movie says THE END and then after a pause there's a question mark?
Of course we do. This is American Idol, and American Idol will always get things exactly wrong. Now and forever.
Thanks for hanging out with me this season, as well as all those other seasons I sat through this show and complained about it to you. Thanks for commenting and passing these recaps around and giving me inside dirt on Lazaro Arbos. It really has been a pleasure, and it has been that way because of you.
Holmes out. (For always.)